WILDWOOD CREST — A beloved tradition looked likely to be put on hold for 2020, like so many others, but a group of families refused to let it go.
"The whole community came together to make sure this project continued," said Madden Fuscellaro, an eighth grader at the Crest Memorial School.
Each year on Sept. 10, students at the school plant more than 1,200 American flags on every corner in the community. The flags are placed at dusk, so when residents wake on the morning of Sept. 11, the patriotic display is in place throughout town, according to Madden's mother, Toni Fuscellaro.
Borough Commissioner Joyce Gould started Flags for Freedom in 2002, the year after the Sept. 11 terrorist attacks in New York and Washington. For the tiny seashore community, the loss was palpable and personal: Andrew Alameno grew up in Wildwood Crest. He died while at work as a stock trader at Cantor Fitzgerald in the North Tower of the World Trade Center.
About 10 years ago, Gould turned the project over to Jeannine Yecco, the technology teacher at the school. Both agreed the project was a better fit for the school. Social Studies teacher Lisa Travascio took over the project, connecting it to lessons on the attacks, Yecco said.
Atlantic County on Thursday reported 12 new cases of COVID-19 and no new deaths, bringing th…
Each year, the teachers turned to local businesses for financial help.
"This year, however, we thought that local businesses have suffered enough, and we did not want to ask them for anything given the dire economic consequences of COVID-19. Moreover, our school is not holding any afterschool activities for the foreseeable future," Yecco wrote in an email. "Add to that the fact that asking students to go out in the evening necessitates the 'buddy system,' and the result is the realization that Flags for Freedom is yet another COVID casualty."
On Aug. 28, Yecco posted to the school's Facebook page that Flags for Freedom would not take place this year. She encouraged community members to buy their own flags. And while the event may not be held the way it had been traditionally, it will still happen.
"The response from parents and community members has been nothing short of amazing," said Yecco. "Not only have several individuals come forward to foot the bill for the flags, but families of students of all ages, even some families who no longer have students in the school, are up to claim the streets they want to handle."
Madden Fuscellaro offered to spearhead the project this year. She said hearing about Sept. 11 from Susan Haury, a teacher at Crest Memorial School, had a strong effect on him. Haury is the sister of Alameno. Madden thought of his own brothers, Crew and Rider, and how he would feel if something were to happen to either of them. The attacks took place before he or his brothers were born, but because of his teacher, he feels strongly about observing the day.
ATLANTIC CITY — The city's Department of Health & Human Services has received a $100,000…
"It was just so hard for her. It's really important that we remember what happened," Madden said.
He has also participated in an essay contest, with his essay chosen to be read during the 2019 Sept. 11 memorial service.
Wildwood Crest plans to hold its 9/11 memorial service at 5:30 p.m. Friday at Miami and New Jersey avenues, adjacent to Sunset Lake. Community and religious leaders are set to speak, as are local first responders. Those attending are encouraged to wear masks and observe social distancing guidelines, according to a statement from the borough.
Toni Fuscellaro, a member of the Crest Board of Education, said having lost a native son, the community takes its observation of Sept. 11 seriously and plans it carefully. She grew up in Wildwood Crest and lived in North Jersey in 2001, while attending law school at Seton Hall University. Her husband, Seth, worked in New York. She describes seeing her neighbors who worked in lower Manhattan return home covered in dust and soot from the towers, sometimes the next day. Her husband was heading into work, but never reached the city.
BRIGANTINE — Four city police officers were assaulted, leaving them with minor injuries, aft…
"He was listening to Howard Stern and had to turn around," she said.
She said Crest families, hers included, wanted to make sure the flags were in place this year and every year to come.
"The whole community came together to make sure that this project continued," she said. Instead of students with buddies putting the flags in place, she said it will now be families working together to avoid the chance of spreading the coronavirus.
"It really became a family project this year. I have a feeling it's going to stay that way," she said.
South Jersey plans memorials, services in remembrance of 9/11
Atlantic County
Absecon
Officials will be holding a 9/11 service Friday at 6 p.m. at their memorial. North Mill Road between Pitney Road and New Jersey Avenue will be closed to traffic during the service, about an hour, police said.
Atlantic City
On Friday, September 11, 2020, 10 a.m., at Jackson Avenue and the Boardwalk, Atlantic City, N J the Saracini-O'Neill Atlantic City 9/11 Memorial will hold its 10th annual ceremony honoring the 2977 innocents who died in the terrorist attack on September 11, 2001. Included among the victims were locals Victor Saracini(Atlantic City), John O'Neill (Atlantic City), Andrew Alameno(Wildwood Crest), and Patricia Cody) Brigantine).
The United States Coast Guard MH-65 Helicopter will start the ceremony with a "Fly By" in honor of those who perished on Sept. 11, and all our fallen heroes.  
In our "Heroes Among Us" segment we will posthumously honor military veterans Robert Shellem (Atlantic City), George Nestor (Atlantic City/Absecon), Francis Kelly (Atlantic City) and in person Francis X McCormic (Ocean City) a 99 year old WW2 veteran. Additionally we will recognize Ernest Tarsitano (Galloway Twsp.) a retired Ventnor City firefighter, who was nationally recognized, for saving the life of a man in Galloway Township.
On stage will be Atlantic city Mayor Marty Small (welcome), 1984 Miss America Suzette Charles(National Anthem, God Bless America), CRDA Special Improvement Director Rick Santora (Pledge of Allegiance), General(Ret.) William Matz (Presenter), Atlantic County Public Safety Director Michael Fedorko (Presenter), and Gary O'Brien(Presenter). Jim Mogan (Brigantine) will give the Keynote speech and Pam Paparone (Ventnor) is the Emcee.           
A 30'x60' American Flag draped between two fire department ladder trucks (VCFD and ACFD) will be the back drop to the ceremony. Every attendee will receive a commemorative flag celebrating Patriots Day. Bagpiper, Jeff MacNeill will provide the music and 500 Patriots, in a safe outdoor environment, with face coverings , will be present to honor those who perished on September 11, 2001.
Galloway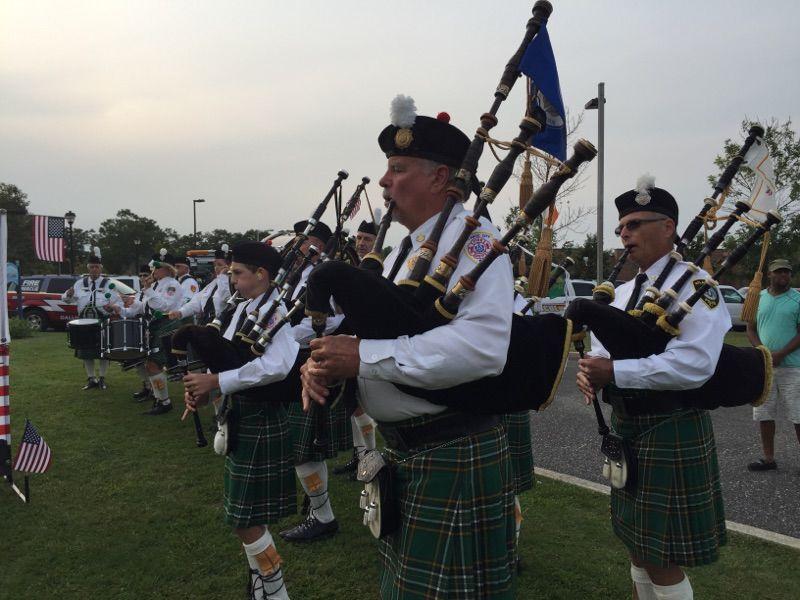 "Many of you have reached out in recent weeks asking how you can show your support for the police and for first responders," township police Chief Donna Higbee said in a post on the department's Facebook page. "I cannot think of a more appropriate day than to join us in remembering those that sacrificed their lives on September 11th. Although our ceremony will be brief this year, you are welcome to come and show your support for Police, Fire, EMS, and OEM in the field alongside Patriots Lake."
The brief ceremony will be below the fire trucks draped with the American flag next to the gazebo at 6 p.m.
"I know I speak for Chiefs Uhl and Smith when I say we look forward to seeing you and remembering those that served, the survivors, and everyone that continues to serve as a first responder," Higbee said. "For those that cannot make it this September 11th, please know that we appreciate your continued support and we are proud to serve you here in Galloway Township. We will continue to work hard every day to keep you safe, promote trust and be upstanding partners in this community!"
Hamilton Township
Hamilton Township officials planned a remembrance at 7 p.m. Friday, Sept. 11. Seating is very limited at War Memorial Park, located on Main Street in Mays Landing. 
Officials asked if residents do attend at the park, to wear a mask and practice social distancing.  
Hammonton
Beginning on the evening of Sept.11 and continuing on September 12 and 13, from approximately 9 p.m. until midnight, two beams of light will shine as beacons of our country's resilience, according to a news release from the town.
Additionally, the firehouse at 51 N. White Horse Pike will be illuminated in red, white and blue LED lights as a continued commitment by our fire company to never forget September 11, 2001, according to the release.
"As a fire company, we felt that what we remember as a society will ultimately decide who we are, and what we want to be as a nation. As years pass and we approach the twentieth anniversary of this terrible attack, many children and young adults are too young to remember," officials said. "The ultimate sacrifices made by so many to help those they did not know, the hundreds of innocent people who died, and the loss of our country's innocence is why we remember September 11, 2001."
Officials asked that vehicles do not stop on the White Horse Pike/Rt.30 and instead
proceed into the parking lot and follow posted signage.
Cape May County
North Wildwood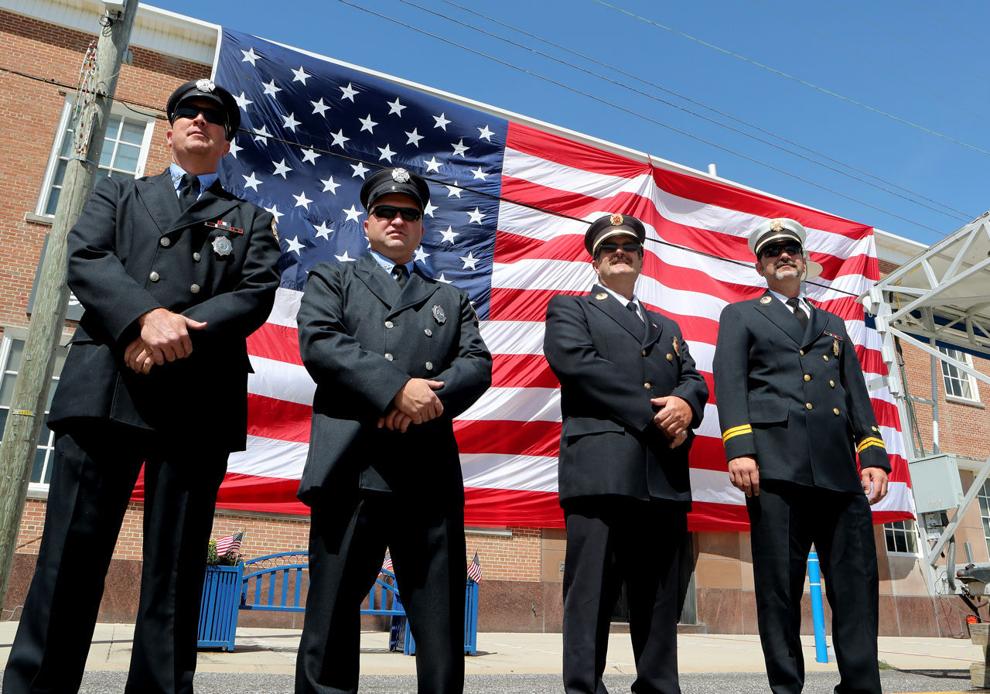 The City of North Wildwood, along with North Wildwood Veterans of Foreign Wars Post 5941, will be hosting a "9/11 Service" on Friday, Sept. 11 starting at 8:40 a.m. at 15th and Central avenues in North Wildwood. Social distancing and face mask protocol per state guidelines will be enforced to protect all those attending.
Ocean City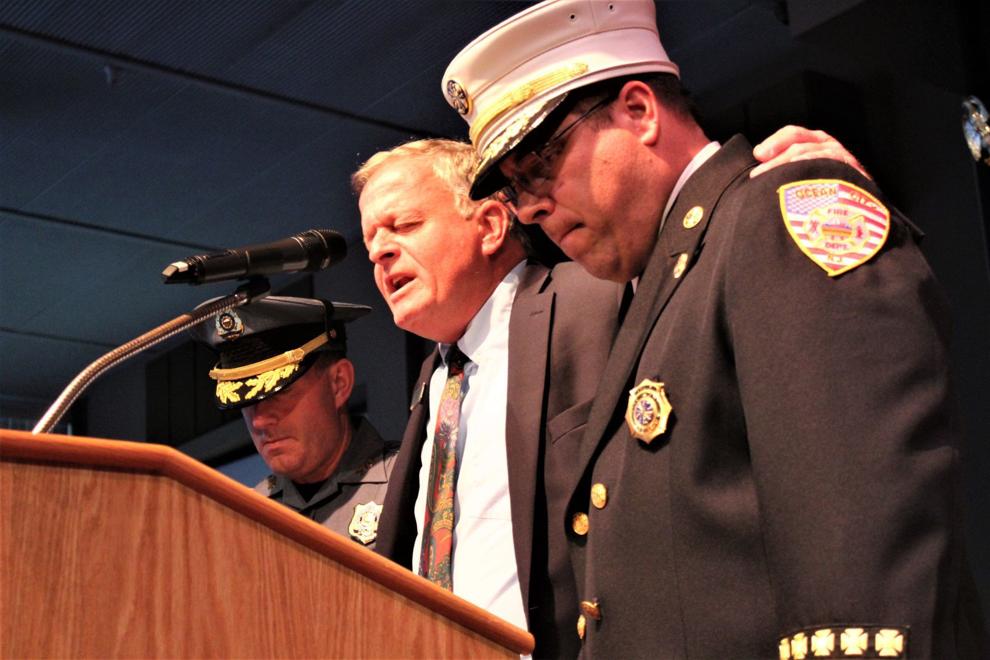 Ocean City's annual "A Day to Remember" 9/11 memorial ceremony begins at 6 p.m. Friday, Sept. 11, outdoors in front of the Ocean City Fire Department headquarters between Fifth Street and Sixth Street on Asbury Avenue.
All are encouraged to attend and to wear face coverings at all times during the event, officials said in a news release. Chairs will be set up to maintain social distancing.
The ceremony includes music, prayer and reflections on the memory of lives lost and on the community spirit that was renewed in the wake of the tragedy, according to the release. The event includes the Striking of the Four Fives, a fire service tradition noting the death of a firefighter in the line of duty.
This year's speakers will be Ocean City Police Chief Jay Prettyman and Fire Chief Jim Smith. The Rev. John Jamieson and the Rev. Marcia Stanford, vocalists Julia Mary Wilson and Sofia Farrell, Mayor Jay A. Gillian, Ocean City Boy Scout Troop 32, local veterans groups and local first responders also will be part of the program.
For more information, call 609-399-6111.
Upper Township
There will be a Patriot Day 9/11 Service at Sgt. William R.Godfrey Memorial Park at Osprey Point in the Seaville section of the township. at 10 a.m. Sept. 11.
The service will be hosted by Osprey Point resident, James Joyce.
A flag honoring William Weber, deceased US Marine veteran, will be presented to the Osprey Point Community.
Ocean City/Upper Township Rotary representative Randi Scheck will discuss Rotarian patriotic endeavors.
Commander John O'Lansen will represent the American Legion Post 239.
The Upper Township Fire and Rescue Squads will be represented by personnel with a display of equipment.
Visitors and dignitaries will be acknowledged.
All are welcome to attend this Patriot Day Service to remember and honor those who have fallen or suffered grievous harm on this day of disaster.
If there is inclement weather, the Service will be held inside the Osprey Point Clubhouse.
All pandemic social mask and distancing protocol will be observed.
Godfrey Memorial Park is located at 1731 Route 9, Seaville, NJ 08230.
Wildwood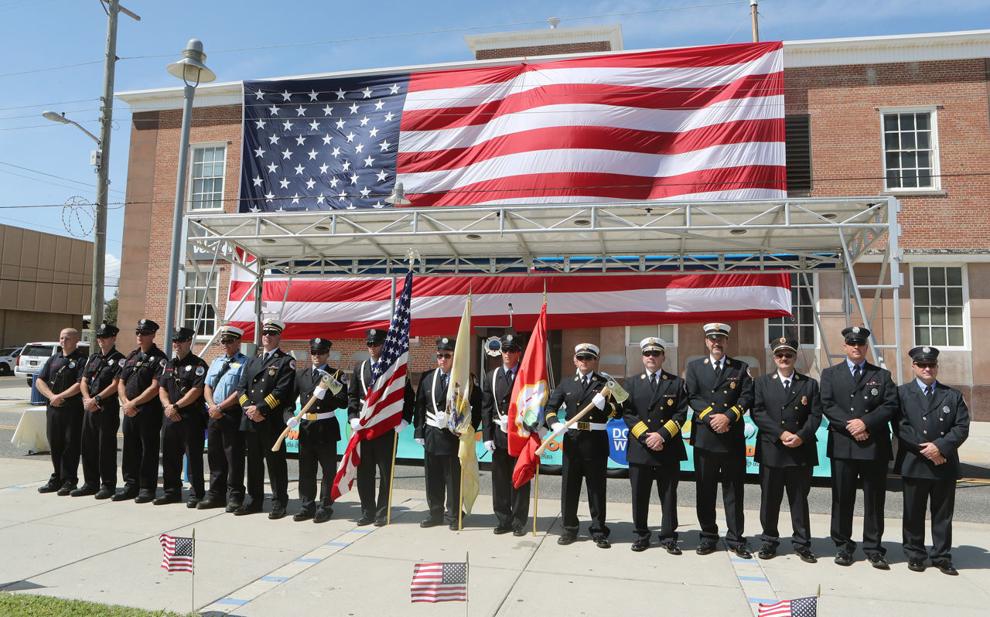 On Sept. 11 at 1:00 pm, a solemn 9/11 Remembrance Ceremony will take place at Byrne Plaza, 3400 Pacific Avenue, in Downtown Wildwood. Organized by the Wildwood Business Improvement District for the past the past several years, the ceremony will honor and remember our fellow Americans who killed on that tragic day, as well as the first responders who have died over the past 19 years due to 9/11 related illnesses.
The ceremony will include 9/11 First Responders, representatives from the Fire and Police Departments, as well as local religious and civic leaders. In addition to the speakers, the Fire Department will present "Ringing of the Bell" and the city's Honor Guard will be "Presenting of the Colors".
Wildwood Crest
Wildwood Crest officials will host a 9/11 Memorial Service on Friday, Sept. 11, at 5:30 p.m. at Miami and New Jersey avenues, adjacent to Sunset Lake.
Various community and religious leaders and local first responders are expected to attend the Patriot's Day ceremony, which will honor all of those who lost their lives during the terrorist attacks on Sept. 11, 2001, according to a news release from the borough.
Other guest speakers are welcome to take part in the event and share their thoughts. Those wishing to speak should contact Wildwood Crest Commissioner Joyce Gould in advance by phone at 609-729-8042 or via email at jgould@wildwoodcrest.org.
Those attending the ceremony must comply with proper social-distancing guidelines and are encouraged to wear masks, officials said.
Call 609-522-5176 for further information.
Cumberland County
Vineland
Vineland's annual Patriot Day Ceremony will be virtual this year due to ongoing COVID-19 concerns and protocols, officials said Thursday.
The ceremony will take place 6 p.m. Friday, according to a news release from the city. Residents can watch the event by clicking: https://youtu.be/6vFMUWLKU-Y. The ceremony will remain available for viewing after the live event and will also be televised on Comcast Channel 9.
The ceremony, to pay tribute to those who lost their lives during the terrorist attacks on September 11, 2001, is being hosted by the Vineland Fire Department, and will include remarks by Mayor Fanucci, police, fire and EMS officials, and other invited guests, officials said.
Anyone with questions regarding the ceremony can contact Firefighter Carlos A. Mercado, Jr. by calling 856-691-2480.
Ocean County
Toms River
Ocean County will mark the 19TH anniversary of the attacks of Sept. 11, 2001 during a Day of Remembrance and wreath-laying ceremony at the county's September 11 Memorial Monument on Hooper Avenue, officials said.
The ceremony will begin at 8:30 a.m., Friday, Sept. 11 and include a moment of silence to remember the victims of the terrorist attacks on New York City, Washington D.C. and Pennsylvania.
"While life has moved forward since that tragic day, we would be remiss if we didn't take time to remember the events of Sept. 11, 2001," said Ocean County Freeholder Director Joseph H. Vicari, who will serve as master of ceremonies. "So many of us stood frozen in time on that day, gathered around televisions and radios as we listened in horror that our great Country was under attack.
"Ocean County lost 19 residents that day and countless others with connections to the County," Vicari said. "They were loved ones, moms, dads, brothers and sisters who went to work that morning like any other day, but they never returned to their loved ones."
Vicari will be joined by Ocean County Prosecutor Bradley Billhimer in placing a wreath at the Sept. 11 Monument in the courtyard between 119 and 129 Hooper Avenues. A second wreath will be placed at the War on Terror Monument located just a few feet away.
"On this day we remember the service personnel from Ocean County that made the ultimate sacrifice fighting for our freedoms during the ongoing War on Terror," Vicari said.
The public is invited to attend the ceremony. Because of restrictions due to the coronavirus pandemic, masks must be worn during the ceremony, officials said.
What will the weather be like? Meteorologist Joe Martucci has the forecast.