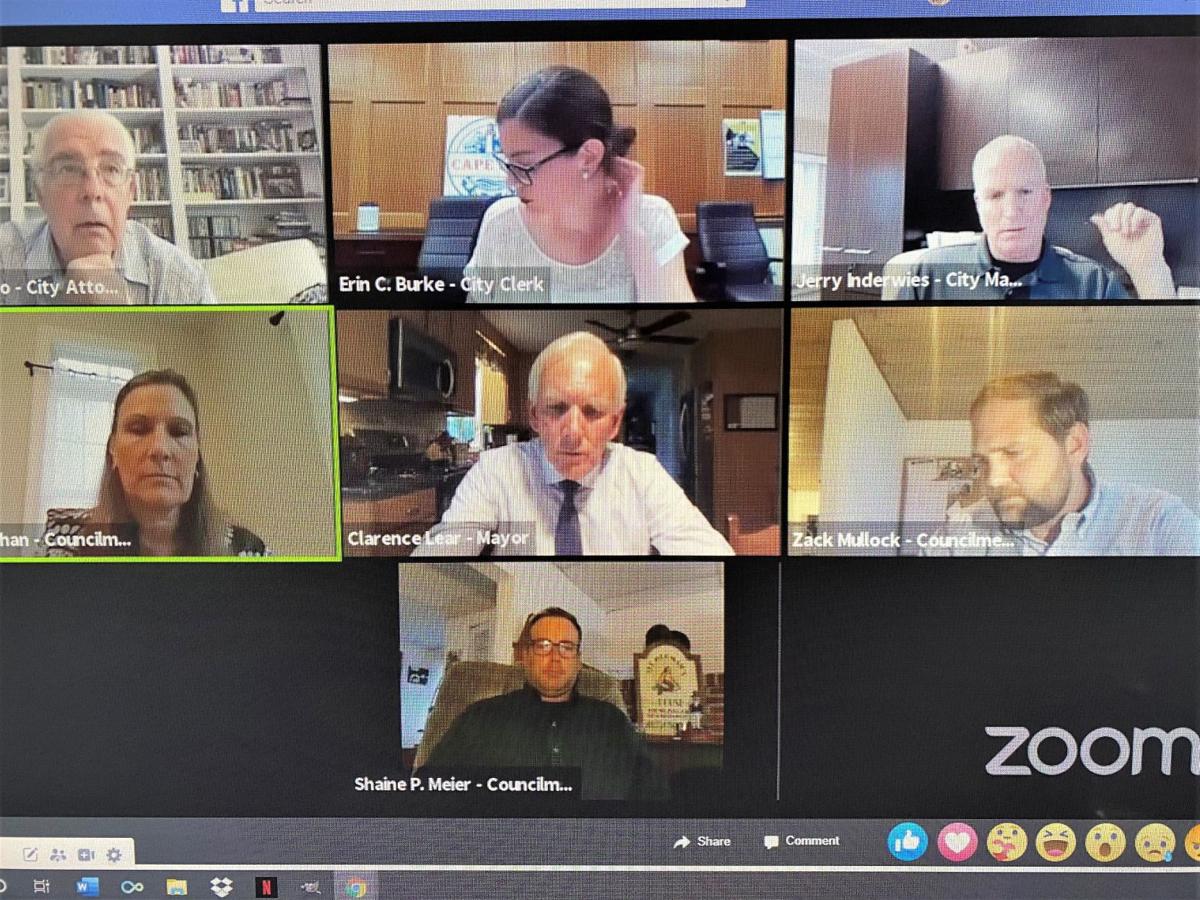 CAPE MAY — City Council on Thursday approved allowing the consumption of alcohol in several areas of town, including the beach, the Washington Street Mall and several parks.
Three of the five members of the city's governing body voted in favor of the resolution, which takes effect immediately and is temporary. It will allow the consumption of up to 16 ounces and does not allow glass containers.
Supporters of the move describe it as necessary if the city's restaurants are to survive the pandemic, while those opposed argued it would fundamentally change the family atmosphere of the resort.
The state of New Jersey will sue a shore town that has defied an executive order by authoriz…
Cape May joins Atlantic City, North Wildwood and other towns in allowing alcohol to be consumed in public, at least until Gov. Phil Murphy lifts emergency measures that have kept people out of bars and restaurants for months.
Restaurants have been limited to offering takeout, including beer, wine and mixed drinks under an amendment to state law. Mayor Clarence "Chuck" Lear argues that is not enough for restaurants to remain in business.
Restaurants are set to take a small step toward normal next week. As of Monday, the state plans to allow outside dining at restaurants, including table service. In Cape May, the city approved several proposals from restaurants to use public sidewalks and other spaces for tables, which was the original reason for the special council meeting Thursday.
City Manager Jerry Inderwies Jr. said he rejected some proposals, including some he said suggested closing roads and other steps to allow for more table room, while he recommended approval for several restaurants' plans and expects more proposals to come in over the weekend.
Councilwoman Stacy Sheehan voted against the outside dining approvals, not because she objected to any specific plan but because she said she did not have enough time to evaluate the resolution. She said she got her copy about a half hour before the start of the late afternoon meeting, which was held remotely because of the ongoing restrictions related to COVID-19.
Inderwies said he and other staff members worked on the proposals up until the last possible minute, and had been working close to nonstop to get as many outdoor seating plans approved as possible. Some requests came too late for consideration at that meeting, he said.
Cape May has granted Inderwies broad discretion in approving the outdoor seating plans on restaurant properties, but requests to use sidewalks or other public spaces require council approval.
Allowing alcohol in public proved the thornier issue. Council had discussed a much broader proposal earlier in the week, which would have lifted the ban on open containers in public throughout the city. Councilman Zack Mullock pushed for limits, including on where and when alcohol could be consumed.
He got them, with the new resolution limiting the time to between 5 and 10 p.m., and allowing people to sit or stroll with beer, wine or mixed drinks on the beach, the Promenade, along the length of the Washington Street Mall and its adjoining Rotary Park.
CAPE MAY — A proposal to allow the public consumption of alcohol in the city is likely to be…
The amendment also applies to the sidewalks of several areas of town where alcohol is served, including sections of Lafayette, Bank, Elmira, Jackson, Decatur, Ocean and Washington streets, Carpenters Lane and others.
Most are close to the center of town, while others are in discreet neighborhoods close to businesses with liquor licenses, including on Texas and Beach avenues on the east side of town.
Mullock abstained from the vote. His family business holds a liquor license. But he expressed concerns about the long-term impact of the proposal and suggested it will mean more work for an already overburdened Police Department.
He also suggested drinking on the beach could lead to reckless behavior near the ocean after lifeguards go off duty.
Sheehan voted no, saying the city is already allowing more outside tables to help restaurants.
"We can't control what the governor's orders are, or that COVID happened. I think as a council we're doing our best to help the businesses along," she said. "I just want to state for the record that I'm against the open container law. I will not be voting for it. I don't see the financial boost that it's giving to these restaurants."
CAPE MAY — There's a saying that the wheels of justice grind slowly.
Instead, she suggested, it will lead to large gatherings on the Washington Street Mall, impeding retail operations.
Councilwoman Patricia Gray Hendricks said she would normally not support allowing open consumption, but these are not normal times.
"I think the COVID-19 pandemic has had enormous implications for our state, our country and our city, and for months now, we've been trying to strike the right balance between keeping people safe and trying to stabilize the economy," Hendricks said. "This is not an easy task."
If no further action is taken, the amendment ends at 11:59 p.m. Nov. 1.
Councilman Shaine Meier said he supports the change to support businesses, stating it will not be a free-for-all.
"This will allow the police to focus on the problems and not on Mr. and Mrs. Smith might be in their 50s or 60s, enjoying a crush on the boardwalk," he said. "It's better than seeing closed doors throughout the town."
Multiple people wrote to council about the issue, with City Clerk Erin Burke reading the letters and emails into the record.
Several restaurants supported the proposal, as did the Cape May Chamber of Commerce. Several residents wrote in opposition to the proposal, including some who fear rowdy behavior and other problems spilling into quiet neighborhoods.
Gov. Phil Murphy began his daily briefing by stating how proud he was of the peaceful protes…
Council members who supported the change said it could be quickly rescinded if there is a problem. Hendricks said the decision should not be politicized.
"Whatever decisions we make, we are truly in this all together," she said.