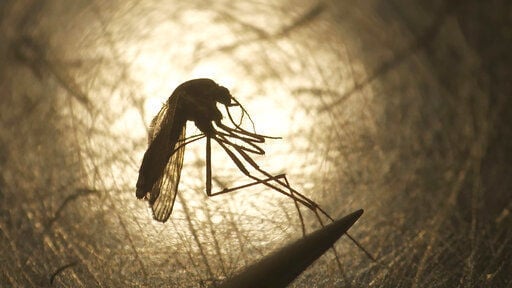 Atlantic County's first case of human eastern equine encephalitis has been confirmed in a resident who is receiving treatment, county health officials said Friday.
The mosquito-transmitted disease was confirmed by the New Jersey Department of Health, county spokeswoman Linda Gilmore said in a news release.
EEE, which can also kill horses, is one of several mosquito-borne illnesses, along with West Nile virus. To date, two Atlantic County residents have been confirmed for West Nile and are also under medical care, according to the county.
"This is an extremely active season for mosquito-borne illness, not only in New Jersey but throughout the country," Atlantic County Public Health Officer Patricia Diamond said.
The number of U.S. deaths and illnesses from EEE are higher than usual this year, health officials report.
EEE has been diagnosed in 21 people in six states. Five people have died.
The U.S. each year sees seven illnesses and three deaths on average.
It's unclear why numbers are up this year, but for some reason cases seem to spike once every several years, said Dr. Mark Fischer of the U.S. Centers for Disease Control and Prevention.
Most infections occur in the summer, so health officials do not think it will get much worse.
EEE is not considered as large a concern as West Nile. Nearly 500 West Nile illnesses, including 21 deaths, have been reported to the CDC so far this year.
Meanwhile, EEE has been detected in 65 mosquito samples in 13 New Jersey counties this year. Other human cases have been confirmed in Somerset and Union counties.
A 1-year-old Atlantic County filly was euthanized after being diagnosed with eastern equine …
Transmission is most common in and around swamps in the Atlantic and Gulf Coast states and in the Great Lakes region, according to the CDC.
Most people infected with EEE have no symptoms, but some become ill. Severe cases of EEE begin with the sudden onset of headache, high fever, chills and vomiting four to 10 days after a mosquito bite. The illness may then progress to disorientation, seizures or coma.
There is no human vaccine for EEE, but the risk of contracting it can be reduced by using insect repellent, wearing long sleeves and pants when outdoors, removing standing water from yards, cleaning gutters of water and debris, and installing and repairing window and door screens.
For more information about EEE and West Nile, visit aclink.org/publichealth or call the Division of Public Health at 609-645-5971.
For assistance in removing stagnant puddles or floodwater from a property, call the Office of Mosquito Control at 609-645-5948.
The Associated Press contributed to this report.
Contact: 609-272-7219
Twitter @MichelleBPost
Get local news delivered to your inbox!
Subscribe to our Daily Headlines newsletter.