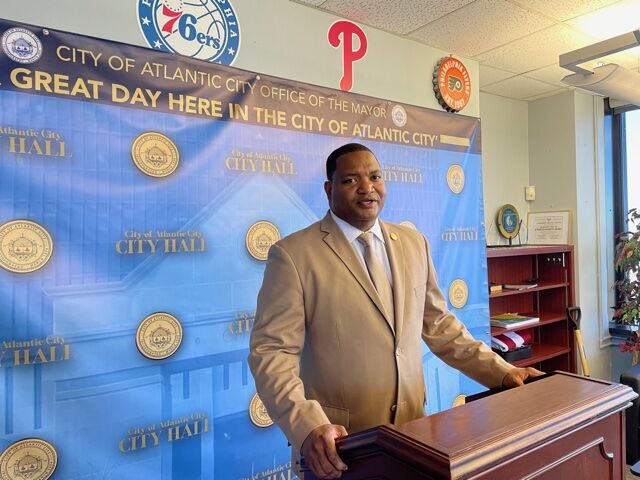 ATLANTIC CITY — After delaying bonus payments to city employees who worked during the worst of the COVID-19 pandemic, the state has now given its blessing for the city to use some American Rescue Plan funds to reward workers, Mayor Marty Small Sr. said Thursday morning during at a news conference at City Hall.
Each worker's bonus will be determined by hours worked on site from March 20, 2020, to Dec. 31, 2020, Small said. Workers will get an additional $4 per hour, up to a maximum of $3,500 for full-time workers and $1,750 for part-time and seasonal workers.
The special payments, which Small said he negotiated with the state to more closely meet requirements of the federal relief plan, will go out Monday.
They will total $3.2 million, as originally planned, but while a minority of workers will get less than $3,500, more workers will qualify for something.
"Eighty-five percent of city employees will receive the maximum," Small said. "And the time frame has been extended so it includes more employees."
Originally the time frame ended Sept. 28, 2020.
ATLANTIC CITY — The state hopes to give the go-ahead for some type of COVID-related bonuses …
The fate of planned $500 payments to property taxpayers is still being determined. Those also total $3.2 million, so $6.4 million of the city's $33 million in American Rescue Plan funds would go to employee and taxpayer bonus payments.
The state has oversight of city finances under the 2016 Municipal Stabilization and Recovery Act, which was recently extended another four years.
Department of Community Affairs spokesperson Lisa Ryan said an agreement was reached Wednesday between Division of Local Government Services Director Jacquelyn Suarez and Small.
"This will provide the necessary backup documentation ... to substantiate payments under American Rescue Plan guidelines," Ryan said.
The city payroll system includes a special code for tracking onsite hours, she said.
"Regarding payments to property owners who are current on their property taxes, (the Division of Local Government Services) is continuing to work with Mayor Small in reviewing alternatives to the mayor's proposed tax rebates of $500," Ryan said.
ATLANTIC CITY — About five years into a state takeover of the city, it's about halfway to ge…
Vacation and sick time used cannot be counted toward hours worked during the pandemic, said city Chief Financial Officer Toro Aberderin.
Small said his office has been inundated with letters from municipalities and unions saying they are interested in pursuing premium pay for essential workers as well.
"We were the area's leader (on this)," Small said.
The first city in New Jersey to give its employees funds from the American Rescue Plan is believed to be Trenton, which is using part of the $73.8 million it received from the act to give city employees up to $7,000 each in hazard pay.
On Sept. 2, just days before city employees expected to get the $3,500 checks Small had promised them, the state halted the payments.
ATLANTIC CITY — City workers did not get promised $3,500 checks Thursday to thank them for k…
On Aug. 19, Small had announced that about $3.2 million in federal funds would be used for the payments, to thank city workers for keeping the city going during the pandemic.
Ryan had said Sept. 2 that the state had not been told about the planned payments before Small's Aug. 19 news conference. But Small said his finance director had spoken to the DCA about the plans.
"You argue with your family ... interests (are) not always going to align," Small said. It's important to come together to solve problems and "maintain professionalism even when you are upset. There's a lesson for everyone."
Under federal rules, the city's millions in American Rescue Plan money could be used for a variety of specific types of spending, including to give stipends to essential workers.
President Joe Biden signed the $1.9 trillion American Rescue Plan Act on March 11. New Jersey's state government secured $6.5 billion of the total federal package. Collectively, the state's local governments received $2.9 billion.
REPORTER: Michelle Brunetti Post
609-272-7219