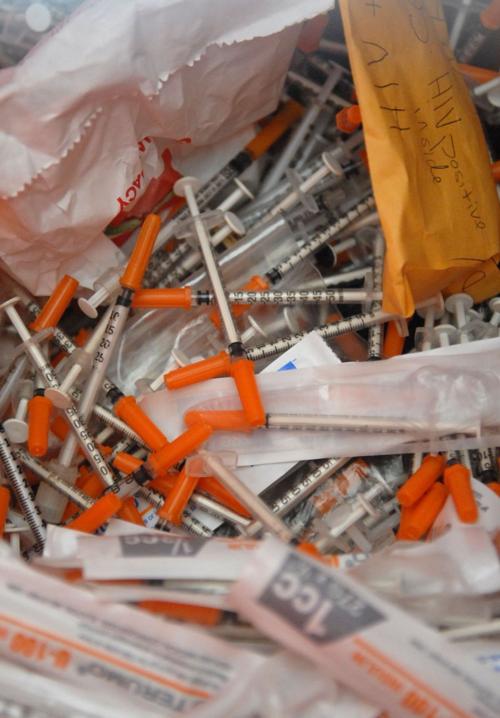 ATLANTIC CITY — Over a concern that the resort has become overrun with stray needles and out-of-towners who are addicted to drugs, City Council is set to introduce an ordinance Wednesday to get rid of the clean needle exchange program operated by the South Jersey AIDS Alliance.
"Enough is enough," said council President George Tibbitt, who is co-sponsoring the ordinance. "Things have gotten so bad."
The fate of the program has been debated by city officials, residents and advocacy groups for years, with its location and effectiveness being the most contentious talking point.
"We are more than happy to do our fair share as we have done, but our fair share has turned into doing the entire job for the county and the region," Tibbitt said. "What happens is they come here from all different areas, sign up for social services and now they're technically Atlantic City people. ... We understand they are somebody's children, but they need to go where they live and get help."
AIDS Alliance CEO Carol Harney said the decision could have a detrimental impact on the city.
ATLANTIC CITY — Nearly one year after the public consumption of alcohol became legal in the …
"Like any city, Atlantic City has needs. We cannot wish them away by increasing barriers for lifesaving services," Harney said. "If we close our eyes to the needs of our residents, we will reverse the progress that our community has fought so hard to achieve."
In an opinion piece published Monday on NJ.com, Jennifer D. Oliva, director of the Center for Health & Pharmaceutical Law at Seton Hall University, and Leslie Harrison, board treasurer of the New Jersey Harm Reduction Coalition, said 30 years of research proves that death and suffering will be exacerbated if the program is ended.
In an effort to save the program, the AIDS Alliance has written a letter to Gov. Phil Murphy and Lt. Gov. Sheila Oliver asking for their intervention.
"These services are in peril mere days after New Jersey ended its public health emergency and in the midst of an overdose crisis in which death rates are rising fastest for Black and Hispanic/Latinx residents of the Garden State," according to the letter. "Syringe access programs are essential public health services, and the stakes of closing Atlantic City's syringe access program are life-and-death for residents who use drugs and their loved ones."
The syringe exchange program, launched in 2007 as a partnership between the AIDS Alliance and the city's Health Department, is run out of the Oasis Drop-In Center on Tennessee Avenue in the city's Tourism District.
On Tuesday afternoon, a plane flew a banner across the beaches in Atlantic City that read, "Tell Gov. Murphy save Oasis Drop-In Center, end overdose and HIV."
happening now: this banner plane is flying across the Atlantic City shoreline this morning urging @GovMurphy to #SaveOasis!
An attack on people who use drugs anywhere is an attack on people who use drugs everywhere! pic.twitter.com/ELgbIIRPKb

— NJ Harm Reduction Coalition (@NJHarmReduction) June 15, 2021
Atlantic City's program is just one of seven in the state, along with programs in Asbury Park, Camden, Jersey City, Newark, Paterson and Trenton.
At the Oasis Drop-In Center, people can exchange dirty needles for clean ones, take showers, get food, do their laundry and use the phone.
The relocation of the needle exchange has been up in the air for three years, according to the AIDS Alliance.
"In 2018, the Tourism District expanded to the area that is home to the Harm Reduction Center at Oasis Drop-In. We've been working with (the city) to move to a new, non-tourism area, and glad to do so," AIDS Alliance officials tweeted Saturday. "For the past 3 years, every potential site we suggested was shot down, the counter proposal was a parking lot on the highway, in the marshes and completely inaccessible without a vehicle."
Mayor Marty Small Sr. said in 2018 that the AIDS Alliance had rejected all of the alternate sites proposed by council and the Casino Reinvestment Development Authority.
According to the AIDS Alliance, Oasis is also the only publicly accessible source in the city of low-barrier free naloxone, a medication used to treat known or suspected opioid overdoses.
Despite their controversial reputation, syringe exchange programs have been shown to have a positive impact on communities suffering from the ramifications of opioid abuse.
According to the U.S. Centers for Disease Control and Prevention, these types of programs reduce the rates of infectious diseases such as HIV and hepatitis, are cost effective and help reduce drug use and drug overdoses.
Atlantic County has some of the highest rates of HIV and AIDS in South Jersey, with 515 per 100,000 people living with the diseases in 2018, according to the state Department of Health.
A 2000 study from Seattle found new users of syringe exchange programs were five times as likely to attend drug treatment than those who didn't participate in the program.
ATLANTIC CITY — A little more than a year after becoming the backdrop of looting and vandali…
AIDS Alliance officials believe harm reduction services are not to blame for the issues in Atlantic City.
"The reality is that drug use is in all of our backyards. Structural racism, residential segregation and a war-on-drugs mentality are the problems — not harm reduction services," according to the letter. "Moreover, people who use drugs are not disposable. They are members of any given New Jersey community."
Tibbitt cited the large number of discarded syringes as another reason for the ordinance.
"I've (recently) walked around the street and found 52 needles in an alley that runs from Boston to Sovereign avenues," Tibbitt said. "They (the AIDS Alliance) claim its high recovery rate of the needles, but how do we find 55 on one block? How do we find them all over the beach?"
Despite Tibbitt's assessment, the CDC claims syringe exchange programs do not lead to more needles being discarded around communities.
As of 2018, Atlantic City's needle exchange program was garnering a 98% return rate, the highest in the state, but had the second-lowest rate of drug treatment admission among the seven programs.
Tibbitt said the city has to make a choice.
"Either we are tourist attraction or social service attraction," he said. "It can't be both, the two don't mix."
609-272-7241
Twitter @mollycshelly