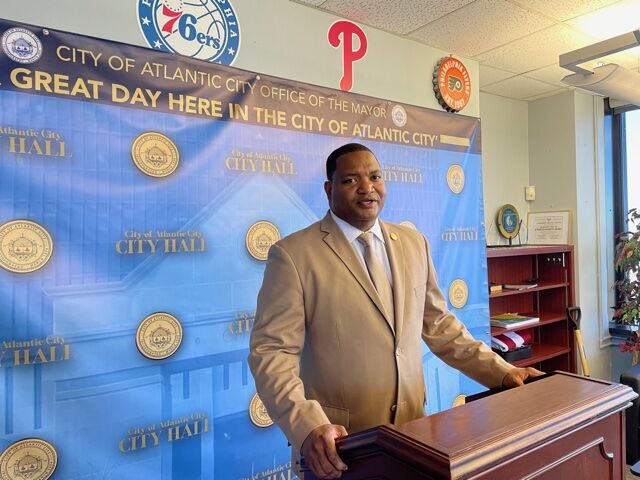 ATLANTIC CITY — The city will use $300,000 in Community Development Block Grant money to help its smallest businesses survive the COVID-19 pandemic, Mayor Marty Small Sr. said Thursday.
"It will be awarded on a first-come, first-served basis," Small said of the program, which begins Nov. 4.
Only enterprises of 3,000 square feet or less that are still in business and were established before March 9, 2020, are eligible, Small said.
The New Jersey Redevelopment Authority is providing an online portal where business owners can apply for the funds at njra.us. The portal will provide information in several languages, Small said.
"We worked with the New Jersey Redevelopment Authority to launch the small business emergency grant program," city Constituent Services Director Bruce Weekes said.
Weekes estimated the city has about 500 to 700 businesses that could qualify for the funding, many more than can be served.
ATLANTIC CITY — Fire House No. 2 turns 100 next year, and as it reaches that milestone it wi…
"I've been at NJRA for quite some time," said Leslie Anderson, president and CEO of the authority. "The majority of our time we were precluded from working in Atlantic City. Now we can work closely with Atlantic City. This is our first effort out of the box, and we are excited about it."
Anderson said the grants are for micro businesses often left behind by other programs.
According to a September 2020 study by the Brookings Institution, businesses in minority-dominant neighborhoods were less likely to be approved for federal Paycheck Protection Program loans, and those that were approved took several weeks longer than those in mostly white neighborhoods.
There is no long application process, Small stressed.
"They have to prove they were in business prior to March 9, 2020. Other than that, there are no financial statements or documents needed. They have to be in good standing currently," Small said. "We are verifying the square footage."
"We were happy to collaborate with the city to create a program to help the smallest of the small with the support they need," Anderson said. "We like to think we are through the pandemic, but we are not."
ASBURY PARK — A group of officials, community leaders and business owners gathered on the ro…
More programs will be announced in the future, Small said.
"This administration's successes are built on partnerships. This is the first of many initiatives," Small said. "We have other money ... but are not ready to divulge what we will do with it," adding that information is coming soon.
Small said his administration has been proactive in keeping businesses open during the pandemic.
"We kept the beach and Boardwalk open," Small said. "We passed the open container law which many businesses would have closed without."
The city lifted the curfew on bars and restaurants as soon as the state allowed it, restoring their right to operate 24 hours a day, seven days a week, he said.
Businesses in storefronts of zero to 2,000 square feet are eligible for $1,000, and those of 2,001 to 3,000 square feet are eligible for $2,000.
ATLANTIC CITY — After delaying bonus payments to city employees who worked during the worst …
Not eligible for this round of funding are home-based businesses, transient businesses and national chain stores, Small said.
"For example, any retail stores at The Walk that are national" are not eligible, he said.
In coming weeks, officials from the Small administration and the NJRA will visit small businesses in Atlantic City to distribute literature on the grant program, the city said.
The city's new Office of Multicultural Services will translate for those who do not speak English, provide materials in several languages, and the city will hold a webinar to teach people how to apply in the near future, Small said.
Small also said his office is resuming discussions with the state to get approval for his plans to give $500 payments to every homeowner whose property taxes are paid in full. It was delayed due to vacations of key staff, Small said.
"Everybody apply. Let's not let that money sit there and go to waste," Small said. "Every little bit helps. If I could give everyone $1 million, I would."
REPORTER: Michelle Brunetti Post
609-272-7219