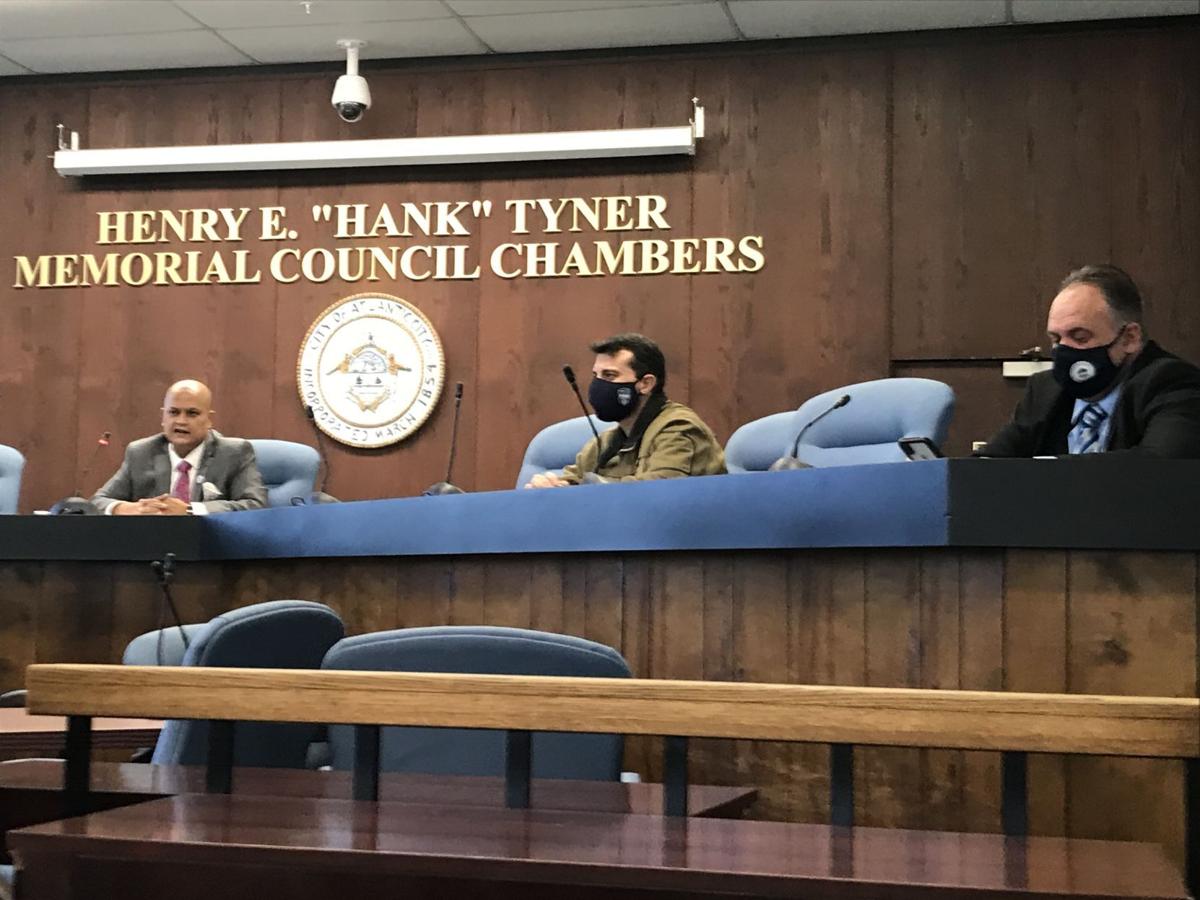 ATLANTIC CITY — To anyone considering selling drugs or engaging in prostitution, the city's top cop has a message for you — think twice.
Undercover police posing as call girls, coordinated raids on known drug dens, anonymous tips sent via text message and the ever-present "eye in the sky" are all part of the Atlantic City Police Department's toolkit to curb criminal behavior and improve quality of life, said James Sarkos, interim officer in charge of the department, during an informal meeting Tuesday at City Hall.
"If you come to Atlantic City and you think that you're going to (break the law), just (let it) be known that the consequences are severe and we will come after you, because that's not tolerated," Sarkos said.
Hosted by 4th Ward Councilman Md Hossain Morshed, Tuesday afternoon's meeting — which is available for viewing on the city's website — was called to discuss issues happening in that particular section of town, but the overall message was one that could be applied to almost any area of Atlantic City. Morshed relayed constituent complaints and his own eyewitness accounts of drug dealing and prostitution pickups that he said are happening all too frequently in his ward, which encompasses the Ducktown neighborhood and parts of midtown and Chelsea.
ATLANTIC CITY — As survivors of suicide loss, Michael Sampson and Wendy Sefcik know the impo…
"(We) cannot continue like this," said Morshed, who is just completing his first year on City Council. "We have to take action, and we have to think about our future."
Council President George Tibbitt suggested a tough-love approach to violators of all sorts. He said publicly shaming those who solicit sex workers by displaying their mugshots on Boardwalk digital displays or imposing hefty fines on operators of illegal housing units — prime locations for both drug dealing and prostitution — would send a message that Atlantic City will no longer turn a blind eye to people brazenly flouting the law.
Several others, including state Department of Community Affairs Assistant Commissioner Kim Holmes, city Licensing and Inspections Director Dale Finch and city Public Works Director Paul Jerkins, were scheduled to participate in Tuesday's meeting, but personal reasons prevented each from attending.
Mayor Marty Small Sr. assured Morshed the administration was "committed to not only your ward but the entire city."
"Though your problem may not be solved right away, the problem is not being ignored," the mayor said.
Contact: 609-272-7222
Twitter @ACPressDanzis