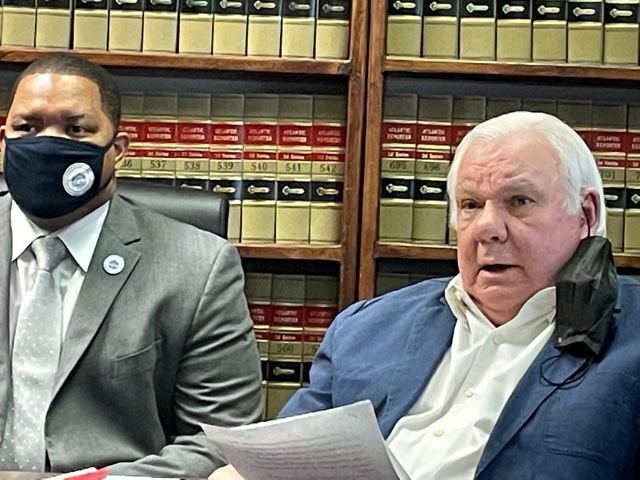 Small has filed a complaint against Craig Callaway, alleging he made statements on radio programs claiming Small and wife guilty of criminal activity @ACPressHuba #acpress

— Michelle B. Post (@MichelleBPost) March 17, 2021
ATLANTIC CITY — Mayor Marty Small Sr. has filed a legal complaint against Atlantic City political organizer Craig Callaway, accusing him of making untrue statements claiming Small and his wife allowed children to be raped in their home.
In a Wednesday morning news conference at his legal firm in Atlantic City, Ed Jacobs, Small's attorney, said Callaway slandered the Small family by making statements in South Jersey radio interviews that he "knew or should have known" were lies. The interviews included one on Oct. 19 with Harry Hurley on WPG 95.5-FM and one on Oct. 26 on the program "AC 411."
Small is running for reelection and called Callaway's attack a "political witch hunt."
The complaint, filed Monday in Atlantic County Superior Court, accuses Callaway and five unnamed others of slander and civil conspiracy for comments Callaway made about the Smalls and a relative of theirs who has pleaded guilty to child exploitation involving sexual abuse and child pornography.
Jacobs said the five others may be named after he collects more information during depositions.
Callaway, who opposes Small politically, said Wednesday he is not worried about defending his statements.
ATLANTIC CITY — Accusations of complicity in sexual assaults on minors against Mayor Marty S…
"I wouldn't have said what I said if I didn't have proof, and I have proof," Callaway said. "I have truth, and I have proof."
He declined to describe that proof, saying "it will come out at another time when depositions come."
Callaway also said he will file his own lawsuit against Small and the city, alleging slander over statements Small made on the radio, accusing Callaway of voter fraud in his get-out-the-vote efforts.
"It's no-holds-barred," Callaway said. "The rabbit's got the gun now. I am forced to do it to protect my brand and my integrity for myself personally and my business."
Callaway is a longtime political organizer who has mainly worked for Democrats but who has recently said Democrats take African Americans for granted and began working openly for Republicans. He was paid more than $110,000 to do get-out-the-vote work for the reelection of U.S. Rep. Jeff Van Drew, R-2nd, last year.
ATLANTIC CITY — Mayoral candidate Tom Foley is making a child exploitation case an issue in …
A former City Council president, Callaway spent time in federal prison in the early 2000s on bribery and blackmail convictions.
The case Callaway referenced was that of Kayan Frazier, 28, of Somers Point, who is the cousin of Small's wife, La'Quetta. Frazier pleaded guilty Feb. 4 in federal court to exploitation of a child. The child was identified as Minor Child 1, who was in Frazier's care between March 2017 and April 15, 2019.
According to the plea agreement, Frazier possessed and distributed child pornography — including images involving Minor Child 1 — dating as far back as March 2015.
Frazier had lived with the Smalls at their Atlantic City home while attending Stockton University and for some time after, Small said, but moved out to live in his own apartment in October 2015.
Frazier worked as a substitute teacher in Atlantic City schools, including at the Pennsylvania Avenue School, where La'Quetta Small was principal, between 2015 and 2017. He was dismissed for inappropriate behavior after La'Quetta Small found out Minor Child 1 had stayed overnight in his apartment.
A super political action committee that supported two Pleasantville Board of Education candi…
"Defendant Callaway accused Mayor Small and Dr. (La'Quetta) Small of consenting to Frazier's rape of children in their home and covering it up," the suit said.
"In fact the opposite is true," said Jacobs. "Our complaint makes clear the moment Principal La'Quetta Small became aware of any misbehavior by her relative, she reported him, her own cousin, to multiple agencies. And that was two years after he had left the Small residence."
La'Quetta Small followed district policy in reporting Frazier's inappropriate conduct with a student, according to findings in an October memo from school board Solicitor Tracy Riley.
Riley's report said La'Quetta Small investigated and in an incident report said the mother of the child told her Frazier was helping her out and mentoring her son. But Frazier's conduct violated school policy, so he was dismissed.
The report also said La'Quetta Small reported the incident to the state agency that later hired Frazier, the New Jersey Department of Child Protection and Permanency.
Party affiliations continue to switch this year, as former Democratic Congressman Jeff Van D…
An opponent to Smalls in the Democratic primary, Tom Foley, has demanded a state investigation of how the Smalls have handled the Frazier case.
Jacobs said the right of political discourse does not include the right to make false accusations of criminal activity about anyone.
"The courts have drawn a line. And when you lie about someone, falsely claiming complicity in a serious crime, you have crossed that line," Jacobs said.
Small is seeking a jury trial and compensatory and punitive damages, Jacobs said.
Callaway has 35 days from Monday to answer the complaint, Jacobs said.
Contact Michelle Brunetti Post: 609-272-7219
Twitter @MichelleBPost