ATLANTIC CITY — The municipal Democratic Committee wants the county committee to rescind its award of the party line to Mayor Marty Small Sr. and honor their candidate selection in July's primary, warning that a failure to do so may carry over into future elections.
Atlantic City Democratic Committee Chairwoman Gwendolyn Callaway-Lewis wrote an open letter to Michael Suleiman, chairman of the county committee, urging him to change course and support Pamela Thomas-Fields over Small.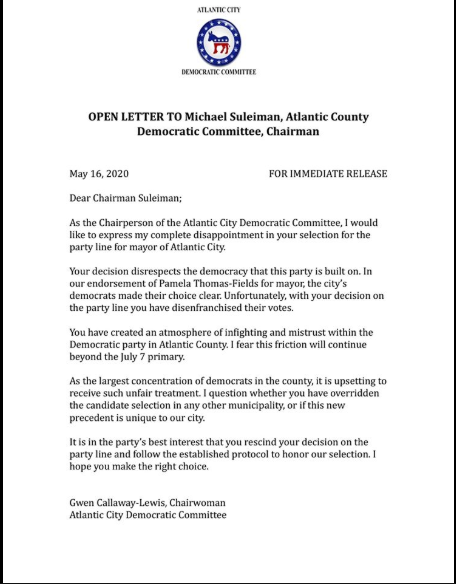 The city Democrats voted to endorse Thomas-Fields in April. On Thursday, Suleiman informed Atlantic City municipal candidates that Small and 2nd Ward Councilwoman LaToya Dunston were incumbents, despite the fact both are serving unexpired terms, and, therefore, deserved to bracket with party county candidates July 7.
"Your decision disrespects the democracy that this party is built on," Callaway-Lewis wrote to Suleiman on Saturday, adding that city democrats made their choice clear in endorsing Thomas-Fields and the county chairman's decision "disenfranchised their votes."
"You have created an atmosphere of infighting and mistrust within the Democratic party in Atlantic County. I fear this friction will continue beyond the July 7 primary," she wrote.
In his letter to the candidates, Suleiman said it was "undoubtedly ... the hardest decision" he has made as county chairman but explained that "continuity in government" was important as Atlantic City grappled with the novel coronavirus pandemic and the indefinite closure of its nine casinos.
Suleiman said he would not insert himself into the primary and would support the winner in the November general election.
The county chairman reiterated those positions when contacted Sunday.
Callaway-Lewis did not respond to a request for comment Sunday.
The city Democratic Committee posted Callaway-Lewis' open letter on its official Facebook page. In a comment thread under the post, the Committee said, in part: "We tried to work with Marty, gave him the position he wanted his entire career with condition that he separated from (attorney and campaign supporter) Joe Jacobs, stopped the back door deals with contractors and developers. Marty is bought and sold. The people of Atlantic City deserve better and we will work toward electing someone without his baggage."
The mayor said the committee's insinuation he was given the office with conditions attached was "total nonsense" and "spoke volumes" about the party's motives.
"When the (Atlantic City) Democratic Committee should do what's best for the city, they tend to do what's best for themselves," Small said, before adding, "When I don't bow down or support the Craig Callaway (brother of Callaway-Lewis) agenda, this is what you get. I'm never going to do that."
Small, Thomas-Fields and James Whitehead are seeking the party's nomination to campaign for the one-year remaining on former Mayor Frank Gilliam Jr.'s term, after he resigned in October following a guilty plea to wire fraud in federal court.
The city Democrats nominated Small, Thomas-Fields and Callaway-Lewis to replace Gilliam. Small, who had been serving as council president and 2nd Ward representative, was selected by City Council to be mayor until Dec. 31. Dunston was nominated by the city party members to replace Small and voted in by council to serve out the year.
Dunston received the endorsement of the Democratic Committee over challenger Delmar Hamilton.
Former city Democratic Committee Chairman Thomas Forkin is running as a Republican for the one-year mayoral term.