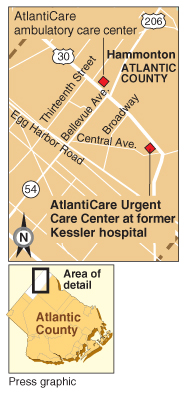 HAMMONTON — Zoe Ann Jensen was a devoted William B. Kessler Memorial Hospital employee for 36 years. The 57-year-old licensed practical nurse from Egg Harbor City thought she would stay in that job until retirement.
But one year ago Friday, Jensen and her roughly 400 co-workers learned that the 130-bed hospital was closing its doors — sending her job-hunting for the first time in nearly four decades.
She did not hear about it from a hospital official, her bosses or a co-worker. She found out watching the news. Jensen arrived at the hospital to find dozens of people congregating in the hallways and parking lots — many sharing hugs and many more shedding tears.
"We'd all worked together for so long that we'd become like a big family," she said. "And then it just ends."
Hammonton-area residents and the hospital's former employees are still feeling the effects of Kessler's closing. AtlantiCare Health System has softened the blow somewhat by operating a small emergency center at the shuttered hospital while making plans to do even more to offset Kessler's closing.
Kessler, which first opened in 1964, folded March 12, 2009, after several years of financial turmoil. It filed Chapter 11 bankruptcy in 2006 after a plan to affiliate with South Jersey Healthcare fell through, and it eventually closed after the failure of last-minute efforts to either sell the hospital or collect enough of the $25 million in receivables it was owed to cover its late payroll.
But just five minutes after Kessler closed, AtlantiCare opened a satellite emergency department at the location.
AtlantiCare completely renovated the dated emergency department and opened a $2 million-plus medical imaging center in partnership with Atlantic Medical Imaging. The imaging center provides valuable services — such as MRI, CT scanning, mammography and digital X-rays — that Larisa Goganzer, AtlantiCare's director of Hammonton Services and Special Projects, said the community had long been without.
By next year, AtlantiCare plans to open a $20.6 million ambulatory care center about two miles west of Kessler on the White Horse Pike.
The 39,109-square-foot facility will have a satellite emergency department more than 6,000 square feet larger than the one at the Kessler campus, and the medical imaging center will go from being housed in a temporary trailer to an 8,911-square-foot building with state-of-the art amenities. It will also feature 4,033 square feet of physician offices with an outpatient lab and two procedure rooms.
"When Kessler closed, it was a major loss in this community," said Don Caccia, the executive director of Hammonton Services for AtlantiCare. "We are looking forward to meeting the community's needs… and we'll (continue doing so) as long as it makes economic sense, from a provider prospective."
According AtlantiCare spokeswoman Jennifer Tornetta, the satellite emergency department had 11,270 patient visits between March 12 and Dec. 31. AtlantiCare also either provided health screenings or medical-related information to more than 20,000 other people at special events held in the Hammonton area during that time, she said.
This did not go unnoticed in Hammonton.
"Thank goodness for AtlantiCare," Mayor Steve DiDonato said. "It was a loss for us to lose the beds that Kessler provided people who had to stay in the hospital for a few days. But our main concern was definitely the emergency room part of the equation, and thanks to AtlantiCare, we never lost that at all."
AtlantiCare has met several times with a community advisory board it established to find out what the community feels its health care needs are and the best way to address them. Those meetings are expected to continue into the foreseeable future, Caccia said.
It also organized a job fair a week after Kessler closed — with dozens of other area health care providers — to help ease the transition of laid-off employees back into the job market.
Nancy Berenato worked at Kessler as a registered nurse for 29 years. She found a job in AtlantiCare's Cardiac Catheterization and Rhythm Center in Galloway Township, but still reflects often on her days at Kessler.
"I was devastated when it closed," she said. "I loved that place, I loved the people, and when it closed I was devastated. It was like I was losing my family."
Some of Kessler employees, meanwhile, lost their jobs but still report to the same address for work every day.
Jill Menaquale worked at Kessler for a decade, but was hired by AtlantiCare to stay on as a registered nurse at the satellite campus.
"I still had to go through the interview process and all the orientations. It was bittersweet to have to get my resume together for it," said Menaquale, of Folsom. "But it's great to be part of the new culture here, where the AtlantiCare and Kessler cultures have come together to provide for the community."
According to Goganzer, a recent employee survey at the Kessler campus recorded a 95 percent satisfaction rating.
Francis "Butch" Gazzara, of Folsom, worked for Kessler for 16 years and still works at AtlantiCare's satellite campus as a clinical manager. Gazzara praised AtlantiCare for everything from its high standards of care to its compassion for the former Kessler employees following the sudden death in June of Dr. William Zwiebel who "was a beloved member of this community for 25 years," he said. "It was like a double whammy."
And many of the former Kessler employees who filled out that survey are also satisfied members of the community that they serve.
"I worked at Kessler for six years, but I am also a member of this community. I've been to this hospital," said Sharon Restuccio, of Hammonton, who is a registered nurse at the satellite campus. "I am so thankful that AtlantiCare recognized the need for 24/7 emergency care here. Because if they weren't here, I wouldn't know what we'd do."
But many other former employees are still struggling to get back on their feet in the wake of Kessler's closing.
Jensen has been unable to find full-time employment. She is without health insurance and her mortgage insurance coverage is scheduled to run out in a few weeks.
"People think that because we're in the medical field that there are plenty of jobs available, but that's not true," she said. "The economy is tough for everyone right now."
Waterford Township resident Eileen Matthews tested the job market, but found that there were very few jobs available in the area for LPNs and that the ones that were out there were for long-term care facilities — not the hospital environment she thrived in at Kessler for 21 years.
"As a nurse, I'm used to reacting immediately when something happens with a patient, and they need help," she said. "But when you get laid off from a job that you've had for 20 years, it's hard to figure out what the next step is."
After being unable to find anything more than per diem work, this 53-year-old grandmother eventually figured out what her next step would be going back to school.
"I was accepted into the nursing program at Gloucester County College, where I am currently taking classes to become an RN," she said. "That should hopefully make it easier to find a job."
If a long-term solution for the Kessler property is ever found, that could also help the community move ahead
"I still think that building's nice setting on the lake would be viable for a nursing home or something to that extent. With an aging population, that would be an appropriate usage for a former hospital," DiDonato said. "There have been some talks about different possibilities along those lines. But nothing has been formally discussed or inquired about at this point."
Multiple phone calls to Kessler board members and the property's real estate agents were not returned.
A year after Kessler closed, seeing the vacant building brings back painful feelings for Jensen.
"I still find it very difficult," said Jensen, who — like many of her fellow former Kessler employees — is still owed about a week's pay. "I was a loyal employee for 36 years and they didn't even call me to tell me I don't have a job anymore or at least pay us what we're owed. I still feel very betrayed."