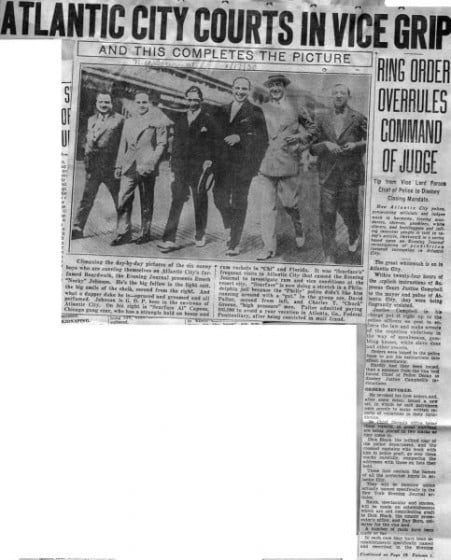 ATLANTIC CITY - When the sharply dressed men in suits reached the end of the Boardwalk in Lower Chelsea that spring day, they stepped out of their rolling chairs, took off their shoes and socks, rolled up their pantlegs and walked out onto the beach.
No one was around. They could talk privately.
It had been foggy with temperatures in the 60s. But the nearly three dozen organized-crime leaders were not here to frolic.
They were here for business.
Eighty years ago today, mobsters from around the United States descended on "The World's Playground" for the start of a secret four-day convention.
When the "Atlantic City Conference" broke up May 16, the groundwork had been laid for the nation's first organized-crime syndicate, a network that crisscrossed the nation and took decades to disentangle.
This kind of organized crime is now a shadow of its former self. Aggressive prosecutors using federal racketeering statutes cracked the mob with a steady stream of informants.
But what happened in Atlantic City eight decades ago made history. Even if it's not the kind taught in school.
America stopped legally selling most alcohol in 1920. But lawmakers couldn't stop demand. A shadow economy developed, and by the end of the decade the so-called "liquor rackets" were estimated to be worth hundreds of millions of dollars.
In 1929, after a decade of running battles, the Italian gang in Chicago run by Al "Scarface" Capone put seven members of a competing Irish gang against a garage wall on Valentine's Day and machine-gunned them down. Similar "Beer Wars" between ethnic gangs made lurid headlines in New York, Boston and other major cities.
During the same time, younger underworld leaders considered moving from smaller, honor-bound organizations to a less deadly, more business-oriented national cooperative that crossed regional and ethnic lines.
Using the cover of Jewish gangster Meyer Lansky's honeymoon, they settled on Atlantic City - a national pleasure capital that essentially ignored Prohibition - and met here, from May 13 to 16, 1929.
The main topics, Nelson Johnson wrote in his resort history "Boardwalk Empire," were the need to stop senseless fighting while creating nonviolent alliances against overzealous police and their informers and working together to minimize competition and maximize profits.
Other reports say they discussed preparing for the end of prohibition by investing in gambling, nightclubs and breweries.
Attendees were top organized crime figures from a half-dozen families from New York and northern New Jersey, including Lansky and his partner Charlie "Lucky" Luciano, and Albert Anastasia, who ran the notorious Murder, Inc.
Capone and members of his South Side Chicago gang joined up with others from as far away as Kansas City, New Orleans and Detroit.
The mobsters originally planned to stay at The Breakers, an opulent hotel equipped with a rooftop garden at the Boardwalk and New Jersey Avenue. But when they arrived, the hotel wouldn't let the mostly Jewish and Italian gangsters into their rooms.
So they called Enoch "Nucky" Johnson, for years the Atlantic City region's undisputed kingpin.
Nucky, the Republican political boss and racketeer who served as host, made new arrangements at the President Hotel at Albany Avenue and kept law enforcement away from the festivities and meetings on the beach and in the hotel.
For the gangster molls, he provided fur drapes.
He appeared with Capone, strolling the boards with several other strongmen.
Not that Capone was hard to find on the island. The Atlantic City Daily Press wrote that the person they labeled a "machine gun maestro, beer baron and nationally known racketeer" was seen in a Boardwalk rolling chair, smoking a black cigar, surrounded by a "half-dozen henchmen."
"The past few nights found him making whoopee, boom-boom or what you have in several of the resort's best known night clubs and on Monday night early he rubbed elbows with police and detectives at the All-Time boxing show at the Waltz Dream Arena," the paper wrote.
It reported he "holds the welcome key to Atlantic City with full privilege to enjoy himself and partake of the resort's famous hospitality like any distinguished visitor."
Capone packed up the following day, but in Philadelphia was quickly arrested and sentenced to a year in prison for carrying a handgun. Crime historians believe it was either a ploy to keep him out of harm's way or divert attention from other mobsters.
An unsigned Press squib at the bottom of the page cracked wise: "Did Al Capone return the key of the city before he left here to get himself pinched in Philadelphia?"
He divulged to the papers that he and other underworld leaders met in Atlantic City, but only revealed they were making peace.
Organized crime continued to grow in ensuing years. By the early 1950s, Tennessee U.S. Sen. Estes Kefauver televised hearings throughout the country, shocking audiences with graphic descriptions of corruption and organized crime. These meetings, that included Atlantic City, gave the mob a national audience.
An organized crime focus during the Kennedy administration led to a host of new laws.
It also influenced the strongest tool, the Racketeer Influenced and Corrupt Organization, or RICO Act. This undercut the traditional mafia by offering steep penalties for organizations committing any two of 35 crimes.
Atlantic City criminal defense attorney James Leonard credited RICO for curbing mafia in New York, Atlantic City and elsewhere. Because of it, the resort's last true mafia chieftain, Nicodemo "Little Nicky" Scarfo, now 80, is not scheduled to leave United States Prison Atlanta until January 2033.
It also led to a parade of informers turning state's evidence instead of spending decades in prison. Leonard said stringent state legislation also worked to largely keep organized crime out of resort casinos.
"The Don Corleones are far and few between, and now you've got a bunch of Tony Sopranos running around," he said. "Those guys don't exist any more."
Instead, Asian and central and eastern European gangs with international ties are the 100-year-old FBI's new focus. Engaged in human and drug trafficking, insurance/credit card fraud and loan sharking, they work cooperatively and have supplanted traditional mafia.
And they are not going away anytime soon.
The FBI reported in 2002 that organized crime activities brought in between $50 billion and $90 billion.
In effect, the mafia may be moribund, but the lessons Capone brought to the beach 80 years ago remain.
"I told them there was business enough to make us all rich and it was time to stop all the killings and look on our business as other men look on theirs, as something to work at and forge when we go home at night," Capone told a later historian about the Atlantic City Conference. "It wasn't an easy matter for men who had been fighting for years to agree on a peaceful business program. But we finally decided to forget the past and begin all over again - and we drew up a written agreement and each man signed on the dotted line."