The number of positive cases of COVID-19 in New Jersey has increased by 1,261, bringing the total to 157,815, said Gov. Phil Murphy. There have been 66 additional deaths, bringing the state total to 11,401.
There are 2,797 people hospitalized across the state, including 740 people in intensive care and 564 people on ventilators, Murphy said. 
Governor Murphy signed legislation to temporarily extend property tax appeals and decision deadlines.
The new deadline to file a property tax appeal is July 1 and the deadline for county boards to render a decision is September 30. The bill takes affect retroactively to April 1, 2020.
"Our current public health crisis has substantially disrupted many of our routine processes, including the ability of New Jersey homeowners to file timely property tax appeals," Governor Murphy said. "Establishing clear dates for tax appeals and decisions will eliminate the potential for a backlog that would only cause further fiscal uncertainty for taxpayers and municipal governments."
Atlantic County health officials announced 34 new cases of COVID-19 Thursday. There were 17 each male and female and they ranged in age from four to 79. 15 of the new cases were in Hammonton. Atlantic City and Pleasantville had five each.
Officials said 38 additional people have been marked as recovered. The county's totals to date are 2,181 infections, 156 deaths and 834 recoveries.
The county said it will continue its COVID-19 testing on Tuesday, June 2 and Thursday, June 4, 9 AM – 12 Noon, for symptomatic county residents with a doctor's prescription, proof of residency and appointment confirmation. The testing location has been moved to Northfield, behind the county's Public Works facility, at Route 9 (New Road) and Dolphin Avenue.
Cape May County reported four new positive tests for a total of 616 cases. The county has had 47 deaths from the disease. 316 people have been listed as off-quarantine.
The Galloway Township Police Department announced on Facebook that they've decided to cancel this year's National Night Out event.
"We look forward to providing this event every year and we plan on celebrating 2021 bigger and better than ever," Chief Donna Higbee said. "We feel this is in the best interest of public safety and also of our local businesses that have fallen on such tough times."
Last year's event included live music, games and activities for kids, local vendors and a display of local fire trucks and rescue vehicles.
Wildwood Mayor Pete Byron called on Gov. Phil Murphy to take immediate action and layout a definitive timetable for the reopening of Wildwood and the rest of South Jersey's seaside resorts. 
"As a seasonal economy, summer is critical to Wildwood and the rest of the Jersey Shore communities. While I understand and supported the Governor's initial statewide stay-at-home order and closure of all non-essential retail businesses, it is time to reopen shore towns. For the last three months people have adopted to the necessary safeguards that can allow us to appropriately function with more normal activities. While we certainly have to be steadfast in maintaining effective crowd behavior and other limitations, we need to act quickly to prevent an economic catastrophe to the Jersey Shore," Byron said in a statement.
The Mayor continued to emphasized the unprecedented fear and hardship local businesses are experiencing. Byron said, "Countless workers, small business owners, and their families depend exclusively on the twenty or so weeks of our seasonal economy. This short span of time cannot be further reduced without permanently crippling people's year-round survival."
"I respectfully urge the Governor to relieve the pressing fears of workers and businesses by laying out a definitive timetable for the reopening of Wildwood and the rest of Jersey Shore. I further request that he help businesses prepare for the reopening by providing a specific framework that immediately allows outdoor seating for restaurants as well as reopening small retail businesses. With the loss of the Memorial Day weekend behind us, we simply cannot afford any further delay," concluded Byron.
The coronavirus pandemic has changed the way people communicate with family and friends. Having to stay indoors and being encouraged to social distance has increased people's use of video chatting apps and programs.
It also has forced people to get to know their neighbors as the hustle and bustle of everyday life slowed down and we're all staying home.
According to a survey of 4,000 Americans conducted by BusinessElectric.com, 1 in 5 (21%) New Jerseyans admitted that the first time they met their neighbor was during lockdown.
While lockdown may have improved communications with loved ones and even neighbors, it has not had a positive affect on the economy. Many Americans are facing serious economic hardship, but it seems as though the average American would lend their neighbor up to $167.
New Jerseyans would lend a neighbor in need $205.08. The survey also found that over 1 in 10 (15%) respondents said they would reach out to their neighbor for financial help, should they need it.
Heartwarmingly, a majority of Americans said they are generous enough to house a neighbor in need. In fact, 77% say they would offer their home to their neighbor if they needed a place to stay.
The Coalition for a Safe Community has scheduled a food distribution in Pleasantville next week for those affected by the pandemic.
The distribution will be held starting at 11 a.m. Wednesday and will go until supplies last, according to a flyer for the event, and it will be held behind the city bus station.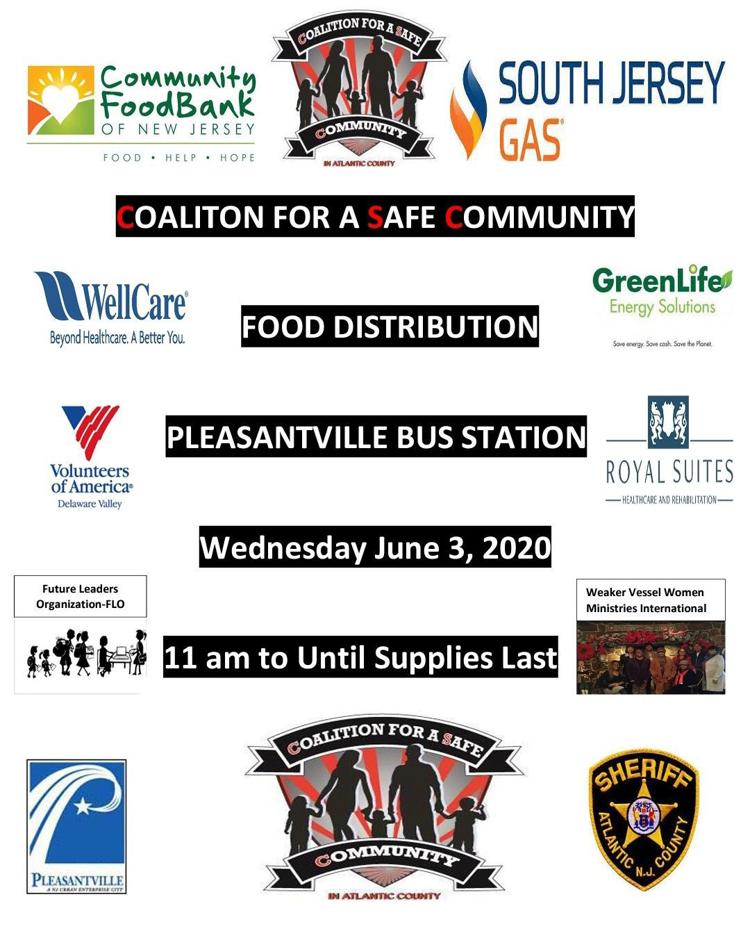 The Delaware Memorial Bridge E-ZPass Walk-in Customer Service Center will reopen Monday on a reduced operating schedule, officials announced Thursday.
The Bridge's E-ZPass Center is located in the Vincent A. Julia Building adjacent to the Delaware Memorial Bridge Toll Plaza.
Until further notice, the limited operating schedule is as follows:
Monday, Tuesday, Wednesday, and Fridays: 11:00 a.m. – 3:00 p.m.
Thursdays: 2:00 p.m. – 6:00 p.m.
To reduce the risk of COVID-19 transmission, DMB E-ZPass customer service representatives are required to wear masks and nitrile gloves, according to a news release. In addition, Delaware River and Bay Authority (DRBA) maintenance employees installed Plexiglas shields on the service counter as an additional layer of protection. All walk – in customers will be required to wear a mask to enter the center. Signs with the message "No Masks, No Service!" will be prominently displayed at the entrances and throughout the center.
Lower Township has decided in recent weeks to cancel their Police Youth Camp because of restrictions and hurdles associated with the coronavirus pandemic, while other municipalities in the region are expected to follow suit, officials.
"Nothing is more important to us than the health, safety, and welfare of our residents, staff and the partners with whom we work," Lower Township Chief of Police William Mastriana said. "Current and reasonably anticipated social distancing requirements for the summer would be impossible to enforce in the camp setting and would also prevent almost every traditional camp activity."
If anyone has questions, please contact the the Police Department at 609-886-2711.
Jewish Family Service of Atlantic & Cape May Counties annual Hour Tour has been canceled, officials said Thursday.
The event, which has happened annually for over three decades, aims to provided hundreds of guests with a rare opportunity to explore luxurious Downbeach homes while raising money for JFS essential services.
However, do the pandemic, the Aug. 3 event has been canceled.
"The House Tour, which has been a staple in our community, provides guests with a unique insight to these specialty homes across the island, while raising funds for the JFS Village by the Shore program," according to a news release. "The approximately $60,000 raised from the event supported an array of Village socialization and professional programs and services for adults over the age of 50 in our region."
While the House Tour will not take place as scheduled, support for the Village is still needed now more than ever due to the COVID crisis, officials said. Many of this vulnerable segment of our neighbors are either unable to access transportation or concerned about being in public during this unprecedented time. With the Village program providing virtual events, grocery shopping and delivery, Kosher Meals on Wheels, telephone check-ins, care coordination and more, our staff and volunteers continue to make certain members are well-taken care of.
More than 200 seniors in our community rely on JFS for essential services and their needs have considerably grown amid the COVID-19 pandemic. Since mid-April, Village by the Shore has seen a dramatic increase in need, especially relating to nutrition for many who are homebound. JFS is providing nearly 150 meals per week, which represents a 67% increase in members using the program. In addition, the Shop at Home grocery delivery has grown more than 200%.
"We truly appreciate all of the support JFS has received over the years with our one-of-a-kind House Tour event and know that our attendees, volunteers and staff understand that the health and safety of everyone is paramount. We hope to have the opportunity to once again showcase House Tour when it is deemed safe to do so," said Andrea Steinberg, JFS Chief Executive Officer.
To assist JFS in reaching its $60,000 goal, visit jfsatlantic.org to make a secure, online contribution. Or, you may send a check to JFS, 607 North Jerome Avenue, Margate, NJ 08402. Should you have any questions, please contact Kirby Reed at 609.822.1108 x144.
A resolution up for passage next week in Lower Township would give business owners the option to increase their outdoor dining areas.
If it passes at the next township Council meeting Monday, the resolution will both allow businesses to serve more individuals and allow more employees to get back to work, according to Wednesday letter to residents from township Mayor Frank Sippel.
"We are working hard with county and state governments to get our businesses open again; we need to get our residents back to work as soon as possible," he said.
Middle Township officials have scheduled a giant makeup date this Friday for kids who have lost out on their birthday parties.
Residents are invited to join in a Backyard BBQ Birthday Bash starting at 6 p.m., according to a news release. Neighbors will stay in their own backyards, but celebrate as a community as they grill and groove to the music of their choice.
In addition to the parties in their respective yards, families can spotlight their birthday boys and girls via a township community Facebook group.
All children who have had been unable to hold traditional birthday parties since the state restrictions began can be celebrated with posts in Middle Township CoronaVirus Info Group. Families can post photos of their birthday kids, plus videos of their group singing "Happy Birthday" and cutting the cake.
Many state residents who receive food assistance through the state's Supplemental Nutrition Assistance Program (NJ SNAP) will receive additional benefits in June to help address critical food needs related to the COVID-19 pandemic, officials said Thursday.
An additional $37 million will be provided to about 220,000 New Jersey households for June, according to a news release.
SNAP supplemental payments were included in the federal Families First Coronavirus Response Act, according to the release. Human Services has already provided $106 million in additional NJ SNAP benefits total in March, April and May to New Jerseyans to help purchase groceries.
"We continue to provide as much food assistance as possible to eligible New Jersey households for as long as we can during this challenging time," Human Services Commissioner Carole Johnson said. "This additional help will assist many families facing difficulties. And I also continue to thank our state's Congressional delegation for protecting residents as we respond to this pandemic."
The supplemental benefits will be directly loaded to NJ SNAP recipients' Families First EBT cards as part of their regular monthly payment.
The New Jersey Department of Labor and Workforce Development processed a record 1.1 million benefits certifications for the week ending Saturday, as the total amount of benefit payments surpassed $4.3 billion and nearly 90,000 claims were made newly eligible for federal Pandemic Unemployment Assistance, according to a Thursday news release.
The number of new applications for unemployment decreased to 34,410, the lowest weekly total since mid-March, according to the release. Employees in casinos, retailers, food service contractors, restaurants, and airlines continue to be the hardest-hit industries.
Over the past 10 weeks, nearly 1.2 million workers who lost their jobs or had their hours reduced due to the pandemic have applied for unemployment benefits in New Jersey, according to the release. During that period, 911,424 have claimed benefits.
Another 70,000 or so people who were unemployed before COVID hit, exhausted regular state UI benefits, and who continue to be unable to find work, are now eligible for 13 weeks of extended benefits through Pandemic Extended Unemployment Compensation (PEUC), under the Coronavirus Aid, Relief and Economic Security (CARES) Act, according to the release. Those claimants began being notified of their eligibility last week in a rollout that will continue over the next few weeks.
"Our Department has made major strides over the past two weeks in getting more benefits to more eligible New Jerseyans," said Labor Commissioner Robert Asaro-Angelo. "We have cleared many of the claims that had issues, have now paid out most of the PUA claims, and have started to process extended benefits."
CVS Health on Thursday expanded its COVID-19 testing program by announcing 45 additional test sites at select CVS Pharmacy drive-thru locations across New Jersey, including Atlantic, Cape May and Cumberland counties.
Locations at 3313 Brigantine Boulevard, Brigantine,900 North New Road, Pleasantville, 2078 US Highway 9 South, Upper Township, and 3629 E. Landis Avenue, Vineland, will now offer testing, according to the release.
The opening of additional test sites on Friday add to the 11 locations previously opened across the state, according to a news release.
These new sites will utilize self-swab tests and deliver on the company's commitment to establish 1,000 locations across the country by the end of May, as originally announced on April 27, according to the release. These new test sites will help enable the company's goal of processing up to 1.5 million tests per month, subject to availability of supplies and lab capacity.
"CVS Health has been at the forefront of helping our nation scale-up COVID-19 testing capabilities, and we're proud to meet our goal of establishing 1,000 testing sites in communities across the country," said Larry J. Merlo, President and CEO, CVS Health. "Opening access to testing to more locations using our drive-thru window represents an important milestone in our response to the pandemic. We remain grateful for the daily efforts and sacrifices of our front-line colleagues who make the continued expansion of our testing possible."
The Office of the Secretary of Higher Education (OSHE) on Wednesday published graduation guidance for institutions of higher education that outline considerations for drive-in/drive-through and modified in-person graduation ceremonies beginning on July 6.
The guidance includes requirements that ceremonies be held outdoors, adhere to social distancing protocols, and restrict capacity to protect the health and safety of students and families celebrating these milestones amid the ongoing COVID-19 pandemic, according to a news release.
"This year's graduating class has embraced various challenges and triumphed in the face of a global public health emergency. We know it has been a long journey, and through our guidance published today, we are looking forward to working with institutions of higher education to give our students a sendoff that recognizes their scholastic achievements," said Dr. Zakiya Smith Ellis, Secretary of Higher Education. "We cannot put New Jersey back on the road to progress and prosperity without our students. We are excited to see what the Class of 2020 will accomplish."
The guidance is available on OSHE's website here.
Institutions of higher education should plan for multiple scenarios in order to select the ceremony type that best fits institutional needs and context and complies with the required level of social distancing restrictions in place at the time of the event, according tot he release. Only virtual ceremonies can be held prior to July 6. The decision regarding commencement ultimately belongs to each individual institution. Institutions should also keep local officials, including emergency management, law enforcement, and health officials, informed of ceremony plans.
All institutions that plan to hold a drive-in/drive-through or modified in-person ceremony must certify to OSHE, via an online submission form that will be made available starting June 5 on https://covid19.nj.gov/, that the planned ceremony will comply with applicable requirements for gatherings, including those addressing social distancing, according tot he release. The form must be submitted no later than seven days prior to the scheduled date of the ceremony.
The guidance includes the following requirements for commencement ceremonies:
Drive-in/drive-through or modified in-person ceremonies may only occur after July 6;
Institutions must adhere to the relevant capacity limitation on in-person gatherings in place at the time of the ceremony (this may require institutions to hold multiple ceremonies over the course of several days to ensure capacity restrictions are not exceeded); and
Institutions must determine the minimum number of staff and faculty necessary to facilitate commencement ceremonies and adjust attendance requirements accordingly.
Institutions should stay informed of state and local rules and guidance, as the social distancing requirements in the guidance are subject to change. Institutions must further be proactive and clear in communicating guidelines and directions to those in attendance and consider sharing the same with students and families in advance of the commencement ceremonies.
State officials scheduled a 1 p.m. briefing Thursday to update residents on the spread of COVID-19.
Appearing for the briefing will be Governor Phil Murphy, Department of Health Commissioner Judith Persichilli, Department of Health Communicable Disease Service Medical Director Dr. Edward Lifshitz and State Police Superintendent Colonel Patrick Callahan.
So far, Atlantic County has reported 2,147 positive cases with 156 deaths and 796 cleared as recovered. Cape May County has reported 612 active cases with 47 deaths and 277 designated off quarantine. Cumberland County has reported 1,938 cases and 64 deaths.
Source: State of New Jersey Department of Health
For most people, the virus causes mild or moderate symptoms that clear up within weeks. Older adults and people with existing health problems are at higher risk of more severe illness or death.