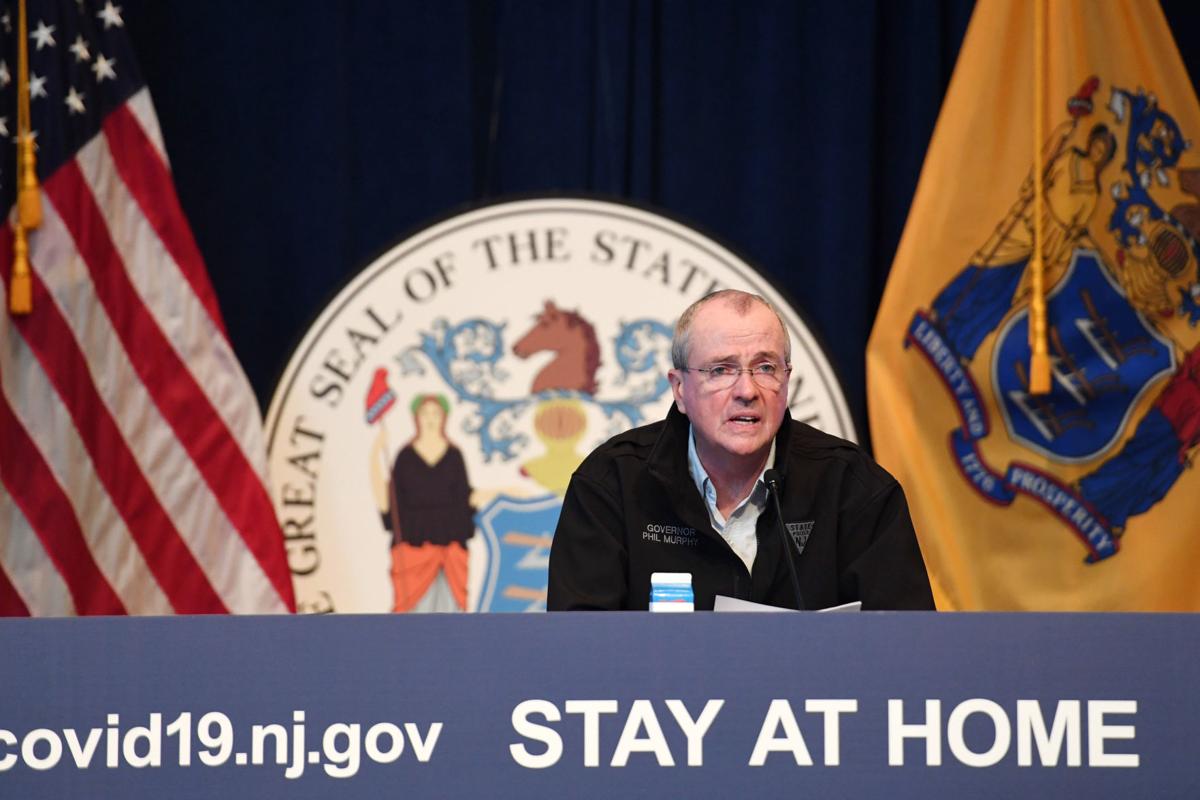 The number of positive cases of COVID-19 in New Jersey has increased by 1,304, bringing the total to 151,472, Murphy said. There have been 98 additional deaths, bringing the state total to 10,843.
There are 3,208 people hospitalized across the state, including 896 people in intensive care and 700 people on ventilators, Murphy said. Between 10 p.m. Tuesday and 10 p.m. Wednesday, 286 residents were discharged from hospitals, while 143 people entered hospitals.
In South Jersey, there were 47 new hospitalizations, Murphy said, with 74 discharges.
"We continue to see the right numbers from our hospitals," Murphy said. "And this means the overall stresses on our healthcare system are lessening."
So far, Atlantic County has reported 1,931 cases with 128 deaths and 648 residents cleared as recovered.
Cape May has reported five new cases for a total of 554 active cases, and three new deaths for a total of 45. 260 people have been deemed off quarantine. Two women, 90 and 93-years old from Lower Township and a 52-year old man from Woodbine passed away on Thursday.
Cumberland County has reported 1,741 cases and 59 deaths.
Included in the totals are 39 news cases and one fatality Atlantic County officials announced Thursday.
An 84-year-old Ventnor woman with pre-existing conditions was the most recent fatality in the county, according to a news release from county health officials.
The new positives were identified among 20 males, ages 5 months – 83 years, and 19 females, ages 23-93, according to the release.
Ten of the cases were confirmed in Atlantic City, seven in Hammonton, six in Pleasantville and four in Egg Harbor Township. Three new positives were found in Galloway Township and two were found in Absecon and Egg Harbor City. Brigantine, Northfield, Somers Point and Ventnor each had one new case. An additional case was confirmed but the location has not yet been determined.
The county will continue to provide testing next week although the dates are pending confirmation, officials said. Residents can visit the county web site at www.aclink.org to schedule appointments as of Friday, May 22.
For most people, the new coronavirus causes only mild or moderate symptoms, such as fever and cough. For some, especially older adults and people with existing health problems, it can cause more severe illness, including pneumonia.
Also during the briefing, Murphy said that long-term care facilities will continue to receive help from the U.S. Department of Veterans affairs through the end of June, and the department will provide an additional 40 clinical staff.
There have been 28,876 cases in long-term care facilities so far, Murphy said, with 4,502 total deaths.
Murphy is also encouraging every business and non-profit organization to fill out a survey at covid19.nj.gov.
"We know that the impacts of COVID-19 have been varied across industry sectors, and while these sectors are represented in the panels we've brought together, nothing beats the input from those living this reality," Murphy said.
Friday's briefing is scheduled for 11 a.m.
The New Jersey Department of Labor and Workforce Development announced that it's extending the closing of its facilities to the public two weeks.
The department expects to reopen its One-Stop Career Centers, Labor Department headquarters in Trenton and Disability Determination Services is Monday, June 8, 2020.
Online services are offered at nj.gov/labor. Residents can check the site for the latest information on programs, benefits and services for residents and businesses impacted by the virus.
Workers' Compensation hearings are continuing virtually.
 The department asks for patience from customers having trouble accessing online applications. The record volume of claims stressed the system, but capacity has been added. Labor Department staff members are working longer hours and expanding the window of service hours to get benefits to everyone who deserves them as quickly as possible.
To aid the department in processing claims quicker, customers can:
Apply and seek information online whenever possible
Visit the website and read about available programs BEFORE applying; applying for the right program will speed the processing of the claim
Fill out the application completely – do not leave out required information, which will delay processing of the claim
Once an applicant has applied for benefits and received a confirmation message, their claim is being processed as quickly as possible.
Customers who can't get through immediately should not worry. Claims are being backdated so no one will lose a week of benefits
Cape May County announced that thanks to a positive reception, it will be expanding its Social Distancing Ambassadors program to future dates.
The program is meant to provide positive reinforcement to individuals that are wearing masks or appropriately social distancing or wearing masks and doesn't involve any sort of enforcement element. The ambassadors include two representatives from the county's department of health and volunteers from the Reserve Medical Corp of Cape May County.
The volunteers are able to provide COVID-19 information to those interested and practice proper hygiene and hand sanitation during their two-hour stints.
The county will be adding the following dates to its Social Distancing Ambassadors program:
May 22 – Stone Harbor – 10 A.M. until Noon
May 28 – Sea Isle City – 10 A.M. until Noon
May 29 – Avalon – 10 A.M. until Noon
May 29 – Cape May – 1 P.M. until 3 P.M.
May 30 – Stone Harbor – 10 A.M. until Noon
June 5 – Wildwood – 10 A.M. until Noon
June 5 – Avalon – 1 P.M. until 3 P.M.
June 6 – Ocean City – 10 A.M. until Noon
June 12 – Cape May – 10 A.M. until Noon
June 12 – Sea Isle City – 1 P.M. until 3 P.M.
June 13 – Wildwood – 10 A.M. until Noon
"This program has gotten a great reception and has gotten Cape May County a lot of positive attention," Freeholder Jeff Pierson, liaison to the Health Department, said. "Freeholder Director Gerald Thornton had a great idea that we were able to implement with Health Officer Kevin Thomas. The entire Health Department has been phenomenal through this entire pandemic."
The Margate Police announced via Facebook that the city's beaches would be open this weekend (May 22-24).
Social distancing guidelines will be in effect although face masks aren't required outdoors. They ask that individuals keep their distance from one another and refrain from gathering in groups.
They also note that many local businesses require a face mask when utilizing curbside pickup. They also remind everyone that dogs are prohibited on the beach at all times during "bathing season".
Margate City posted that the beaches on Clermont, Huntington, Thurlow and Benson avenues will be guarded on the weekends starting Saturday from 10 a.m. to 6 p.m. but may be closed at the discretion of the Chief due to weather or the pandemic. Beach badges are required starting June 6.
State Attorney General Gurbir S. Grewal, the New Jersey Coordinator for Addiction Responses and Enforcement Strategies, or NJ CARES, and the Division of Consumer Affairs on Thursday announced that New Jersey physicians, dentists, and other healthcare practitioners who prescribe opioids for the management of chronic pain must also prescribe the opioid antidote naloxone to certain at-risk patients during the COVID-19 pandemic.
Under an Administrative Order issued today, prescribers must co-prescribe naloxone to any patient continuously receiving opioids for chronic pain management if the patient has one or more prescriptions totaling 90 morphine milligram equivalents (MME) or more per day, or is concurrently taking an opioid and a benzodiazepine, according to a news release. These patients face heightened risk of a fatal overdose.
"The COVID-19 pandemic presents new challenges for individuals struggling with substance abuse disorder, and we are committed to protecting both them and the first responders who are typically called to treat drug overdoses," said Attorney General Grewal. "The action we are announcing today will enable us to save more lives, and to do so with fewer deployments of law enforcement and EMS first responders, so that we can preserve personal protective equipment that remains in high demand."
The Administrative Order aligns with a rule proposed by the State Board of Medical Examiners on April 6, 2020. That proposed rule, published in the New Jersey Register on April 6, 2020, is open for public comment until June 5, 2020.
State Department of Human Services Commissioner Carole Johnson on Thursday released guidance making clear that individuals with Medicaid coverage who reside in long-term care facilities are entitled to receive their federal stimulus payments and the payments cannot be retained by the facilities.
Payments will not be counted as income or considered a Medicaid resource for up to a year, according to a news release. The federal CARES Act provided for economic stimulus payments of up to $1,200 per adult.
"Stimulus checks are your money whether you live in your own home or in a nursing facility," Commissioner Johnson said. "We've heard concerns and questions from families about the status of this money for older adults living in long-term care facilities. With today's action, we are reminding facilities that Medicaid payments are payment in full and stimulus payments are individuals' money for their own use."
Under the guidance, a facility must notify the resident or their authorized representative that the stimulus payment has been received and promptly make the resident's stimulus payment available to access and spend, according to the release. The facility also should assist the resident in utilizing the funds for their personal needs.
Human Services Assistant Commissioner Jennifer Langer Jacobs, who oversees the state's Medicaid program known as NJ FamilyCare, said facility residents or family members who suspect a facility is withholding a stimulus payment should contact the Medicaid program at 609-588-2556.
"Please don't hesitate to call," Assistant Commissioner Jacobs said. "We want to make certain that Medicaid recipients residing in long-term care facilities receive and have the ability to spend these stimulus payments."
"Older adults living in long-term care facilities or their families deserve the dignity of choosing what to do with their stimulus check," said Human Services' Division of Aging Services Director Louise Rush. "They can spend it or save it as they see fit, but the bottom line is this: it's their decision."
Gov. Phil Murphy said that "we're just not there yet" when it comes to reopening casinos as the COVID-19 pandemic rages on.
Speaking to Harry Hurley on WPG Talk Radio Thursday morning, Murphy would not commit to saying that casinos would reopen in a matter of weeks, not months.
"I can't say something that would be irresponsible if I don't have the conviction that I need to say it," Murphy said. "We're just not there yet."
Over the past year or so, Atlantic City finally just got back on its feet, Murphy said, but he argued that putting the economy before public health could create more problems.
"Indoor stuff where you can't open the windows is really hard," he said. "The virus ravages those sorts of spaces."
And, while Murphy wouldn't comment on specifics of the Camden County gym that has reopened in defiance of his mandates to mitigate the spread of the new coronavirus, he said that officials are working hard to get indoor public spaces open.
"We've taken a whole lot of steps already to begin to open the state responsibly," he said, recounting parks, golf courses, beaches and other reopenings. "The inside stuff is harder and folks have to understand that the virus is still out there…We'll get there, we're just not there yet."
When talking about school closures, Murphy said that he'll be giving guidance in the next two to three weeks on the upcoming school year.
"I want to have schools open," he said. "What that looks like, it's too early to tell."
He also said that he'll be "doing another heavy dose of outdoor stuff," including outdoor faith gatherings during briefings Thursday and Friday as predictive data about the disease is trending in the right direction.
A Camden County gym that has reopened the past several days in violation of Gov. Phil Murphy's closure or nonessential businesses has been closed by county and local officals.
The Atilis Gym in Bellmawr has been shut down by the Camden County Health Department and the New Jersey State Department of Health, according to News 12 New Jersey. 
The owners were cited for a third time by township police Wednesday.
The New Jersey Department of Labor and Workforce Development announced Thursday that they have paid out $3.4 billion unemployment benefits as the global pandemic COVID-19 closed out its ninth week of wreaking havoc on the state's workforce and economy. More than 1.1 million new unemployment claims have been received since March 15.
More than 42,000 new applications for unemployment were received last week, as the Department moved 139,000 federal Pandemic Unemployment Assistance (PUA) claims to payable status, and began reviewing tens of thousands of older claims for extended benefits.
For the week ending May 16, unemployed and underemployed workers claimed more than 902,000 weeks worth of benefits, including back weeks, for a weekly payout of $710 million in federal and state funds.
"We're very pleased to see the balance begin to shift this week with the number of new claims trending downward and the number being processed curving upward," said Labor Commissioner Robert Asaro-Angelo. "Our only focus remains getting benefits into the bank accounts of every worker as quickly as possible."
Cape May City Mayor Clarence Lear III on Thursday announced that the city will not be able to observe Memorial Day as it traditionally does due to COVID-19 restrictions.
COVID-19's unprecedented and widespread pandemic has required us to change our lives in ways we did not expect," Lear said in the letter. "It has disrupted important traditions but nothing can take away the bonds we have for the service men and women who gave their lives to protect us, whether they died on a battlefield, at sea, in the air or back home after a their active service was completed."
The mayor also extended warm regards to VFW Post 386 and American Legion Post 193, who hold an annual ceremony at the All-Wars Monument at Soldier & Sailors Park.
Jewish Family Service Village by the Shore announced virtual programming events in June.
Wednesday, June 3 from 10:30 a.m. to 11:30 a.m.
Decompress virtually in a positive, relaxing environment and join in conversation with JFS Wellness Coordinator Mary Jean Arreola and Village Care Supervisor Jamie Reichelt. This workshop includes guided meditation, a discussion on breathing techniques and positive affirmations as well as tips to relax and wind down. Those new to guided meditation are in for a treat!
The Positivity Project – The Mind-Body Connection
Friday, June 5 from 10:30 a.m. to 11:30 a.m.
Join JFS Wellness Coordinator Mary Jean Arreola and Rothenberg Center Supervisor Sharon Simon as you discover ways to boost your wellness – mind, body and soul. You'll explore how emotions, diet and physical activity impact your health, while discovering healthy habits that fit your lifestyle.
Tuesday, June 9 from 10:30 a.m. to 11:30 a.m.
Embrace your green thumb and join us for an informative session on creating your own manageable container garden. You'll learn how to grow and care for herbs and vegetables for display on your porch, deck or balcony.
Karaoke Sing-Along with Alex
Thursday, June 11 from 4 p.m. to 5 p.m.
Are you feeling nostalgic for the annual Village Spring Social, sponsored by United Methodist Communities? If so, we can still come together virtually as local musician Alex Town leads friends and neighbors through a late afternoon of songs and live music. Dance along as Alex plays all of your favorites on the keyboard.
Thursday, June 18 from 10:30 a.m. to 11:30 a.m.
Our world in 60 minutes! Insightful, animated and fast-paced conversation with friends spanning "both sides of the aisle and the middle." Share your thoughts on politics, technology, world events, the arts and more. This program is moderated by JFS Village by the Shore Membership Director Tina Serota.
Friday, June 19 from 10:30 a.m. to 12 p.m.
Experience the thrill of capturing your life's adventures, history, ancestry and more at our Memoir Workshop led by award-winning author and Drexel University Professor of Creative Writing, Harriet Levin Millan. You must have a laptop or pen and paper to enjoy the full experience of the workshop.
Get Physical with Fox Rehab
Tuesday, June 23 from 10:30 a.m. to 11:30 a.m.
Put on some sweats, grab your sneakers and kick those quarantine blues! Join a Fox Rehab Exercise Physiologist for a 45-minute session – no special equipment required. Exercises include a warm-up, gentle stretches, yoga-like techniques and cool-down. Stick around afterward for a 15-minute Q&A with Fox Rehab Regional Director of Operations Lauren Hunt, OT, MS, OTR/L, and Fox Rehab Account Manager Tara Pietrowitz.
Thursday, June 25 from 10:30 a.m. to 11:30 a.m.
Join us as we share our favorite recipes and the memories they invoke. This month, we'll focus on desserts, so send a copy of your favorite confection, pastry or treat to Tina Serota at tserota@jfsatlantic.org by June 18. Don't forget to include your special memory and keep an eye out for special guest chefs.
To participate in any of the programs, please RSVP to Tina Serota at 609.287.8872 or tserota@jfsatlantic.org. A Zoom link or call-in number for each program will be e-mailed or provided to you.
Cape May County Prosecutor Jeffrey H. Sutherland on Wednesday said that law enforcement understands the burden on closed retail businesses as the summer season begins, but officers must enforce the law.
"It is not an easy task to comply and given the limited season most businesses have to earn enough money to succeed – the timing could not be worse," he said in a post on the office's Facebook page. "As County Prosecutor, I can assure you that all of our law enforcement executives and officers in the community understand the burden this has on retail businesses both operationally and as a result of lost income. Many of us have family members who own or work for businesses that are directly impacted."
"I understand that people have differing opinions regarding these restrictions and Orders and as Americans we have Constitutional rights to express our opinions; but law enforcement officers must enforcement them- even if they personally do not agree with them," he continued. "We, as law enforcement professionals cannot second guess whether a law is fair or constitutionally valid, whether they are created by our legislature or by the Governor through his statutory and state constitutional executive powers. Our judicial system is there to sort out and resolve any of these disputes. Law enforcement officers have been on the street everyday during this pandemic putting themselves and their families at risk to contract the coronavirus. Some officers in our county have in fact suffered thru the virus. Police officers cannot properly do their jobs without having some direct contact with the public."
"So this Memorial Day Weekend lets all honor the sacrifice of our brave fighting men and women as best we can, even if we cannot gather to do so as we would like to," he said. "And let's honor their sacrifice by our actions in respecting the rule of law as we all try the best we can to enjoy this opening weekend of summer. Support our local businesses, even if it takes extra effort. And if our police have to take certain actions to enforce the COVID-19 related Executive Orders, please understand that they are doing so to uphold their sworn duty and to help keep us all safe. Let's all treat each other with respect and understand that our frustrations and suffering with this virus are real and they affect everyone – whether by health, economics or both. We as individuals may not be able to control the virus or the negative circumstances it places on us, but we can control our actions and recognize that we are all in this together."
State officials scheduled a 1 p.m. briefing Friday to update residents on the spread of COVID-19.
Appearing for the briefing will be Governor Phil Murphy, Department of Health Commissioner Judith Persichilli, State Epidemiologist Dr. Christina Tan, State Police Superintendent Colonel Patrick Callahan and Department of Labor and Workforce Development Commissioner Robert Asaro-Angelo.
So far, Atlantic County has reported 1,892 cases with 127 deaths and 648 residents cleared as recovered. Cape May has reported 539 active cases, 42 deaths and 260 deemed off quarantine. Cumberland County has reported 1,741 cases and 59 deaths.
Source: State of New Jersey Department of Health
For most people, the new coronavirus causes only mild or moderate symptoms, such as fever and cough. For some, especially older adults and people with existing health problems, it can cause more severe illness, including pneumonia.
Gov. Murphy announces multi-stage reopening plan
MAXIMUM RESTRICTIONS
Maximum restrictions with most individuals staying at home and activity limited to essential tasks.
Permitted activities and businesses include:
• Essential retail, including grocery stores and pharmacies
STAGE 1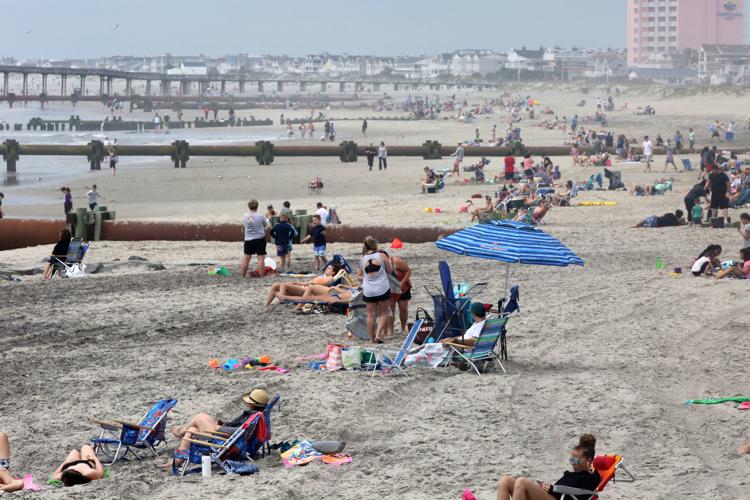 Restrictions relaxed on low-risk activities if appropriately safeguarded. New Jersey is currently in this stage.
Phased-in businesses may include:
• Non-essential, but easiest to safeguard, work activities at physical locations if they meet safeguarding and modification guidelines. For example, non-essential construction with protections.
• Some non-essential retail may open with significant modifications. For example, curbside pickup.
• All workers who can work from home continue to work from home even if their industry is reopening. For example, an office manager for a construction company.
Phased-in activities include State and county parks, non-essential construction, curbside retail, drive-in activities, beaches, and elective surgeries.
STAGE 2
Restrictions are relaxed on additional activities that can be easily safeguarded.
Phased-in businesses may include:
• More work activities are allowed at physical locations only if they adhere to safeguarding and modification guidelines. For example, work activities to be phased-in over the course of Stage 2 may include expanded retail, safeguarded restaurants with outdoor seating, limited personal care, and possibly indoor dining, museums, and libraries, all with significantly reduced capacity.
• All workers who can work from home continue to work from home. For example, a buying manager for restaurants.
• Some personal care services may be provided on a limited basis.
STAGE 3:
Restrictions are relaxed on most activities with significant safeguarding.
Phased-in businesses include:
• More work activities, including in-person meetings, are allowed at physical locations only if they can adhere to safeguarding guidelines and modifications. For example, work activities to be phased-in over the course of Stage 3 may include expanded dining, critical in-office work, limited entertainment, expanded personal care, and bars with limited capacity.
• All workers who can work from home continue to work from home. For example, accounting office workers.
• Personal care services may be provided on a more extended basis.
The New Normal
Economic and social activities back to normal with a new resilience  
Contact: 609-272-7241
Twitter @ACPressMollyB
Concerned about COVID-19?
Sign up now to get the most recent coronavirus headlines and other important local and national news sent to your email inbox daily.