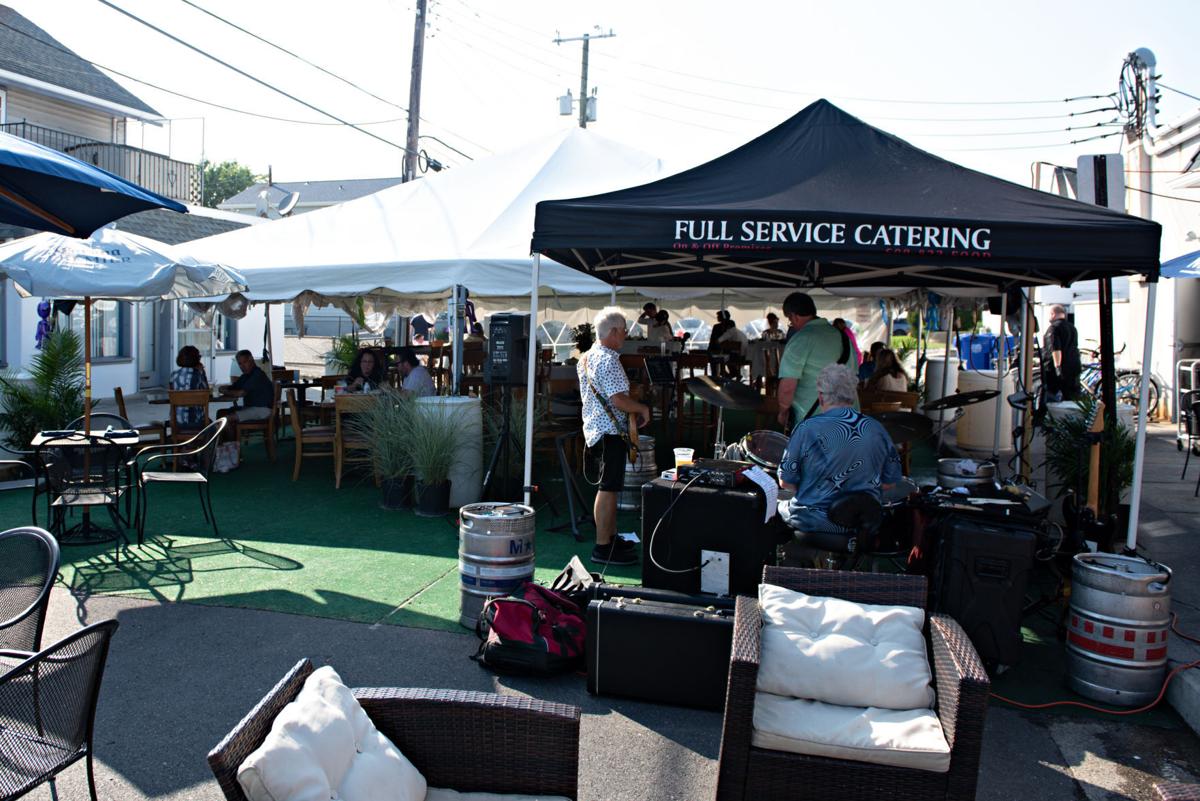 TRENTON — A new bill would set aside $30 million in block grants for restaurants financially impacted by the state administration reversing its plan to allow indoor dining July 2.
The legislation, introduced this week by Sen. President Steve Sweeney, and Sens. Vin Gopal and Anthony Bucco, would reimburse restaurants, bars and caterers that spent money on supplies in preparation for indoor dining's return.
Eating inside is sooo 2019. For 2020, all of the action in the dining scene in South Jersey …
Restaurants were forced to close or offer take-out only in mid-March after Gov. Phil Murphy declared a public health emergency due to the global COVID-19 pandemic.
New Jersey quickly became a hot-spot for the virus, but as the numbers of new infections began to decline, Murphy allowed for outdoor dining on June 15 and announced a plan for indoor dining to return on July 2.
Just before the planned reopening, Murphy reversed course citing increases in positive cases in other states where indoor dining resumed.
It has been a month since Gov. Phil Murphy allowed restaurants to reopen for outdoor dining.…
"This false start severely affected the food establishments that hired additional staff and spent money on equipment in anticipation of reopening," said Sweeney (D-Gloucester/Salem/Cumberland). "These businesses are among the hardest hurt by the pandemic and they are at risk of permanently going out of business."
The bill would fund the reimbursements by appropriating $30 million to the Economic Development Authority from federal block grants allocated to the state from the CARES Act. The EDA would then provide direct financial support, by way of loans or grants, according to the bill.
The legislation received support from industry advocates.
"Restaurants have been devastated by this pandemic," said Marilou Halvorsen, President of the NJ Restaurant and Hospitality Association. "In an industry known for its tight profit margins and reliance on steady, consistent business, the shutdown has already led to several of our members closing their doors. For many owners already in a precarious position, this false start on indoor dining after they had paid for food, had their restaurants cleaned and hired employees has placed their livelihood in even greater jeopardy. This is a welcomed bipartisan bill that will help our restaurants survive the continued ban on indoor dining as well as prepare for their eventual reopening."
Local restaurant owners and officials say Gov. Phil Murphy's unexpected pausing of indoor di…
Two Lower Township women — a 100-year-old and a 68-year-old — are the latest Cape May County residents to die from COVID-19, according to news released Monday by the Cape May County Department of Health.
There were seven new positive cases in the county, the health department said. They breakdown as follows: five in Cape May City; one in Dennis Township and one in Upper Township.
Total positive cases of COVID-19 infection in Cape May County is now 909, including 79 deaths, the health department said.
New Jersey has 176,963 total COVID-19 positive cases and 13, 741 deaths, the health department said.
Atlantic City Free Public Library will reopen both its main branch Wednesday, and the Richmond Avenue branch later this month.
Libraries throughout the state were allowed to reopen as of July 6.
The Atlantic City branches will open at 25% capacity in compliance with Gov. Phil Murphy's Executive Order.
The main library a 1 N. Tennessee Avenue will be open 10 a.m. to noon and 2 to 4 p.m., Wednesday through Saturday.
The Richmond Avenue  branch will be open Tuesdays during the same hours, as of July 28.
The library will continue to offer contactless curbside pickup service at its main location on Tennessee Avenue – allowing members an opportunity to borrow materials while maintaining a safe, social distance.
Members can request specific materials or ask a staff member to pick items for them.
TRENTON — Parents and caregivers will be allowed to opt out of in-person education and choose all remote learning for their children in the fall, Gov. Phil Murphy announced during his 97th coronavirus briefing Monday.
"Later this week...the Department of Education will be releasing guidance allowing for parents to choose all remote learning for their children," Murphy said, adding that he will put off answering questions until the guidance is released. "This is about as complex a step we will take or American state will take and we want to do it right."
Murphy said that there are a lot of "moving parts" when it comes to reopening schools in the fall and he would like to "recapture some semblance of in-person education that no state does like New Jersey."
In addition, Murphy said he would sign an executive order Monday allowing for contact drills, practices and competitions to resume for what he called "high-risk" sports, like football, cheerleading, boxing and mixed martial arts, as he announced last month.
Murphy said all events must be held outdoors and that all sports will have to abide by a number of health and safety protocols.
Meanwhile, New Jersey saw another 177 positive cases of COVID-19 bringing the total number of cases to 176,963, according to the latest numbers.
Department of Health Commissioner Judith Persichilli said that the state is having an issue receiving Quest Laboratories results electronically, which may skew the numbers. 
"That may be causing our case numbers to be lower," Persichilli said.
The state also reported a 2.8% positivity rate and the rate of transmission at .90.
Murphy reported nine new deaths from COVID-19, bringing the total number of New Jersey lives claimed by the virus at 13,741, with another 1,974 listed as "probably deaths. 
"Unfathomable numbers," he said.
Stay in the air conditioning as much as possible, make sure your pets are cool, avoid exerci…
Murphy acknowledge the heat advisory Monday urging residents to take it as an opportunity to stay indoors and socially distance. He also sent condolences to US District Judge Esther Salas and her family after a shooting at the judge's home in North Brunswick killed her son and injured her husband.
Asked about when restaurants may expect to return to indoor dining, Murphy said it would depend on the numbers, but noted that indoors is where the virus seems to spread most easily.
"It's going to be the basic seven day averages that you're going to feel good about and that includes the stuff we really care about: rate of transmission, spot positivity, new hospitalizations," he said, adding also the confidence in self-quarantining measures. "So far, we think, so far so good," on the self-quarantine measures.
After the briefing, Murphy is having a meeting with Vice President Mike Pence regarding the pandemic.
Atlantic County reported 19 new positive COVID-19 cases Monday and no new deaths.
The number of countywide deaths attributed to the virus is 224.
The new positive cases were found among 11 men, ages 17-73, and eight women, ages 26-65 as follows: four in Hammonton; three each in Atlantic City, Northfield and Ventnor; two each in Egg Harbor Township and Pleasantville; and one each in Brigantine and Margate.
To date, 3,249 residents have tested positive for COVID-19, 56% of whom have been cleared as recovered.
COVID-19 testing is available at the county's drive-thru facility in Northfield at Route 9 and Dolphin Avenue, behind the county public works yard. The test site is available for both symptomatic and asymptomatic county residents with or without a doctor's prescription. Residents must make an appointment for testing and provide proof of county residency and appointment confirmation.
Testing will next occur on Tuesday and July 28, 9-11:30 a.m. Appointments can be made online at www.aclink.org. Those who are unable to keep their appointments are asked to cancel so others may have an opportunity to fill those spots.
JACKSON — Reservations are now open for Six Flags Hurricane Harbor waterpark, which will reopen to the public next week with reduced attendance and new safety measures, company officials announced Monday. 
"We are thrilled to welcome families back to one of the Northeast's most popular waterparks, Hurricane Harbor. The safety of our guests and team members remains our number one priority, and the new safety guidelines we have put in place are designed to create a safe environment for everyone," said Six Flags Great Adventure and Hurricane Harbor Park President John Winkler.
Hurricane Harbor will operate Thursdays through Mondays from July 23 throughout August and select days in September.
Its sister park, Six Flags Great Adventure, reopened July 3 with many of the new safety measures and hygiene protocols that will be in place at Hurricane Harbor including thermal imaging for temperature checks, touchless bag checks and mobile food ordering.
An online reservation system will manage attendance, schedule guests for entry by day, and to stagger arrival times to minimize proximity exposure. 
According to a press release from the company, the park's reopening plan was developed in consultation with epidemiologists, and meets or exceeds federal, state, and local guidelines for sanitization, hygiene, and social distancing protocols.
Guests will be contacted electronically (either by email, text or both) the day before their scheduled visit to confirm their intent to visit. All Members and Season Pass Holders will receive booking priority over single-day and group ticket buyers.
TRENTON — Gov. Phil Murphy will hold a briefing on the state's response to the COVID-19 pandemic at noon Monday. 
Murphy will be joined by Department of Health Commissioner Judith Persichilli, Department of Health Communicable Disease Service Medical Director Dr. Edward Lifshitz, and State Police Superintendent Col. Patrick Callahan.
The briefing will be livestreamed on the Governor's official YouTube channel.
What are the six hottest days in South Jersey history?
What are the six hottest days in South Jersey history?
Joe's 7 Day Forecast
104 degrees - July 3, 1966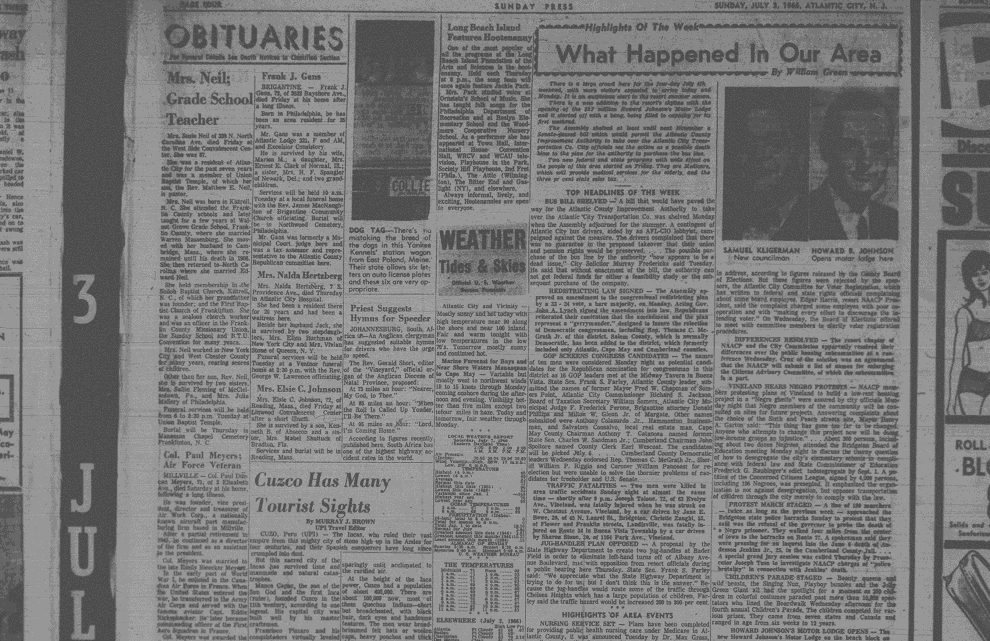 105 degrees - July 22, 2011
105 degrees - July 23, 2011
106 degrees - June 28, 1969
Weeks before the history Atlantic City Pop Festival in early August at the Atlantic City Race Track, the region broiled with a 106 degree thermometer reading. 
As of 2019, the reading still beats the next highest temperature by nine degrees. 
How does that number stack up to the rest of New Jersey?
The 106 degree reading is about as sweltering as it gets in the Garden State. It's near the top of the list for hottest days in recorded history.
Note the list is only taken from official climate stations, with the exception of the top spot, which is verified by the New Jersey State Climatologist. 
Old Bridge - 110 degrees (Official hottest location in New Jersey on July 10, 1936)
Newark Liberty International Airport - 108 degrees 
Atlantic City International Airport - 106 degrees
Trenton - 106 degrees (twice)
Contact: 609-272-7251
Twitter @clairelowe