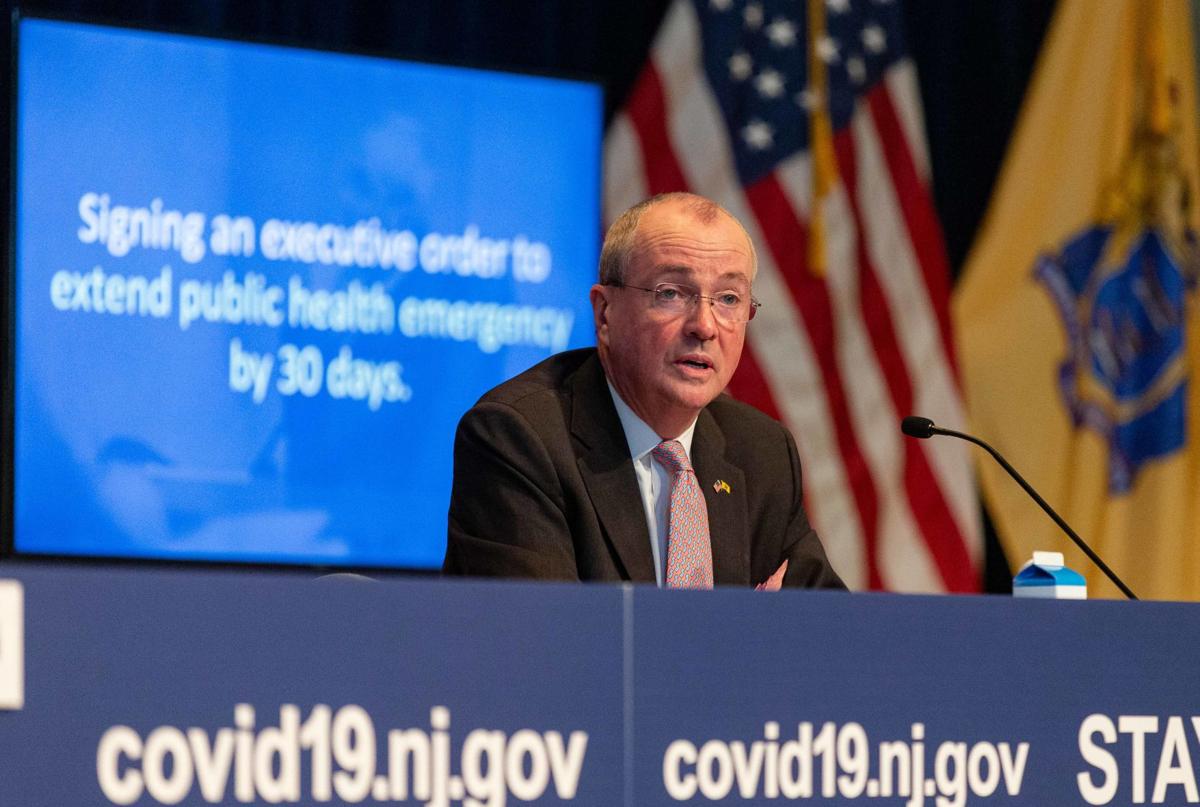 New Jersey is sending 120 members of the National Guard this weekend to nursing homes hit hard by the coronavirus to help staff members, Gov. Phil Murphy said Thursday, though their exact role remains unclear.
The troops will first go to the state's biggest home, in Andover, the Democratic governor said. The home became so overwhelmed by COVID-19 deaths at one point that it began using what Murphy called a "makeshift morgue."
Nursing homes need "some relief from the bullpen," Murphy said.
All of New Jersey's roughly 400 nursing homes have at least one case of the virus, and such facilities have had roughly half of the total deaths from the virus, according to the state Health Department.
Health Commissioner Judy Persichilli said 22 members of the Guard will go to the Andover home Friday. The Guard will begin its work there and then move to other homes, Murphy said.
Officials did not offer details on what role Guard members will play at the homes.
Murphy on Thursday confirmed 1,827 new positive COVID-19 cases and 254 new deaths, bringing the totals to 133,635 and 8,801, respectively.
The number of hospitalized individuals also decreased to 4,996. According to Murphy, this is the first time "in a while" the number has gone under 5,000. The state's peak was 8,270.
Murphy also announced 11 more Rite Aids opening test sites across the state. With this addition, New Jersey will have 130 COVID-19 testing facilities.
State Department of Health Commissioner Judy Persichilli announced an initiative allowing nursing students to work at facilities in need of staff. Students must meet a specific criteria to offer their services, and selected students will be compensated.
Atlantic County reported 39 new positives and four new deaths.
The deaths were an 84-year-old woman and 93-year-old man from Galloway, a 93-year old man from Northfield and a 66-year man from Pleasantville.
The county has now had 1,315 cases and 62 deaths. There have been 304 recoveries.
The Cape May County Department of Health reported 15 new positives for a total of 419 and 31 deaths. The majority of those deaths (22) have been in long term care facilities.
Sea Isle City Mayor Leonard Desiderio announced Thursday that the city beaches and promenade may possibly open within the next week.
The city also plans to start allowing long term rentals of more than 30 days on May 11, and short term rentals on May 30.
"Obviously, this is good news for us all," Desiderio said. "However, I remind you that when our beaches and promenade do open, we will need to continue to follow social distancing standards and all other safety directives on the sand and on the promenade because public safety is now and will continue to be our number one priority here in Sea Isle City."
Walking, running, surfing, and fishing are all that will initially be allowed on the beaches. Sunbathing, sitting, and group gatherings will be prohibited.
The Cape May County-Wide Recovery Initiative's plan for reopening businesses, which has been submitted to Governor Murphy, can be found on the county's website.
The City Council noted that the grace periods for the purchase of mercantile licenses and rental permits are extended to June 30, as well as the pre-season rate of 2020 seasonal beach tags. Parking permits will begin selling on May 11, at 4501 Park Road (the former public school building).
The Cumberland County Fair Association, in consultation with the Cumberland County administration officials, have decided to cancel the 2020 County Fair due to the COVID-19 public health crisis, according to news released Thursday by the county.
The fair association extended its appreciation to the agencies that worked since last year's fair on improvements to the grounds and upgrades to the facilities needed in preparation for the 2020 fair, said Jody Hirata, deputy county administrator, in a written statement.
Those agencies include the Cumberland County Department of Public Works and Property and the Cumberland County Improvement Authority, Hirata said.
The fair association expressed its' special appreciation for the role Cumberland County administration played in coordinating the efforts of various agencies into a team working together to improve our fair grounds, Hirata said.
The Atlantic City International Airport Fire Department said via Facebook that the food drive they completed earlier this week resulted in several thousand dollars in food and cash donations to support the Community Foodbank of New Jersey.
Alexander Fine Design Construction LLC saw a department post regarding the departments food drive and successfully rallied other businesses to support the fire squad. The department thanked a list of businesses here.
They also wanted to thank their members and their families for donations, sharing posts and porch pick-ups. Assistant Chief Michael Burke received a special mention as he donated to the food drive even though he's no longer a New Jersey resident.
Testing for symptomatic Atlantic County residents with a prescription and appointment continue from 10 a.m. to 1 p.m. Thursday in the parking lot behind the Hamilton Mall in Mays Landing.
Lower Township Mayor Frank Sippel said Wednesday that it is "unlikely" that Gov. Phil Murphy will approve any reopening before the Memorial Day holiday.
In a letter to residents, Sippel said that he feels optimistic that a reopening date will come soon.
"This will only be possible if we are able to follow strict protocols and keep our resident's safe, keeping our resident's safe is and will always be the number one priority," Sippel said.
On Saturday, Deputy Mayor Perry and Councilman Coombs will be putting together a food drive to stock the shelves of the food banks, with Sippel and the rest of council will also be helping, according to the letter.
There will be a drive through drop off point in front of Town Hall, 2600 Bayshore Road, Villas, between the hours of 10:00 a.m. and 11:00 a.m. Those that cannot make the drop off we can pick up at your residence between 11:00 and 1:00 p.m. Residents can email Sippel at fsippel@townshipoflower.org or call 609-886-2005 ext. 132 and leave their address.
More than 20 South Jersey small businesses gathered at Atlantic City International Airport for a food drive hosted by the Airport Fire Department 24-1 IAFF Local S-18.
The businesses also raised at least $5,000 in monetary donations for other small businesses.
"We wanted to do something good, even if it's for a few minutes of the day," Alexander Fine Design Construction, LLC owner Ryan Alexander said. "There's some good in the world, even though there's a lot of bad stuff going on."
Alexander said the fire department got the idea from the food drive for casino workers at Egg Harbor Township's Harbor Square shopping center. Because he knows one of the firefighters, Alexander volunteered his business as well as others he works with. Then, he decided to reach out to businesses all over the area.
Businesses present included Northfield's Island Gym, EHT's Dickey's Barbecue Pit and Pleasantville's Ben Franklin Plumbing.
Because small businesses have been among those impacted the most by current COVID-19 restrictions, the group felt the best way to get through it is by helping one another out.
"I was impressed by the amount of restaurants that came out," Alexander said, "because restaurants are hurting the most."
New Jersey Motor Vehicle Commission Chief Administrator Sue Fulton today announced that all agency, road testing, and inspections facilities will remain closed until at least Tuesday, May 26. The closures are part of the Murphy Administration's ongoing efforts to mitigate the spread of COVID-19.
While certain facilities remain closed, many necessary MVC customer functions can be completed through the Commission's online services, which remain operational and are being expanded. Most renewals of driver licenses, non-driver IDs, and registrations – including, for the first time, some commercial registrations – can be processed online at NJMVC.gov.
Customers can also change their address, pay fees, and access other services online.
Record numbers of customers have utilized the convenience of MVC online services during the closures, including driver license and registration renewals.
For drivers with suspended licenses, email is another means that can be used to seek to get licenses restored if they are eligible. Drivers who have been notified of suspension for failure to maintain insurance may get more information by emailing UM.info@mvc.nj.gov. Other drivers who believe they are eligible for restoration should email suspension.info@mvc.nj.gov.
Morris Bailey and the Resorts Casino Hotel Family donated $25,000 to Jewish Family Service of Atlantic & Cape May Counties to support the agency's COVID-19 response efforts. The donation assures JFS can continue the programs and services needed by community members during this unprecedented pandemic.
"During this very difficult time, so many regions are struggling with countless community services that are in need of support," said Morris Bailey, Owner of Resorts Casino Hotel, in a statement. "I am honored to be able to be in a position to help two vital groups in our South Jersey area, The Community FoodBank of South Jersey and Jewish Family Service of Atlantic & Cape May Counties, with financial assistance. My family and I, along with our team at Resorts Casino Hotel, are incredibly thankful of the dedicated hard work that organizations like these two provide, especially now," he added.
Gov. Phil Murphy and Superintendent of the State Police Colonel Patrick Callahan on Wednesday announced an administrative order clarifying that recreational and entertainment activities prohibited under Executive Order No. 107 are also prohibited from taking place within the brick-and-mortar premises of essential retail businesses that are permitted to remain open, according to a news release.
Under the order, recreational and entertainment activities are also prohibited within the facilities of public, private, and parochial preschool programs or elementary and secondary schools, including charter and renaissance schools that remain closed to students, according to the release.
The order will take effect immediately.
State officials scheduled a 1 p.m. briefing Thursday to update residents on the spread of COVID-19.
Appearing for the briefing will be Governor Phil Murphy, Department of Health Commissioner Judith Persichilli, Department of Health Communicable Disease Service Medical Director Dr. Edward Lifshitz, State Police Superintendent Colonel Patrick Callahan and Department of Labor Commissioner Robert Asaro-Angelo.
So far, Atlantic County has recorded 1,276 cases with 58 deaths and 272 recovered residents. Cape May has recorded 404 cases, with 30 deaths and 189 designated as off quarantine. Cumberland County has reported 1,065 cases and 26 deaths.
Source: State of New Jersey Department of Health
For most people, the new coronavirus causes only mild or moderate symptoms, such as fever and cough. For some, especially older adults and people with existing health problems, it can cause more severe illness, including pneumonia.
Here's where to get tested for COVID-19 in South Jersey
Atlantic County
AtlantiCare
The AtlantiCare Physician Group (APG) Primary Care and Urgent Care is offering COVID-19 testing to individuals who meet Centers for Disease Control's guidelines.
Testing is in Galloway, Atlantic County; Little Egg Harbor, Ocean County, and Berlin, Camden County, Mondays, Wednesdays and Fridays from 10 a.m. to 4 p.m., weather-permitting. Testing requires an appointment and a prescription from an APG Primary Care or Urgent Care provider after being seen in the office or through an AtlantiCare Telehealth visit.
Individuals can schedule a virtual Primary Care or Urgent Care appointment by calling the AtlantiCare Access Center at 1-888-569-1000 and learn more by visiting www.atlanticare.org/telehealth.
AtlantiCare also offers a 24/7 COVID-19 hotline for those who have questions about coronavirus. The number is 1-888-ATLANTICARE (1-888-285-2684).
Hamilton Mall, parking lot, 4403 E Black Horse Pike, Mays Landing
Testing began April 9 for symptomatic healthcare workers and first responders by appointment. Going forward, officials will provide testing by appointment for county residents who are symptomatic for COVID-19 and have a doctor's script.
The Hamilton Mall COVID-19 drive-thru testing site will be open for the public Tuesday and Thursday It will be open from 10 a.m. to 1 p.m. on those days.
Atlantic City
A drive-thru testing site at Bader Field and a walk-up location in the Showboat Hotel Atlantic City surface parking lot could be operational beginning the week of April 27, according to Mayor Marty Small Sr. Find out more here.
Cape May County
Drive-thru testing sites in the county have not been released. Those who want to be tested must have an appointment, be a CompleteCare Health Network patient or a Cape May County resident.
Cape Regional Urgent Care
Cape Regional Urgent Care is now testing in all locations, according to a post on their Facebook page. Please call 609-465-6364 and press option #2 to schedule an appointment at the Cape May Court House, Wildwood or Marmora locations.
CompleteCare Health Network
The Cape May County Department of Health and CompleteCare Health Network are partnering to open a drive-thru COVID-19 testing site, open consecutive Wednesdays starting April 22, by appointment only.
Testing will only be for CompleteCare patients, as well as Cape May County residents, who are sick with symptoms of fever, cough and shortness of breath and that meet a certain criteria, according to a news release.
Symptomatic first responders who are residents of the county will also be given priority testing.
Cumberland County
Rowan College of South Jersey Cumberland Campus, 3322 College Drive, Vineland
A testing site will be open by appointment and for symptomatic Cumberland County residents only.
Contact: 609-272-7241
Twitter @ACPressMollyB