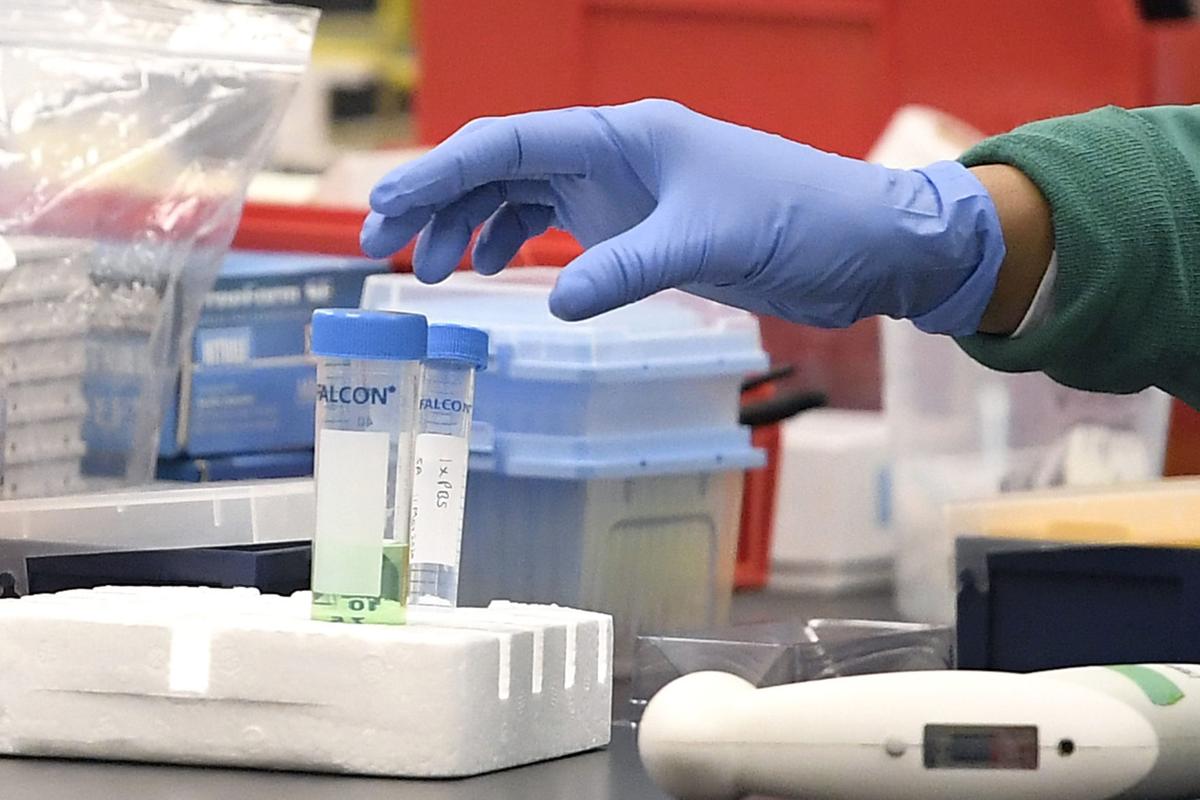 A person from Atlantic County has died from COVID-19, state officials said Thursday.
The Press of Atlantic City has reached out to county officials for comment.
The number of positive cases of COVID-19 has increased by 3,489, bringing the total number of cases to 25,590 across the state, officials said during Gov. Phil Murphy's daily briefing. There have been 182 additional deaths, bringing the total to 537.
"You should not assume that 182 people passed since yesterday's press conference," Gov. Phil Murphy said during his daily briefing with other state officials. "There is a lag here in terms of confirming cause of death in particular … You need to think of this over a span of days, particularly given the stress right now we have on the system. That is more true than ever."
So far, there have been 52 cases identified in Atlantic County, 26 in Cumberland and 33 in Cape May. There has been one death in Cumberland County. Five cases have been deemed recovered in Atlantic County and 11 have recovered in Cape May County.
For most people, the new coronavirus causes only mild or moderate symptoms, such as fever and cough. For some, especially older adults and people with existing health problems, it can cause more severe illness, including pneumonia.
Other deaths included 45 were from Bergen County, 30 from Essex County, 21 from Middlesex County, 15 each from Hudson, Morris and Ocean counties, 14 from Monmouth County, seven from Passaic County, five from Union County, three each from Burlington and Camden counties, two from Somerset County and one each from Mercer and Sussex counties.
Officials are still gathering information on four of the deaths, said Department of Health Commissioner Judith Persichilli.
Murphy repeated several times to continue to practice social distancing, calling six feet a "critical minimum" in order to flatten the curve.
"Again, I know these numbers are stark. They are certainly sobering. They are shocking and they are indeed sad," Murphy continued. "But I want to say this — we can lower these numbers and we will. We can see fewer of our New Jersey family pass because of COVID-19. And the way we do is by aggressively and continuously practicing our social distancing even under the most extreme of circumstances."
Also during the briefing, Murphy said that the Field Medical Station set up at the Meadowlands Exposition Center in Secaucus, Hudson County, is nearly ready and will have a 250-bed capacity. After it is complete, two other sites will be prepared, including the New Jersey Convention and Exposition Center in Edison, Middlesex County, and then the Atlantic City Convention Center, which should be up and running by April 14.
Once all three stations are set up, there will be 1,000 beds available for patients, he said.
Murphy also signed an executive order formally authorizing State Police Superintendent Colonel Patrick Callahan to commandeer supplies that health care facilities not currently in operation have reported are on-hand, including N95 masks and other personal protective equipment.
"While we look forward to these facilities cooperating with us and providing this equipment as needed, this order gives Pat the express authority to requisition it for distribution to our acute care hospitals and other healthcare facilities," he said. "Needless to say, they badly need the equipment. But we also all certainly hope that Pat doesn't have to use this authority. We would hope that folks would step forward and do the right thing, but if need be, we will use this authority."
Ventnor City officials announced Thursday that they are closing their Boardwalk and beaches until further notice.
The closure is effective noon Friday, according to a post on the municipality's Facebook page. 
The entire length of the municipal boardwalk from Jackson Avenue to Fredericksburg Avenue and the entire length of the municipal beach, from the border of Atlantic City to the border of Margate, shall be closed, according to the post. This includes any and all ramps, pavilions, steps and walkways leading to and from the beach and boardwalk as well as the entire fishing pier. All 4x4 Vehicle Beach Permits are no longer valid for use on the beach as well.
Those not in compliance with the order could face a summons, with fines up to $1,000 and six months in jail. 
Bellino's Market, 45 S. New York Road, Galloway, and Chik-fil-A in Egg Harbor Township donated food for dispatchers and officers at the Galloway Township Police Department.
Cape Regional Urgent Care is scheduling appointments for COVID-19 testing.
Testing will be completed at the location in 11 Court House South Dennis Road, Cape May Court House, according to a post on the organization's Facebook page.
Patients must meet the following criteria:
Close contact with a person with suspected or confirmed COVID-19 in the last 14 days.
History of travel within 14 days of symptoms onset.
Over the age of 60.
Chronic medical conditions or are in an immunocompromised state that places you at higher risk.
A healthcare worker or first responder
If people say yes to any of the questions above, they can call 609-465-6364 and select option #2 and then #2 again to schedule an appointment for COVID-19 testing, according to the post. There will be a brief registration and triage prior to arrival.
Appointments will be scheduled between the hours of 10 a.m. to 6 p.m. while supplies last, according to the post.
In Lakewood, 15 people were charged Wednesday evening after violating Gov. Phil Murphy's COVID-19 mandate for a funeral, officials said. Read here. 
New Jersey unemployment filings almost doubled from last week's historic levels, increasing to 200,000 in the week ending March 28 from about 115,000 in the week ending March 21, the U.S. Labor Department reported Thursday. Read about it here.
Lower Township officials Wednesday night announced that they have prohibited short term rentals.
Officials have asked second homeowners to refrain from visiting and closed campgrounds in addition to passing a resolution barring rentals through online marketplaces like Airbnb until further notice, Mayor Frank Sippel said in a news release from township police.
"Marketplace rentals are not required by state law to obtain a mercantile license, it is challenging to have every property identified," Sippel said. "Our police department, along with Code Enforcement will do everything in their power to identify these properties and enforce this recent resolution."
Residents who suspect a home is being rented that falls into this category can call 886-2005 ext. 113.
Elected and government officials and the emergency management team have been working seven days a week, he said, and will continue to until the pandemic is over.
"I cannot stress enough that social distancing is extremely important," he said. "Health experts say this is the best defense to mitigate the spread of the virus. In addition, please wash your hands often."
There are five food banks in the township for those residents out of work, and Sippel asked if others could drop off donations to help those affected.
Food banks are listed on the township website or residents can call 886-2005 ext. 132 for information.
SENATORS MENENDEZ, BOOKER ANNOUNCE FIRST WAVE OF FUNDING
U.S. Senators Bob Menendez and Corey Booker announced a combined $82,202,575 in federal funding to the state of New Jersey and municipalities to fight the COVID-19 pandemic Thursday.
The funding, which is the first of what will be billions sent to the state as part of the $2 trillion stimulus package passed by Congress last week, is coming from the Department of Housing and Urban Development's Office of Community Planning and Development.
The senators made the announcement from Bergen County where the largest virus outbreak in the state has seen 3,494 cases and 75 deaths. Bergen will be receiving the largest block grant, over $8.3 million, in this initial installment.
The monies distributed to individual counties are made up of three different grant sources. The first is Community Development Block Grants (CDBG) meant to fund infrastructure, development projects and public services among other things.
Emergency Solutions Grants (ESG) will help with rental assistance, eviction prevention and anti-homelessness programs. Housing Opportunities for Persons with AIDS (HOPWA) grants will help low-income individuals living with AIDS.
Atlantic County will receive $704,535 in the form of CDBG aid. Atlantic City is also getting a CDBG award for $786,810.
Ocean City, the only municipality in Cape May County included in this initial distribution, is to get $169,196 in CDBG money.
Cumberland County will see three CDBG awards—in Bridgeton for $197,626; Millville for $156,171; and Vineland for $292,725.
CAPE MAY COUNTY ADDS 16 CASES
The Cape May County Department of Health reported Thursday that eight men and eight women had been added to the county's list of residents testing positive for COVID-19.
The 16 range in age from 31-79 and bring the total to 49, 13 of which were listed as recovered.
MIDDLE TOWNSHIP POLICE OFFICER TESTS POSITIVE
The Middle Township Police Department said Thursday one of its officers has tested positive for COVID-19 and is at home recovering.
Four other officers are also home in self-quarantine after coming into contact with a different individual who tested positive. None of the four officers is exhibiting symptoms.
Since March 23, the department has been under a new patrol schedule that separates officers into independent squads to limit the ripple effect of any potential exposures.
Restaurants closed and other event, closing information due to COVID-19
Contact: 609-272-7241
Twitter @ACPressMollyB
Source: State of New Jersey Department of Health