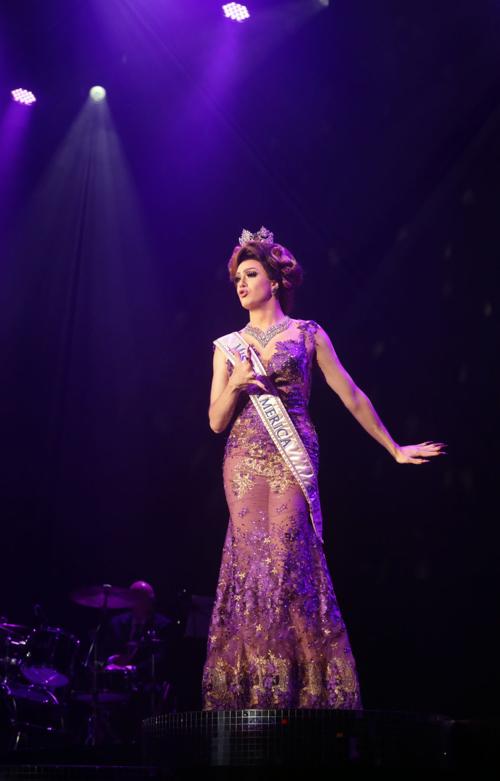 The 2020 Miss'd America Pageant has been canceled, founders John Schultz and Gary Hill announced Friday in a news release.
The pageant was scheduled for Sept. 12 in the Mark G. Etess Arena at Hard Rock Casino Hotel in Atlantic City.
"While this decision was not an easy one to make, it is the only course of action we can take," Schultz and Hill said in the release. "The safety of our guests, contestants, musicians, and crew was our primary concern in making the decision to cancel this year's pageant."
The drag queen pageant, which Schultz and Hill created in the 1980s as a platform for diversity and equality, will likely return September 2021.
Senate President Steve Sweeney on Friday announced an agreement with Gov. Phil Murphy and Assembly Speaker Craig Coughlin on legislation to authorize the state to borrow in amounts up to $9.9 billion to address the financial crisis created by the coronavirus outbreak.
"We have reached an agreement on legislation that would authorize state borrowing in amounts up to $9.9 billion to address the financial consequences of the coronavirus outbreak, but only with the approval of a legislative commission," Sweeney said in a news release. "This agreement will ensure we will have the resources needed to respond to this fiscal and economic crisis in a responsible way." 
The bill would enable the legislature to fulfill its fiscal responsibility through the creation of the Select Commission on Emergency COVID-19 Borrowing, a four-person panel comprised of two Senators and two members of the Assembly that would have to approve each request to borrow with a majority vote, according to the release.
"Senator Paul Sarlo, Chairman of the Senate Budget and Appropriations Committee, and I will serve on the commission as the Senate members and will fulfill our responsibility to meet the needs of the people of New Jersey," Sweeney.
The Senate Budget Committee will meet on Tuesday to consider the legislation, and the full Senate will meet on Thursday to take it up.
The number of positive cases of COVID-19 in New Jersey has increased by 367, bringing the total to 174,628, Gov. Phil Murphy said Friday. There have been 31 additional deaths, bringing the state total to 13,532.
The total number of probable deaths is 1,947, he said.
"We know that keeping people out of the hospitals entirely starts with social distancing, wearing a face mask or covering, and with rigorous testing and contact tracing, so keep it up," Murphy said during his daily briefing with other state officials. "…The steps we take together are about saving every single life we can save. We cannot let up."
There are 904 people hospitalized across the state, including 162 people in intensive care and 94 people on ventilators, Murphy said.
So far, Atlantic County has reported a total of 3,089 cases. The passing of three woman bring the county's number to 217 deaths. 1,721 individuals have been cleared as recovered. Cape May County has reported ten new cases for a total of 831. The death of a 4-year-old man from Middle Township brings the toll to 72. 648 people have been designated off quarantine. Cumberland County has reported 2,539 cases with 137 deaths.
For most people, the new coronavirus causes only mild or moderate symptoms, such as fever and cough. For some, especially older adults and people with existing health problems, it can cause more severe illness, including pneumonia.
Also during the briefing, Murphy cautioned residents about Tropical Storm Fay, which was set to make landfall in South Jersey Friday afternoon.
"As Tropical Storm Fay continues to move up the coast and is sitting right on top of us," Gov. Phil Murphy said during his daily briefing with other state officials. "…There is already significant flooding and we expect more of it in low-lying areas and with areas in poor drainage. Along the shore, I've seen images of cars floating right now in South Jersey."
Residents should avoid unnecessary travel, monitor local weather, report power outages and beware of downed power lines, Murphy said, calling Friday a "washout" and an opportunity for some "storm-induced social distancing."
In addition, officials at the state Motor Vehicle Commission extended expiration dates for driver's licenses, non-driver IDs, vehicle registrations, inspections and temporary tags.
Documents expired between March 13 to May 31 have been extended to Sept. 30, while documents expiring June 1 to Aug. 31 have been extended to Dec. 31.
Ten South Jersey nonprofit organizations dedicated to providing housing in their communities obtained a $10,000 COVID-19 Small Business Recovery Grant with help from OceanFirst Bank.
The COVID-19 Small Business Recovery Grant Program, made available through the Federal Home Loan Bank of New York, provides up to $5 million in flexible funds to benefit FHLBNY members' small-business and nonprofit customers, according to a news release from the bank. The program is available from May 11 through Dec. 31 or until funds are exhausted.
The following organizations have each been awarded a grant:
Cumberland County Habitat for Humanity
Gloucester County Habitat for Humanity
Habitat for Humanity Atlantic County
Habitat for Humanity Cape May County
Habitat for Humanity in Monmouth County
Habitat for Humanity of Burlington and Mercer
Habitat for Humanity of Southern Ocean County
Northern Ocean Habitat for Humanity
Metropolitan Camden Habitat for Humanity
Puerto Rican Action Committee of Southern New Jersey
State officials scheduled a 1 p.m. briefing Friday to update residents on the spread of COVID-19.
Appearing for the briefing will be Gov. Phil Murphy, Department of Health Commissioner Judith Persichilli, State Epidemiologist Dr. Christina Tan and State Police Superintendent Colonel Patrick Callahan.
Murphy is also scheduled to call in to "SiriusXM NFL Radio" at 9:30 a.m. and then on "Washington Post Live" hosted by Robert Costa at 11 a.m. to discuss the state's coronavirus response.
So far, Atlantic County has reported 3,072 cases with 214 deaths and 1,668 cleared as recovered. Cape May County has reported 821 cases with 71 deaths and 649 designated off quarantine. Cumberland County has reported 2,539 cases with 137 deaths.
For most people, the new coronavirus causes only mild or moderate symptoms, such as fever and cough. For some, especially older adults and people with existing health problems, it can cause more severe illness, including pneumonia.
Tropical Storm Warnings are in place
Tropical Storm Warnings have been issued for the entirety of the Jersey Shore. Maximum sustained winds are 45 mph of as 8 p.m. Thursday, extending out slightly from the center of the storm, which is east of the Outer Banks.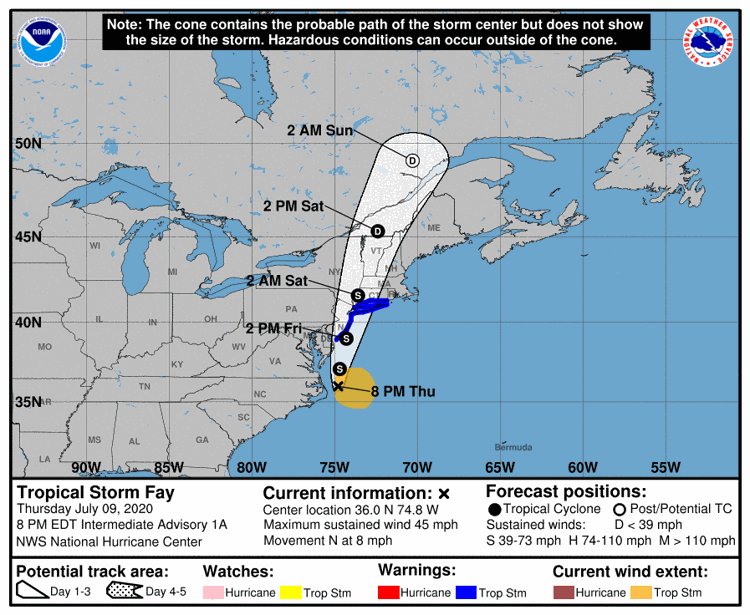 New Jersey is in the forecast cone and a direct landfall is possible. This would be the first time since Tropical Storm Irene in 2011 that a tropical system made landfall in New Jersey, if it were to do so. (Superstorm Sandy turned post-tropical right before crashing near Brigantine). Model guidance keeps the storm anywhere from 100 miles offshore to a track that takes the center over the Delaware Bay and into Cumberland County. 
Impacts will be the same regardless of whether it's tropical or not, and the focus should remain on heavy downpours and rip currents Friday. 
What are the impacts?
In order of significance — Dangerous rip currents, flooding rains, weak tornadoes, damaging wind, beach erosion and coastal flooding are expected.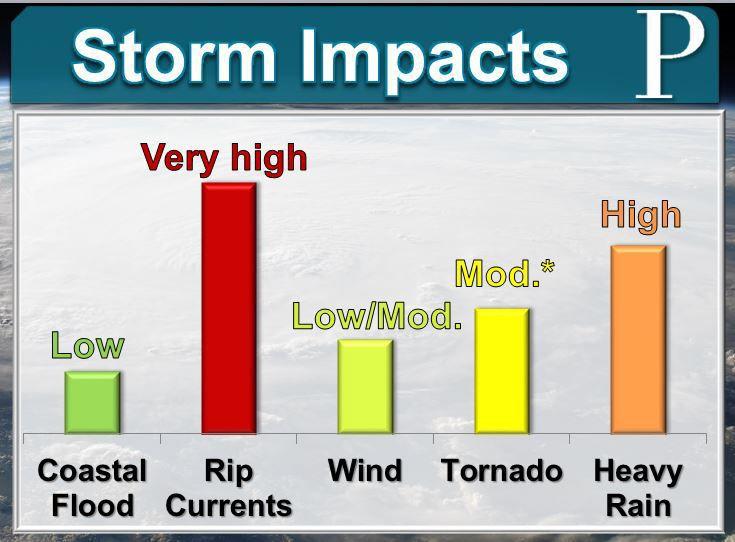 That being said, flooding rains and the rip currents are the main areas of significant concerns. A flash flood watch is in effect for all of South Jersey from midnight Friday through 4 p.m., with Ocean County's watch in effect from 4 a.m. to 8 p.m. Friday. 
All of the other impacts will be relatively minor. 
When will this be?
This storm will come and go on Friday. Rip currents will continue to develop into Friday. 
The rain will begin early Friday morning, likely between 3 and 6 a.m. Given the tropical or near tropical origins, torrential downpours will likely occur during the day. The heaviest, steadiest rains will fall during the early to mid-morning hours. Winds will pick up during the morning and peak during the afternoon. This wind-swept rain will end Friday evening, likely between 9 p.m. to midnight. Winds will diminish afterwards.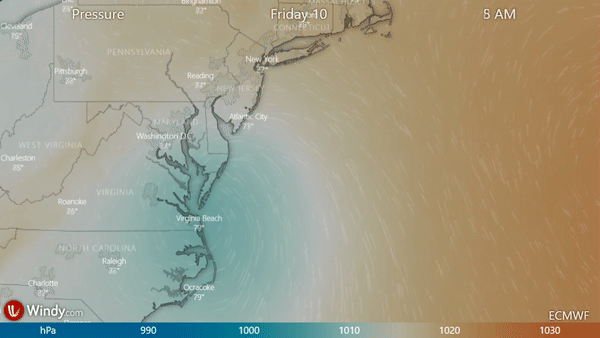 Coastal flooding, which is not a guarantee, could be between the Friday morning and Saturday morning high tides. 
A closer look at: rain and tornadoes
Similar conditions to Monday's will be likely in spots Friday, with inches of water on local roadways potentially even stranding cars. In addition, areas of stream and creek flooding will be a concern as well. 
We look at precipitable water (PWAT), to get an idea of maximum rainfall potential. PWATs measure how much water is in a column of air if you were to ring it out and measure it up. To determine maximum rainfall totals, double the PWAT to get top end potential.
PWATs Friday will be between 2 to 2.5 inches, nearly as tropical as you can get, which makes torrential downpours likely. Even if it doesn't rain all day, and it likely won't, some places can see 4 to 5 inches. Most will be lower, but this is why non-coastal flooding will be concerning. 
As with any tropical system, weak tornadoes are a concern, given the spin in the atmosphere. If a tornado forms, it will be relatively short lived. 
A closer look at: coastal flooding
This is where South Jersey catches a break. It's unlikely there will be coastal flooding, though preparing for minor flood stage is wise between the Friday morning and Saturday morning high tides. 
The luck comes from the moon. Between the full and new moons, there are astronomically lower tides, reducing the risk. In Atlantic City, the high tide, without the impacts of weather added to it, is 3.62 feet Friday, nearly 2.5 feet below flood stage. 
A closer look at: winds
Power outages and downed trees limbs will be possible, but the threat is no greater than a typical nor'easter.
Sustained winds will be 20-30 mph along the shore Friday, strongest during the middle of the day. It will blowing from the southeast, turning to the northeast. Top wind gusts will be near 45 mph, with gales offshore. 
On the mainland, expect 15-25 mph sustained winds with wind gusts up to 35 mph. The threat for wind damage will be low here. 
A closer look at: rip currents
A high risk of dangerous rip currents will be likely Friday.
All of the rip current ingredients will be met. These include:
Waves at least 2 feet high; waves will be 5 to 7 feet Friday, wave intervals 8 or more seconds at the buoys and winds perpendicular to the land, which will be met early Friday.
Do not swim on unguarded beaches. 
Beach erosion will be possible, but it should be relatively minor. 
A heat wave that drives you to the shore, warm water temperature that draws you to the surf …
Here are the 2020 Atlantic tropical system names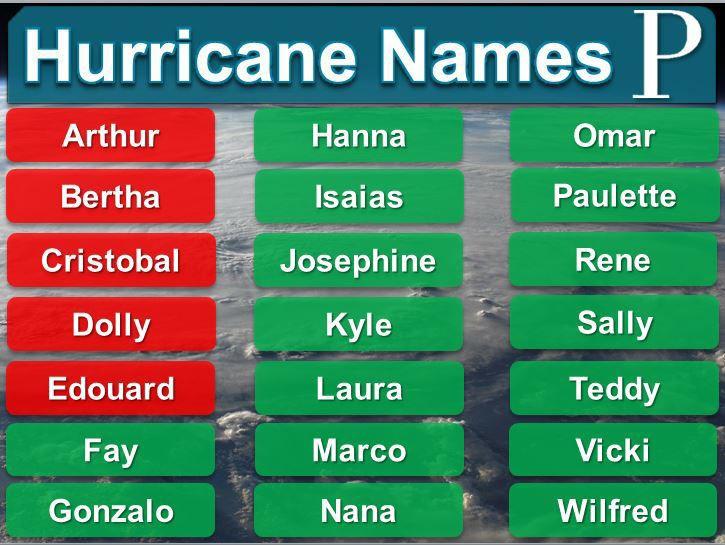 The Atlantic Hurricane season continued its blistering pace. Edouard, which developed July 6, was the earliest fifth named (with the letter "E") storm in Atlantic Hurricane history, which goes back to 1851. This is according to Philip Klotzbach, meteorologist at Colorado State University, who issues a highly reputable hurricane forecast each year and is used by The Press. 
The previous record was held in 2005 with Emily, which occurred on July 12. 2005 holds the record for the most active hurricane season on record in the Atlantic Hurricane basin, with 27 named storms.  
However, all of the storms to this point have been tropical storms. Some, like Edouard, likely would not have even been noticed before the satellite era, as they were out to sea and may have been missed by shipping routes. 
Contact: 609-272-7241
Twitter @ACPressMollyB