BEIRUT — Lebanon's prime minister-designate resigned Saturday amid a political impasse over government formation, dealing a blow to French President Emmanuel Macron's efforts to break a dangerous stalemate in the crisis-hit country.
The announcement by Moustapha Adib nearly a month after he was appointed to the job further delays the prospect of getting the foreign economic assistance needed to rescue the country from collapse. Adib told reporters he was stepping down after it became clear that the kind of Cabinet he wished to form was "bound to fail."
The French leader has been pressing Lebanese politicians to form a Cabinet made up of nonpartisan specialists who can work on enacting urgent reforms to extract Lebanon from a devastating economic and financial crisis worsened by the Aug. 4 explosion at Beirut port.
An official in Macron's office, commenting on Adib's resignation, described it as "a collective betrayal" by Lebanon's political parties.
"It is indispensable to have a government capable of receiving international aid. France will not abandon Lebanon," said the official, who was not authorized to be publicly named.
Lebanon is in desperate need of financial assistance, but France and other international powers have refused to provide aid before serious reforms are made. The crisis is largely blamed on decades of systematic corruption and mismanagement by Lebanon's ruling class.
But efforts by the French-supported Adib have hit multiple snags, after the country's main Shiite groups, Hezbollah and Amal, insisted on retaining hold of the key Finance Ministry. Their insistence emerged after the U.S. administration slapped sanctions on two senior politicians close to Hezbollah, including the ex-finance minister.
The two groups also insisted on naming the Shiite ministers in the new Cabinet and objected to the manner in which Adib was forming the government, without consulting with them.
After a short meeting with Aoun on Saturday, Adib said he was stepping down after his efforts hit a dead end.
"I have apologized about continuing the mission of forming a government after it became clear that a Cabinet according to the characteristics I had set for it would be bound to fail," he told reporters.
The Lebanese pound dropped against the dollar following his resignation, trading at more than 8,100 Lebanese pounds on the black market Saturday.
Lebanon, a former French protectorate, is mired in the country's worst economic and financial crisis in its modern history. It defaulted on paying back its debt for the first time ever in March, and the local currency has lost nearly 80 % of its value amid hyperinflation, soaring poverty, and unemployment. Talks with the International Monetary Fund on a bailout package have stalled.
The crisis has been compounded by the coronavirus pandemic and more recently by the Aug. 4 explosion at Beirut's port caused by the detonation of thousands of tons of ammonium nitrates. It killed nearly 200 people, injured thousands and caused losses worth billions of dollars.
Adib's resignation comes a few days after Aoun himself bluntly told reporters that Lebanon would be going to "hell" if a new government was not formed soon.
In a televised address, he criticized his political allies, the Shiite groups Hezbollah and Amal, for insisting on holding on to the Finance Ministry portfolio in any new government, but also criticized Adib for attempting to form a government and impose names for Cabinet positions without consulting with the parliamentary blocs.
Adib, who was ambassador to Germany before he took the job on Aug. 31, emerged as a candidate for the post of prime minister after he won the support of former Prime Minister Saad Hariri and three other ex-premiers. According to Lebanon's sectarian-based power sharing system the prime minister has to be a Sunni Muslim.
The Shiite groups have accused Hariri of directing Adib in his Cabinet formation efforts and said they refuse to be sidelined. Hariri stepped down last year in response to mass demonstrations demanding the departure of the entire sectarian-based leadership over entrenched corruption, incompetence and mismanagement.
French President Macron has described his initiative including a road map and a timetable for reforms, as "the last chance for this system."
Pleasantville joins Ocean City, Sea Isle with changes to Halloween festivities amid COVID-19
PLEASANTVILLE — City officials said Wednesday they will not host community-wide trick-or-treating events for Halloween this year due to the COVID-19 pandemic.
"As such, the city of Pleasantville will not sponsor or direct any events which encourage interpersonal contact or close proximity among the general public," according to a news release from police Chief Sean Riggin, citing a consultation with city officials, the Office of Emergency Management and health experts. "We invite our community to engage in activities which allow our kids to have fun, while practicing social distance and safe practices."
The Centers for Disease Control and Prevention released guidance Monday for the fall and winter holiday seasons amid the ongoing new coronavirus pandemic, cautioning residents to abide by state and local health and safety laws.
While celebrating virtually or with members of the same household "pose a low risk for spread," in-person gatherings pose varying levels of risk, according to the CDC. Trick-or-treating, trunk-or-treating, crowded costume parties and indoor haunted houses are all higher risk activities to be avoided.
The city is at least the third in South Jersey to announce changes to Halloween festivities.
Earlier this month, Ocean City officials and the Ocean City Exchange Club announced its annual Halloween Parade was canceled. Sea Isle City Mayor Leonard Desiderio said around the same time that his city's Halloween Parade and Dance Party, scheduled for Oct. 16, has also been canceled because of COVID-19.
"We encourage any family which does choose to engage in traditional trick-or-treating to follow appropriate CDC guidelines and utilize proper personal protective equipment," Riggin said.
Waretown man pleads guilty to child pornography charge
TOMS RIVER — A Waretown man on Wednesday pleaded guilty to a child pornography charge, according to the Ocean County Prosecutor's Office.
Michael Delia, 42, pleaded guilty to endangering the welfare of a child by possessing child pornography before Superior Court Judge Linda G. Baxter, Prosecutor Bradley D. Billhimer said.
He is scheduled to be sentenced Dec. 11. During that hearing, the state will be seeking a four-year prison term, according to the release. Delia will also be subject to parole supervision for life and required to register as a Megan's Law Offender.
The Prosecutor's Office High Tech Crime Unit investigated, finding in January 2019 that an IP address belonging to Delia was being used to download child pornography from the internet through a peer-to- peer file-sharing application, according to the release.
On March 5, 2019, detectives from the unit, U.S. Immigration and Customs Enforcement — Homeland Security Investigations and Ocean Township Police Department executed a search warrant on Delia's residence in the Waretown section of Ocean Township, officials said. They seized a laptop, cell phone and other electronic equipment belonging to Delia.
A forensic examination of the laptop computer revealed it contained more than 1,000 but fewer than 10,000 images of child pornography, officials said. Delia was arrested without incident and transported to the Ocean County Jail.
Billhimer acknowledged the efforts of Assistant Prosecutor Shanon Chant-Berry, who handled the case on behalf of the state, as well as the Prosecutor's Office High Tech Crime Unit, U.S. Immigration and Customs Enforcement — Homeland Security Investigations and Ocean Township Police Department for their collective and combined assistance in the investigation leading to Delia's apprehension, and, ultimately, his guilty plea.
Bridgeton police investigate Tuesday home invasion robbery
BRIDGETON — Police are investigating after two men with handguns robbed about $700 in cash from a city home early Tuesday, firing a gun from a minivan when they drove away.
At 4:49 a.m., officers went to the 300 block of Glen Park Apartments for a report of a home invasion robbery, according to a post on the department's Facebook page.
The victims reported that two men had gone inside the home and kicked down a bedroom door, police said. One of the men was wearing a gray hoodie pulled over his head, while the other was wearing a dark blue hoodie pulled over his head.
Both men were wearing black masks and were each brandishing a black handgun, police said.
The men went through a dresser and took about $700 in cash before driving away from the home in a gray minivan, police said.
As they drove away, one gunshot was fired from the van.
Anyone with information regarding this incident can contact city police detectives at 856-451-0033 or via TIP411.
Your Thursday Morning Headlines: 2nd Congressional District debate set, Absecon man pleads guilty to having meth and more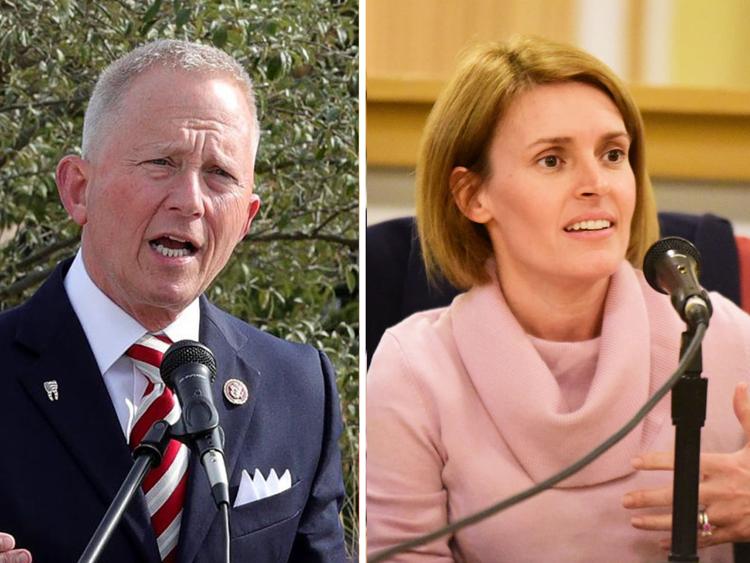 A live debate between 2nd Congressional District candidates Republican incumbent Jeff Van Drew and Democratic challenger Amy Kennedy is scheduled for 8 p.m. Oct. 8. The William J. Hughes Center for Public Policy at Stockton University and NJTV, New Jersey's public television network, are the co-sponsors. 
Atlantic Cape Community College alumnus Felix Contreras-Castro is serving as a clinical research manager at one of the nation's largest and most respected hospitals, Mount Sinai Hospital in New York, where he is identifying effective treatments for COVID-19 patients. Contreras-Castro plans on enrolling in medical school in 2022.
Donald Trump Jr. arrived at a fundraiser Tuesday evening at the Historic Smithville Inn in Galloway Township and was greeted by shouts from a crowd of nearly 400, divided almost equally among supporters and protesters. The two groups gathered on opposite sides of Route 9 and exchanged chants as they waited.
A New York man has been awarded a Carnegie Medal for trying to save a Pennsylvania father from drowning in the ocean off an Atlantic City beach. James Glorioso, Jr., a 42-year-old actor from Amsterdam, received the award from the Carnegie Hero Fund Commission for entering into mortal danger to rescue another, the commission announced Tuesday. 
Joseph Brandenberger, of Absecon, pleaded guilty Tuesday in federal court in Camden to possessing large quantities of cocaine, heroin and methamphetamine, and a firearm, according to the U.S. Attorney's District of New Jersey office. Brandenberger, 35, pleaded guilty before U.S. District Judge Robert B. Kugler to an information charging him with possessing with intent to distribute 100 grams or more of heroin among other offenses.
Cumberland County freeholder calls for investigation into possible mishandling of $65 million in county bonds after jail project scrapped
BRIDGETON — A Cumberland County freeholder called on state officials Wednesday to investigate the possible mishandling of $65 million in county bond funds after the new jail project was scrapped.
"How do we cancel a capital construction project without a single vote and yet not cancel the bonds connected to the project?" said Freeholder Jack Surrency, a Democrat. "That makes no sense and leads me to believe that there's more to the story."
County officials did not respond immediately to requests for comment on the matter.
In a letter to acting State Comptroller Kevin Walsh, Surrency outlined the jail project's history, from the Oct. 21 groundbreaking to the July announcement by Freeholder Director Joseph Derella that the project was on indefinite hold.
Surrency asked Walsh's office to "conduct a full and thorough investigation into the cancellation of the jail project and the potential improper use of the $65 million in bond funds," according to the letter.
Derella has cited criminal justice reform and the COVID-19 pandemic as driving forces for canceling the new jail project, as well as closing the county's current facility, floating a plan to send inmates to other counties. Most recently, county officials in August sent a letter to the state Civil Service Commission notifying of the possible 121 layoffs at the jail, set to take place Nov. 3.
No hard dates or deadlines have been made public, and the freeholder board hasn't voted on the issue. So far, the new jail project has cost more than $13.3 million, according to data provided by the Cumberland County Improvement Authority. However, bonds for the project have not yet been canceled.
"I'm looking for answers, as is every taxpayer in the county," Surrency said. "These actions by the county don't add up, and they deserve a full and complete investigation to bring to these details to light."
Copyright 2020 The Associated Press. All rights reserved. This material may not be published, broadcast, rewritten or redistributed without permission.
Be the first to know
Get local news delivered to your inbox!