ATLANTIC CITY — The Atlantic City Airshow will bring almost a half million people to town starting Aug. 19, and is expanding with new acts and a first-ever Monday night barbecue and night jump by the U.S. Army Golden Knights at Linwood Country Club.
An extra $100,000 from the Casino Reinvestment Development Authority made the expansion possible. The board increased funding to $152,850 to the Greater Atlantic City Chamber, which organizes the show with the help of community groups and the city.
So far, the show has focused solely on entertainment, and that is the plan going forward, said chamber Executive Vice President Michael Chait.
ATLANTIC CITY — The Casino Reinvestment Development Authority will give about $100,000 more …
"We have a $45 million economic impact, attracting 400,000 people to the area," Chait said. "We are working on maintaining and growing and expanding the week for additional events. Keeping people here longer is our short- and long-term goal."
Jim Johnson, special counsel to Gov. Phil Murphy and co-author of the state's transition report on Atlantic City, believes the show could also expand with aviation-industry events.
"We have a great asset in Atlantic City International Airport," Johnson said during a Press of Atlantic City editorial board meeting this year. "I'm thinking how that can be used. We could imagine the airshow to be a place where there is actually more business getting done."
He said it's great and exciting to see jets over the city, "but imagine if Atlantic City became a destination for sales the way say the Paris Air Show is. That's something we could think about doing here."
Wednesday, Aug. 21, marks the 17th annual Airshow in Atlantic City, this year called "A Trib…
According to websites and publications serving the aviation industry, many airshows in the country have a static component as well as a performance component. It may not include sales, but it does bring people to airports to look at various models of airplane, tour them and walk around them.
"Anything like that is absolutely an opportunity. I don't know how possible it is," Chait said.
Chait said room availability might be a problem. There are about 17,000 rooms in the resort now, and they are generally sold out in August.
For the right show, booked far enough out, rooms would be available, said Meet AC President and CEO Jim Wood. Meet AC books conventions for the city.
Twice a year, John Conway and his wife, Carol, fly to visit Atlantic City from their home in…
"There is (exhibit) space in the convention center, so all things are possible," Wood said, adding the city has not hosted many aviation-industry events. "In general, it's still peak season, and (casino hotel rooms) sell out during August seven days a week just about."
He said there would be room challenges, but a midweek convention could work — especially if it were booked years ahead and casinos could hold rooms.
The convention center has not tried to piggyback on the airshow, Wood said.
The city regularly hosts car, recreation vehicle and boat shows.
"They are all consumer shows," Wood said. "When you talk about aviation, it's a different audience."
Of the dozens of airshows nationally, he doesn't know of any in the U.S. that combines business and entertainment, like the biannual Paris Air Show does.
ATLANTIC CITY — A nonprofit's quest to build a Holocaust memorial in the city got a boost Tu…
"The Paris Air Show is on a whole different scale than what you see domestically in the U.S.," Wood said.
The county is working on developing the National Aviation Research and Technology Park at Atlantic City International Airport in Egg Harbor Township, and bringing aircraft maintenance and repair operations to the region.
But Wood said he has not been approached about trying to bring in shows of aviation industries, to introduce companies to the area and airport.
"We have not had that conversation with the county yet. We would be more than happy to evaluate those options if they are out there," Wood said. "It would be terrific if there were the chance to … grow that segment."
Those who see the Atlantic City Airshow as the crowning event of the summer can look forward…
This year's show will be subtitled "A Salute to Those That Serve," replacing the long-running "Thunder Over the Boardwalk."
In addition to a Monday night barbecue and jump, for the first time this year there will also be a veterans fair on the Boardwalk during the practice day Tuesday and the show itself Wednesday.
And the United Kingdom's Royal Air Force Red Arrows will make their first appearance in the resort. It's also the first time in 11 years they have come to the U.S.
"They are flying in nine airshows, and we're one of them," Chait said. "They come here and fly right to New York (for the show there) Wednesday night."
CRDA Board Chairman Robert Mulcahy said the show brings in $1.9 million in state and local taxes and $900,000 in luxury taxes.
What's happening?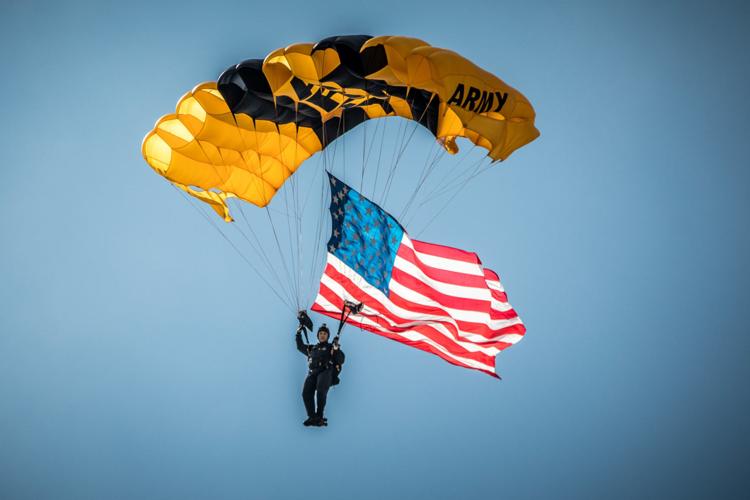 The Atlantic City Airshow returns to the resort the week of Aug. 19.
Opening ceremonies take place Monday night, Aug. 19, with the show's first-ever evening jump by the U.S. Army Golden Knights at Linwood Country Club, said chamber Executive Vice President Michael Chait.
Practice day will be Aug. 20, with the show Aug. 21.
Beside the show, the week will also feature a Red, White, and Blue BBQ at Linwood Country Club. 
When and where are these events?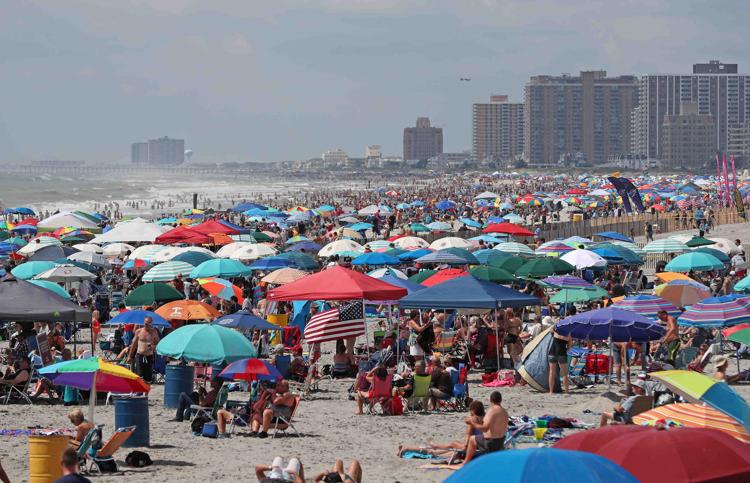 The barbecue is planned for 6:30-9 p.m. Monday, Aug. 19 at Linwood Country Club.
The airshow is planned for 11 a.m.- 4 p.m. Wednesday, Aug. 21 along the beachfront.
Both events are planned rain or shine. 
What does the BBQ entail?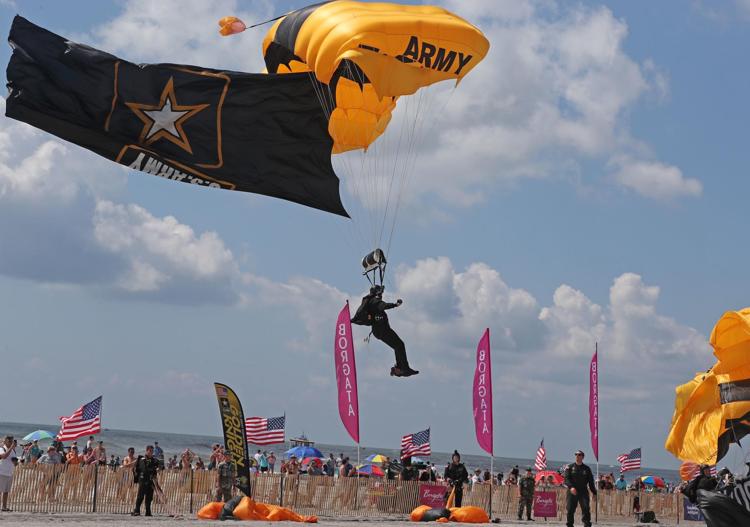 The menu for the Red, White and Blue BBQ will feature a variety of classic backyard favorites such as hot dogs, burgers, chicken, sausage, grilled shrimp and more. Side dishes include grilled veggies, potato salad, cole slaw, corn on the cob, baked beans, and salads. Dessert will feature assorted cookies, chocolate covered pretzels and fresh fruit.
The even will be topped off with a special night jump performance by the US Army Golden Knights.
What is the lineup for the airshow?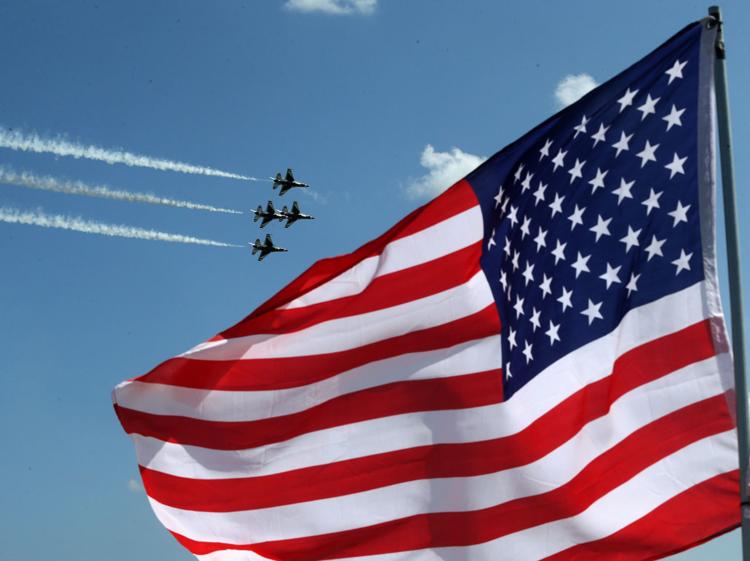 The lineup is subject to change, but the day will begin with a National Anthem Flag Jump as performed by the Army's Golden Knights, the proceeded by several flybys, aerial demonstrations, and performances from various air showmen, including the US Air Force Thunderbirds.
How much are tickets to the events?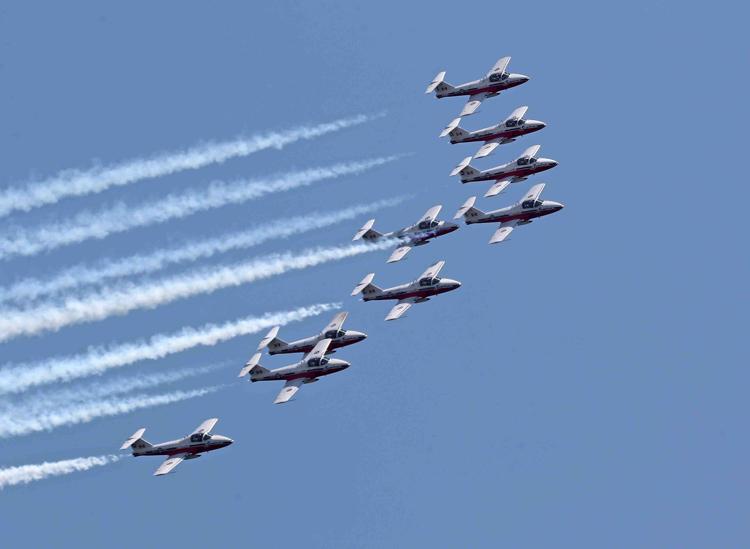 Tickets to the Red, White, and Blue Beach BBQ are $35 for children 12 and under, and $65 for adults. Children four and under do not need a ticket.
Attendees of the airshow can view the performances for free anywhere along the Atlantic City Boardwalk or beach.
Premium seating is available for purchase, and ocean facing hotel rooms will have good views of the show.
What is the Flightline Club?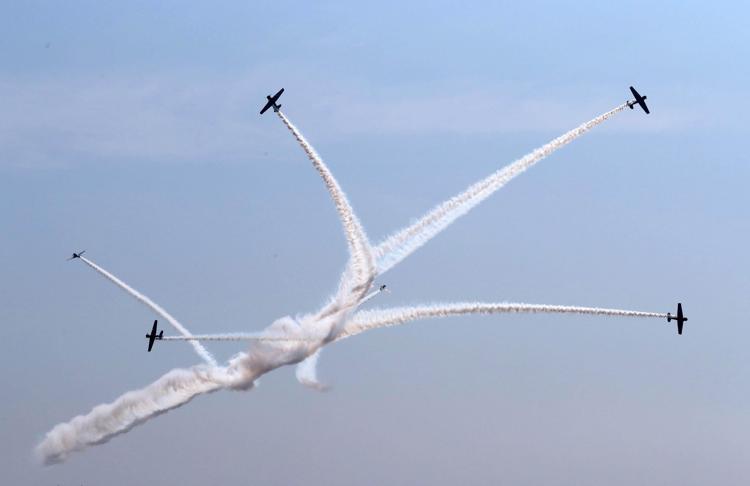 The Flightline provides views a VIP, shore-side experience of the airshow beneath a tented venue, complete with tables, chairs, on sight restrooms, sound and narration of the flights, and unlimited lunch food and nonalcoholic beverages served from 11 to 2.
Admittance is $55 for adults, and children four and younger are free. Tickets can be purchased online at https://www.eventbrite.com/e/2019-atlantic-city-airshow-flight-line-club-tickets-59635427168?aff=AirshowWebsite
Where can I park?
Parking is available throughout the city. Early arrival is recommended.
Is there a public transportation option?
Yes, NJ Transit offers an array of options for purchasing rail and bus tickets into, out of, and around Atlantic City. Tickets can be purchased at most public transportation stations. NJ Transit also offers a variety of special fare options for train and bus.
Visit njtransit.com for bus and train schedules.
Is there anything else I should know?
Snacks and beverages are a smart choice to bring. Nonetheless, there many places on the boardwalk to grab a bite to eat. Also, dressing for the occasion is advised.
This is beach after all, so bring some chairs and umbrellas. Cameras and binoculars will also help improve the show.
WPG Talk Radio 95.5 FM and 1450 AM will provide commentary of the event.