Connie Skvir walked through rows of tomato plants at Fernbrook Farms in Burlington County, filling boxes with juicy red produce destined to feed the hungry.
The volunteer work is important to the 68-year-old retired special education teacher, who is part of efforts to gather leftover produce from fields throughout New Jersey.
"A lot of students came to school hungry," said Skvir, of Delran Township. "They had single mothers raising one, two or three children and trying their best to feed them. You can't learn and you can't do your best if you're hungry."
Volunteers and farmers in New Jersey are playing an increasingly larger role in feeding the state's hungry, and especially its children.
Donations of fruits and vegetables — and an expanding use of the ancient practice of gleaning, or gathering the leftovers — aren't the ultimate solution to hunger in New Jersey, observers say.
But it's delivering millions of pounds of corn, beans, melons, cucumbers and other produce annually at a very low cost — in some cases, 10 to 20 pounds for $1.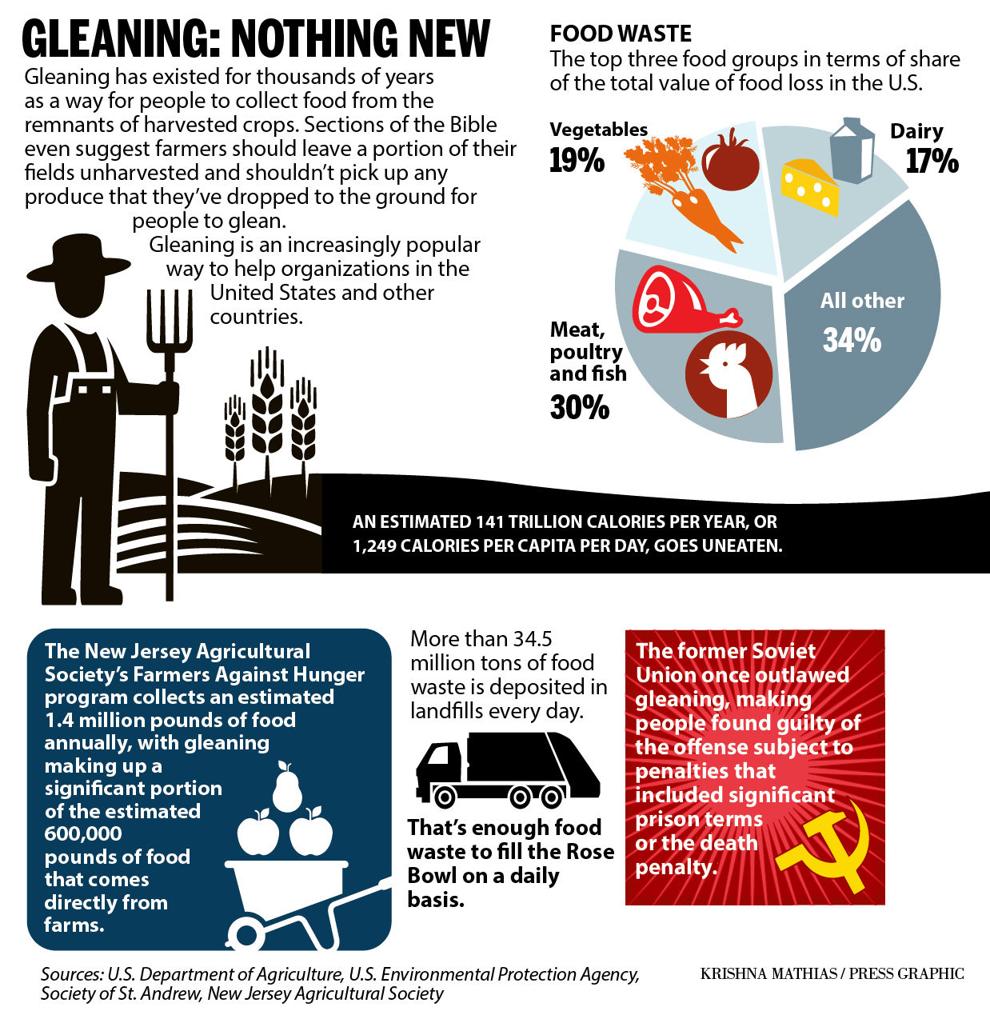 Skvir was one of nine volunteers whose gleaning efforts at Fernbrook Farms produced 150 pounds of cherry tomatoes and 50 pounds of green beans in two hours. That produce became one of many deliveries from organizations that help the Cathedral Kitchen in Camden feed 2,000 hungry, poor and shut-in people every day.
Gleaning is crucial to the success of the New Jersey Agricultural Society's Farmers Against Hunger Program, which raised more than 1.4 million pounds of produce for soup kitchens, food pantries and other entities throughout the state last year. About 600,000 pounds of that food came directly from gleaning and farmers donating leftover produce.
Galloway Township is a large municipality on the northern border of Atlantic County.
The Garden State's farmers are stepping up to feed the hungry.
"They'd much rather see the results of their work feed the hungry than go to waste," said Kristina Guttadora, the society's executive director.
The society gets produce from about 55 farms throughout New Jersey, including farms in Atlantic and Cumberland counties. About 20 of those farms allow society volunteers to glean produce left in the fields after harvest. The society's "Glean Teams" sometimes glean thousands of pounds of produce in a day. The operation is growing so large that the society is collecting donations for a new refrigerated delivery truck.
Organizations getting that fresh produce say they're placing a bigger emphasis on using it to feed children.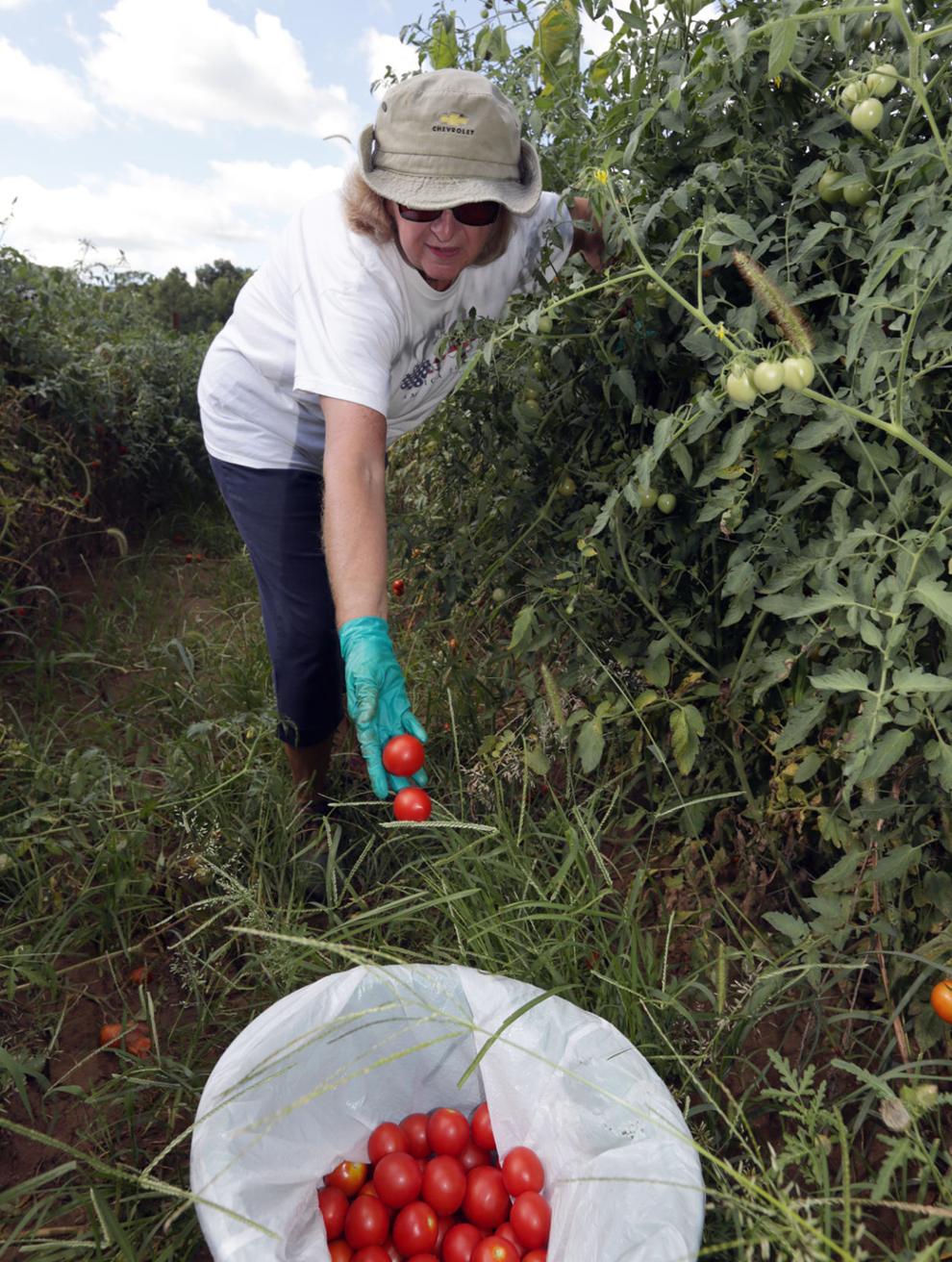 One of the Cathedral Kitchen's goals is to introduce fresh produce to young children, said Karen Talarico, the facility's executive director and a Vineland resident. It's common for many of those children to have their first taste of something like fresh corn through a Cathedral Kitchen meal, Talarico said.
Chefs at Cathedral Kitchen are also reducing reliance on processed foods, she said. The facility is increasing its use of fresh produce to cook up healthier offerings, a practice being adopted by more food-relief agencies, she said.
The Bridgeton-based Gateway Community Action Partnership operates a gleaning program that accepted more than 300,000 pounds of fresh produce from South Jersey farmers last year, said Marcus Weaver, Gateway's director of agriculture and food initiatives.
Gateway also operates the Mill Creek Urban Farm in Bridgeton. The farm began in 2009 as a community garden enterprise but eventually turned into a place to grow produce for the nonprofit's food pantry and other food-relief organizations in the city.
The operation includes growing lettuce and other leafy vegetables hydroponically in a 3,000-square-foot greenhouse.
Weaver said some of the farm's produce is shipped to schools in New Jersey. Gateway and Bridgeton school district officials are talking about providing city schools with some of the produce, he said.
A 3,200-square-foot greenhouse is under construction at the farm with plans to hydroponically grow tomatoes and cucumbers there, Weaver said.
But adequately feeding young students with farm-fresh produce isn't easy.
Beth Feehan, coordinator of the New Jersey Farm to School program, said the initiative to get local goods into schools is not moving as quickly as other programs, such as school gardens. She said food service contracts may not include buying local, and it's typically not very cost-efficient for local farms to deliver directly to schools.
More successful have been Fresh Fruit and Vegetable grants, which give schools money to introduce and educate students about new fruits and vegetables on a smaller scale. Schools must have at least 50 percent of students in the federal free and reduced-fee meal program to qualify.
Locally, schools in Atlantic City, Pleasantville, Wildwood, Bridgeton, Millville and Vineland have received the grants.
Local attorney James Cooper started a nonprofit group called Let Us Eat, Please in 2012 to h…
Other innovative ways to feed the hungry are being used in the U.S.
The Arkansas Hunger Relief Alliance, a gleaning-based entity, began in 2008 with a "handful of growers" and a first-year total of about 15,000 pounds.
"It wasn't a lot, but you have to start somewhere," said Nancy Conley, the organization's spokeswoman.
The alliance eventually joined with the Society of St. Andrew, a Virginia-based gleaning organization that works primarily in southern states, she said.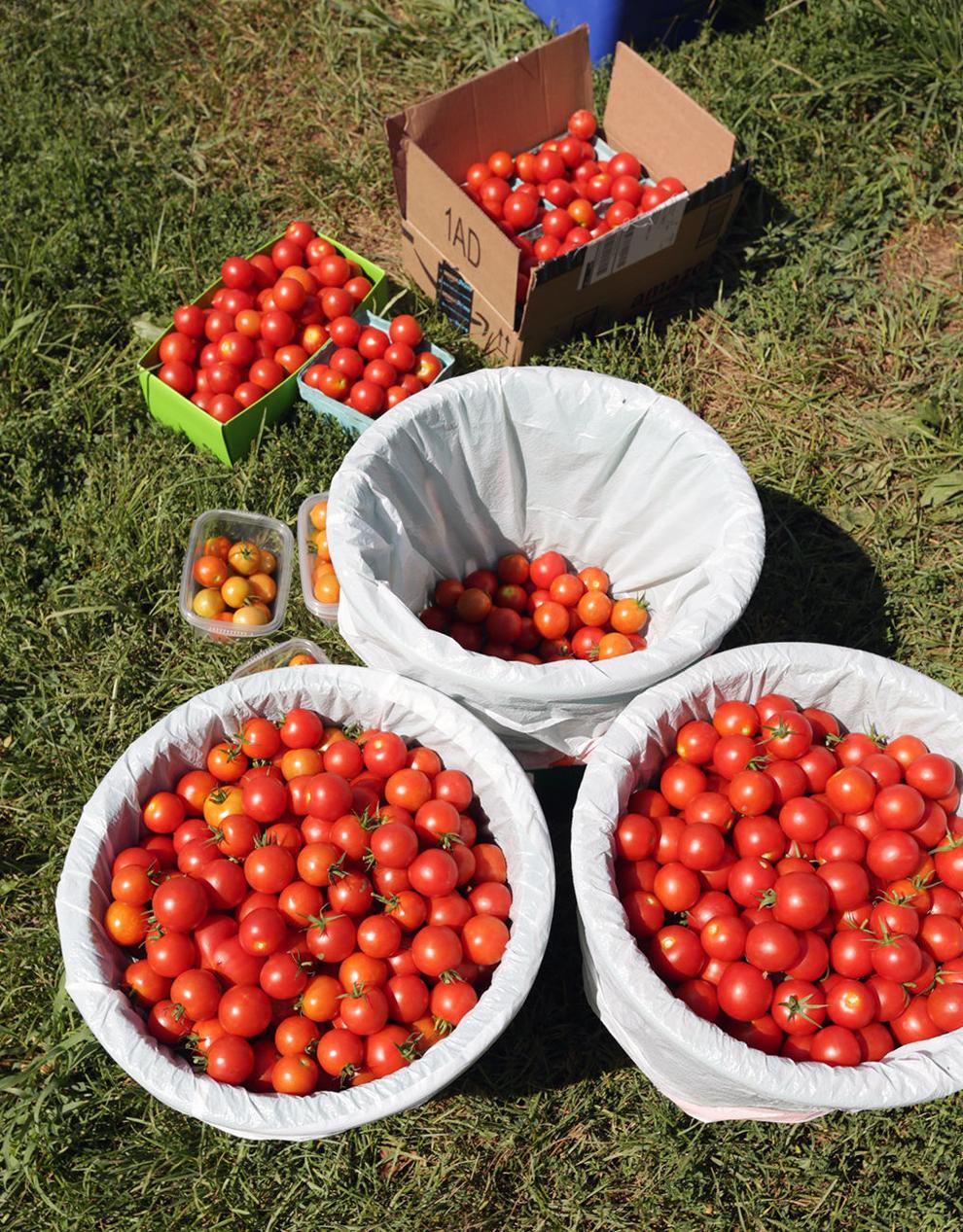 Gleaning grew through that partnership, she said, but really "increased ... exponentially" when it partnered with the Arkansas Department of Corrections.
Inmates joined the alliance's 1,200 volunteers in gleaning fields, Conley said.
That helped boost the alliance's 8-year gleaned-food total to 8.5 million pounds of produce distributed in all 75 counties in Arkansas, according to the alliance. The alliance estimates its gleaning program averages about 3 cents per pound of produce.
The alliance also became the lead agency in Arkansas for a program designed to reduce child hunger, Conley said.
The Baltimore-based Hungry Harvest company collects produce from farmers in Maryland, Delaware, Virginia and Pennsylvania.
Much of the food involves what Ritesh Gupta, the company's director of impact, called "ugly" produce. That is produce that is perfectly good to eat but not wanted by retailers or customers because it's scarred, discolored or oddly shaped.
The company delivers boxes of produce to its customers around Baltimore, Philadelphia and Washington, D.C. The cost depends on how much produce is ordered and can run from $15 to $50. Profits help fund an operation in which the company donates, depending on the time of year, anywhere from 2 to 5 pounds worth of produce to food-relief organizations for each delivered order.
Gupta said the company has collected almost 1 million pounds of produce since it began in 2014. About 200,000 pounds wound up being donated, he said.
If you are an individual, organization, agency or service provider interested in getting inv…
"We're basically leveraging the power of our paying customers in a kind of social mission," he said.