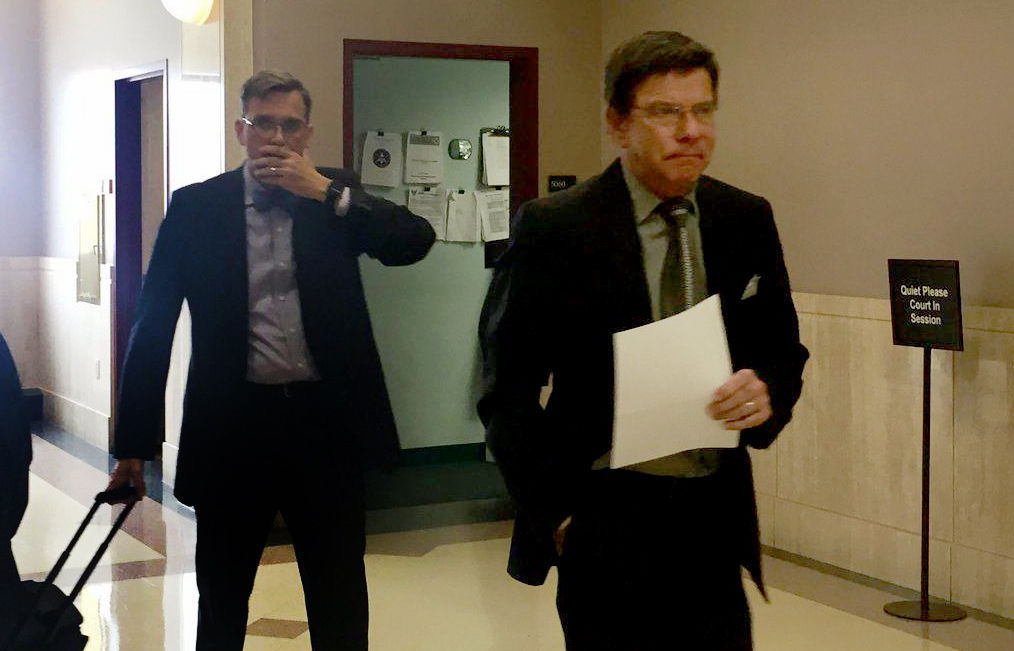 CAMDEN — Former Atlantic City Councilman John Schultz was sentenced Monday to six months in prison for his role in a conspiracy to defraud the IRS of $119,800 in unpaid taxes.
Schultz, 74, was partners in an Atlantic City rolling chair operation, Royal Rolling Chairs, with two others, whom he conspired with to hide cash receipts from the IRS.
In court Monday, he cried and apologized before his sentence, saying he knew what he did was wrong.
"It's my own fault," he said. "I should have known better."
His lawyer, Ed Jacobs, asked the judge to give Schultz a term of probation, citing his record of charitable works in Atlantic City that include 30 years with the South Jersey AIDS Alliance and contributions to the Atlantic City African American Museum and Atlantic City Police Foundation through his charity.
Judge Joseph Rodriguez, however, said there was no reason Schultz had to commit this crime because his net worth is nearly $2 million and he lives in a penthouse that includes an indoor swimming pool, a home theater and two elevators.
"It makes one wonder why they needed to commit this offense," the judge said, adding that greed was the motivating factor.
Still, Rodriguez said, he reviewed several letters from people around the community attesting to Schultz's character and many charitable works. The sentence was a balance between the serious nature of the crime and the good works he has previously done.
After sentencing, Schultz left the courtroom with his head down and declined to comment. His lawyer also declined comment on whether Schultz will appeal the sentence.
Schultz will also serve six months of supervised release and pay restitution and a fine of $3,000.
Schultz pleaded guilty in September to hiding gross cash receipts from his Boardwalk rolling-chair business and maintaining a second set of books not shared with the government.
According to the U.S. Attorney's Office, Schultz bought into the business in 2007. The plot to hide cash from the IRS began in September 2006, and the company concealed $342,632 in revenue during the 2007-09 tax years.
Schultz's business partner, William Boland, previously pleaded guilty to the same conspiracy charge and is scheduled to be sentenced by Rodriguez on May 4. Abdus Mian, the bookkeeper for Royal Rolling Chairs Inc., pleaded guilty to making false statements to federal investigators and was sentenced to a year of probation last April.
Mian admitted lying to investigators about having just one set of financial records for the business and that he did not know the owners of the company were taking cash from the business.
The conspiracy was investigated by the IRS and the FBI.
Schultz is a founding member of the Atlantic City Metropolitan Business & Citizens Association, a nonprofit civic group that has provided more than $280,000 in scholarships, teacher grants and Thanksgiving turkey donations over the past 25 years.
In 2007, Schultz was indicted in a scheme to blackmail Councilman Eugene Robinson by paying a prostitute to seduce him and filming the tryst. Schultz was allowed to enter the pretrial intervention program after he was charged with conspiracy to commit criminal coercion and invasion of privacy.
Robinson settled his civil lawsuit against Schultz before it went to trial in 2009.
A year later, Schultz was honored with the Spirit of Hospitality Award by the Atlantic City Convention & Visitors Authority, an honor Gov. Chris Christie called inappropriate.
The judge revealed Monday that another secret tape would have been used against Schultz in the tax-fraud case if it had gone to trial.
Schultz was a councilman from 1994 to 2001 and from 2005 to 2010. He did not seek re-election after his indictment.
Staff Writer Christian Hetrick contributed to this report.