Doctors, nurses and health experts will be the first ones to tell you to get the flu shot, but how often do they follow their own advice?
Federal reports show that less than 60 percent of employees at several New Jersey hospitals got flu shots last season.
The low vaccination rates have led some health networks to take better preventative measures this severe flu season.
"We know that when health care personnel get vaccinated, not only are they protected, but they also protect those who are more vulnerable to serious flu illness, like babies and young children, older people and people with certain illnesses," Dr. Shereef Elnahal, state Department of Health acting commissioner, said in a statement Friday.
While the vaccine does not completely protect a person from the flu, it remains the best chance at escaping the infection or decreasing the severity of illness, local and federal health experts have said.
Hospitals make their own flu recommendations or requirements for employees, who can be medical professionals such as doctors, nurses, therapists, pharmacists and technicians or maintenance and operations workers and others.
Less than 60 percent of workers at nine hospitals in the state, including Inspira Vineland and Shore Medical Center in Somers Point, got the flu vaccine last season, according to data from the U.S. Centers for Medicare and Medicaid Services.
Another six hospitals had workplace flu vaccinations among employees below 75 percent. The data looked at vaccinations between October 2016 and March 2017.
A new mandatory vaccination program this flu season at Inspira Health Network's three South Jersey hospitals helped the Vineland medical center go from 45 percent of workers vaccinated last year to 99 percent this year, hospital officials said.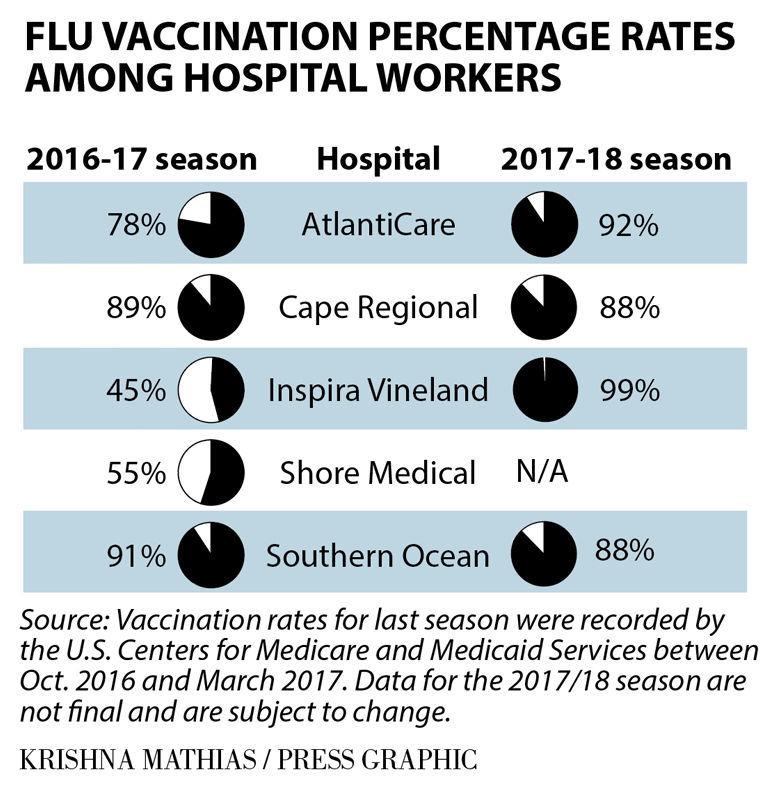 Paul Lambrecht, vice president of quality and patient safety at Inspira Health Network, said the health provider began gathering information two years ago about mandatory vaccination policies used by other health systems in the Delaware Valley.
Using those examples, and talking with leaders from those institutions about best practices around policy design and implementation, he said Inspira established a committee that focused on its vaccination policy design, program and tracking.
"We also developed a communication plan to ensure that our employees and physicians not only understood the revised policy, but the rationale for instituting these changes," Lambrecht said.
The flu, which can be easily spread from person to person through direct contact on surfaces or droplets in the air, has hit many communities hard this year.
Federal officials announced flu levels now mirror those seen in the H1N1 flu pandemic of 2009. There had been 14,065 laboratory-confirmed cases in New Jersey as of Feb. 10, state reports show.
Health experts around the country have reported overwhelming numbers of patients coming into emergency rooms with flu-like symptoms, including cough, fever, aches and chills, breathing issues and more.
As part of its #FighttheFluNJ campaign, state Department of Health officials are visiting hospitals, nursing homes, rehab facilities and county health departments to promote flu vaccination for not only patients but health care workers as well.
Aline Holmes, a registered nurse and senior vice president of clinical affairs at New Jersey Hospital Association, said there are very few reasons why a hospital worker could or should choose to not get vaccinated.
"Except for a few exceptions, health care workers should absolutely protect their patients, their families and themselves by getting a flu shot," she said. "The exceptions include allergies for any of the ingredients used in developing the vaccine and religion-based exemptions."
Susan Staeger, Cape Regional Medical Center spokeswoman, said all workers within the Cape Regional Health System follow an influenza vaccination policy that has resulted in an 88 percent vaccination coverage among employees this season.
Staeger said other preventative initiatives include providing respiratory hygiene stations at hospital entrances and patient waiting areas, which have "Cover Your Cough" signs, masks, tissues and alcohol sanitizer.
Employees at Southern Ocean Medical Center in Manahawkin, a member of Hackensack Meridian Health, follow a mandatory flu vaccination policy, hospital officials said, which has led to an 88 percent coverage rate.
Anne Green, hospital spokeswoman, said workers who do not get the vaccine with special exemptions are required to wear masks until they are notified the requirement has been lifted.