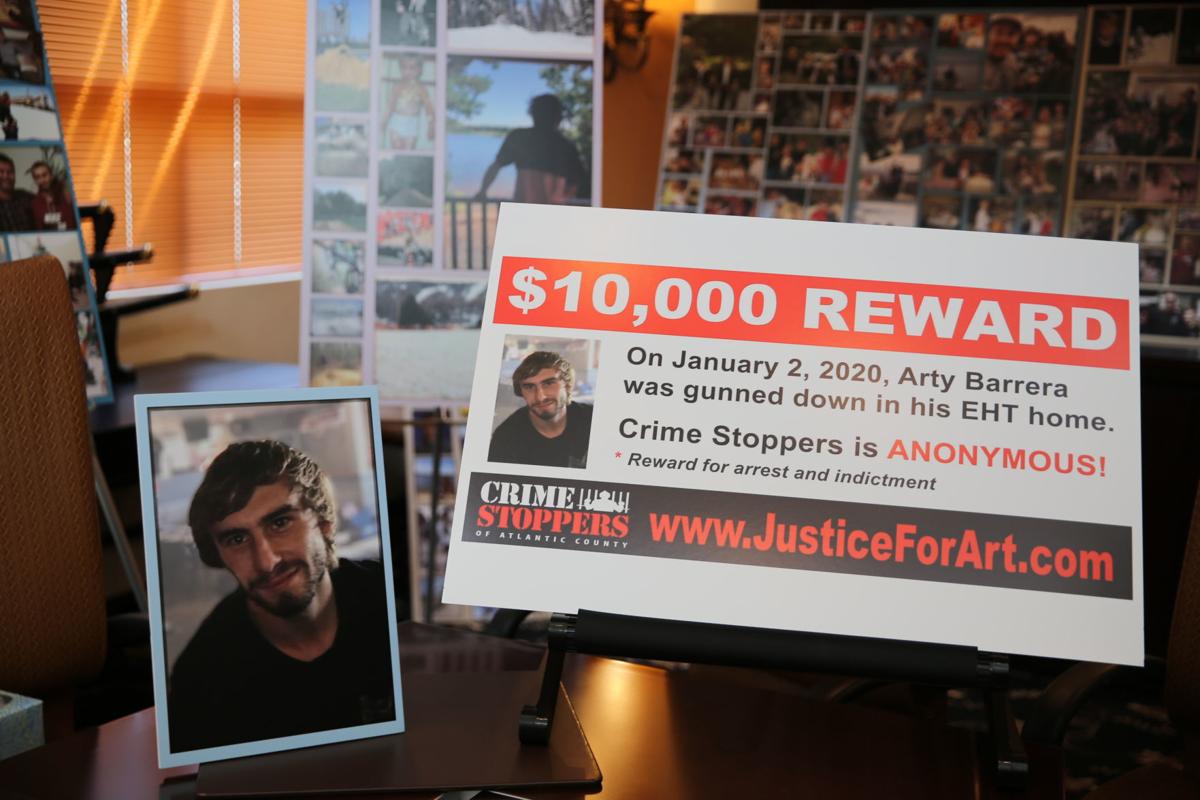 EGG HARBOR TOWNSHIP — After two violent events unfolded in the township's Zion Park neighborhood during a three-week period in January, residents are looking for answers.
A neighborhood meeting is scheduled for Thursday night at which police plan to address questions and attempt to quell residents' fears.
Still, there remain many unknowns — including a suspect — in the Jan. 2 murder of Arty Barrera III. The 24-year-old was shot in his home in the 100 block of Vermont Avenue about 11:30 p.m.
The Atlantic County Prosecutor's Office called the shooting "isolated." Prosecutor's Office spokeswoman Donna Weaver did not respond to a request for comment.
Two days after the fatal shooting, police again responded to the Barrera residence for a report of a burglary and found a back door appeared to be kicked in, records show.
Later in the month, police requested public assistance identifying the suspect in a strong-arm robbery attempt Jan. 21 in the same neighborhood.
Video doorbell footage of the attempt, released online, shows a man threatening the resident with a gun in his driveway.
Police Capt. Fred Spano said the matter is still under investigation.
It is unclear whether the incidents are related, but they have prompted the neighborhood meeting next week for the area long referred to as "Zion Zoo."
EGG HARBOR TOWNSHIP — After a fatal shooting and an attempted robbery in the Zion Park secti…
"We grew up hearing our now neighborhood referred to as Zion Zoo. We had our reservations when looking here, but everyone said it's gotten so much better," said resident Krystal M. Longnecker, who moved to Zion Park in August.
But that impression did not last long for Longnecker, who said she wishes she hadn't bought a home in the area.
"I don't feel safe leaving my kids at home or being home without my husband. Our neighbors on both sides are wonderful and I have met a few from trick-or-treating and they are just as nice. We, the neighbors, need to keep an eye out for each other and need to rid the riffraff out of here and let those that come into this neighborhood looking to hurt one of us know you won't get away with it," she said.
EGG HARBOR TOWNSHIP — The family of Arty Barrera, who was shot dead in his home Jan. 2, is h…
Spano said Thursday's meeting is intended to answer questions and calm residents' concerns about the recent violent activity. He said the department has increased patrols in Zion Park since the murder.
"Not necessarily to deter other things, but to give residents peace of mind that there's a police presence in the area," he said.
Spano said Zion Park does not have a larger crime problem than any other area of the township.
"It just seems that way because of the recent incidents. Those are two shocking-type incidents, violent crime," he said, comparing it to when there were back-to-back murders in The Shires development more than a decade ago. "It just happened to be coincidental. It's a nice neighborhood."
EGG HARBOR TOWNSHIP — A 24-year-old man was fatally shot Thursday night inside his township home.
Located across the street from Atlantic Christian School on Zion Road, Zion Park is a neighborhood of about 300 modest, single-family homes located a mile from the intersection at Ocean Heights Avenue.
Many of the homes were built in the 1970s, real estate records show. Physical upgrades to the water, sewer and streets were made in the early 1990s.
"Once they started building golf courses along Ocean Heights Avenue, that really changed everything. People moved in," former Mayor James "Sonny" McCullough said. "Ballenger Woods and Harbor Pines and other housing units, that precipitated the new shopping area."
McCullough said he hasn't heard Zion Park referred to as "Zion Zoo" in years.
"I think it's a bad description as far as I'm concerned," he said.
Crime data from Egg Harbor Township police show that in 2019, there were 954 reported violent and property crimes in the township.
For Zion Park in 2019, there were 24 reported crimes, including one assault, three burglaries, three for harassment, seven for disorderly conduct, one for drugs, one sexual assault, one theft, one threat and five for fraud.
Mayor Paul Hodson encouraged residents to be vigilant.
"We work hard to make sure our community is safe. As residents, if you notice something that's not normal or peculiar, please let the Police Department know, so it can be documented and used later if, God forbid, there's a criminal situation," Hodson said.
He said he is not happy about the recent violent incidents but vowed the township would "get to the bottom of it."
"And hopefully this won't occur again," he said.
Alexa Barrera, Arty Barrera's aunt and a local attorney, said they cannot comment on the investigation because they don't want to interfere with police. Instead, they are urging anyone with information to call police or Atlantic County Crime Stoppers. The family has offered a $10,000 reward for information that leads to an arrest and indictment.
"We're just so thankful for all the work the Prosecutor's Office is doing and the Egg Harbor Township Police Department," Alexa Barrera said. "We're just trying to grieve, and we're hopeful that people will come forward."
Anyone with information about the shooting can call the Prosecutor's Office at 609-909-7800 or visit acpo.org/tips. They also can call Crime Stoppers at 609-652-1234 or 800-658-8477 or visit crimestoppers atlantic.com.
Contact: 609-272-7251
Twitter @clairelowe