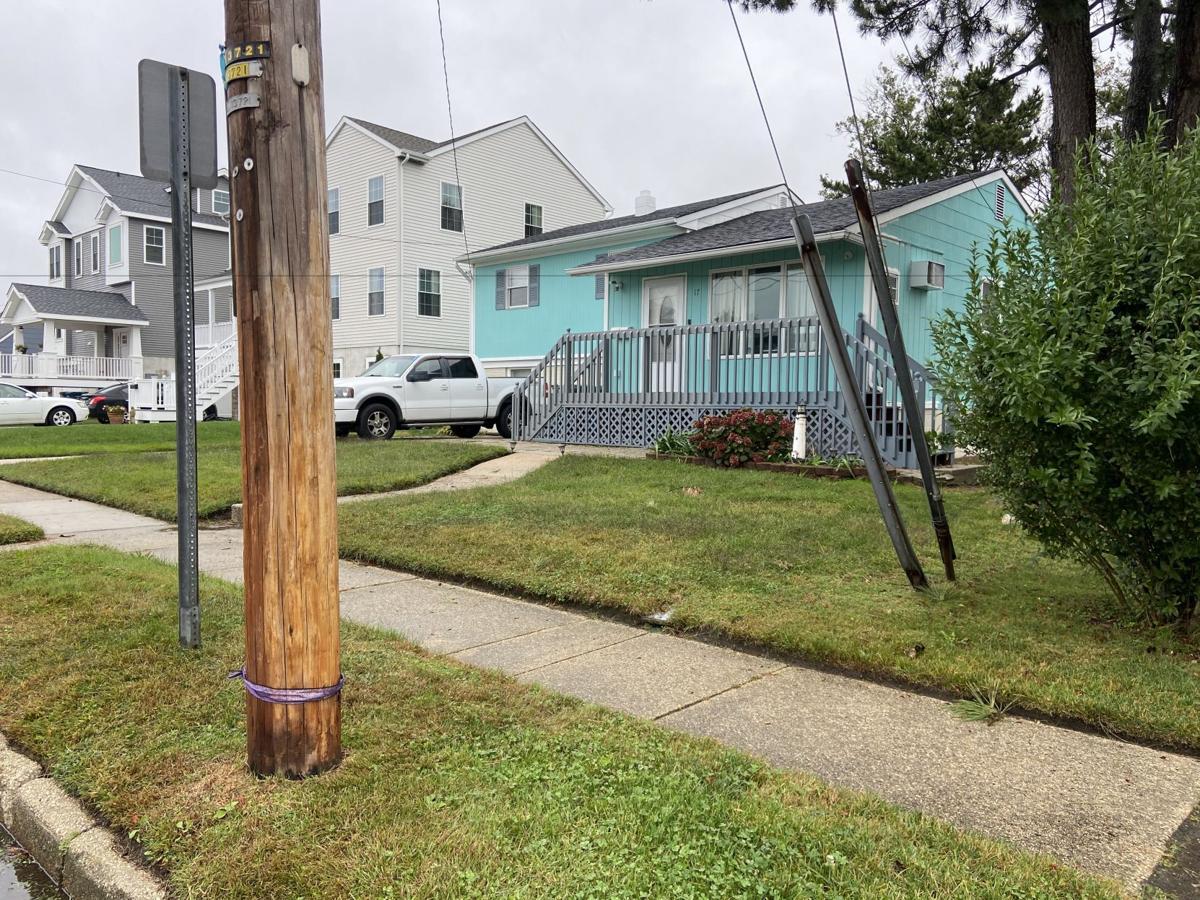 BRIGANTINE — A purple ribbon tied around a telephone pole was all that remained Friday of a memorial for Rachel Declementi, a 30-year-old woman officials allege was killed by her husband in August in the city home they shared.
Shortly after her death, a poster was attached to the pole in front of her seafoam blue home in the first block of Girard Place, and flowers were placed around it. The poster read "No community is immune to domestic violence" and "Rest in peace Rachel," along with the phone number for Avanzar, formerly the Women's Center.
Neighbors described Rachel as kind and friendly, and spoke about her efforts to plant flowers and spruce up her house during stay-at-home orders earlier this year mandated by state officials to mitigate the spread of COVID-19. Even though they didn't know too much about her aside from neighborly chitchat, several said her death was a shocking tragedy.
Experts worried in the spring that instances of domestic violence might increase due to the stay-at-home orders. Being stuck in close quarters with an abuser could turn an already stressful situation volatile, they said, when combining everything else the disease brought with it: financial pressures, loss of employment, mental health issues and even hunger.
The stay-at-home order was lifted in June, but the resulting effects the mandate had on domestic violence rates have experts mixed. Some said it might be too soon to tell, while others believe instances of violence have increased dramatically. And at least one recent study shows some victims were unable to safely get help.
MAYS LANDING — Court hearings across South Jersey continue to be held virtually or have been…
A study published last month in The New England Journal of Medicine found stay-at-home orders meant to protect the public and prevent widespread infection left victims trapped with their abusers, and they weren't able to call for help.
"In some regions, the number of calls dropped by more than 50%," according to the study "A Pandemic within a Pandemic — Intimate Partner Violence during COVID-19." "Experts in the field knew that rates of (intimate partner violence) had not decreased, but rather that victims were unable to safely connect with services."
Victoria L. Chase, a clinical associate professor of law at Rutgers-Camden who also directs the Domestic Violence Clinic there, said "it is difficult to summarize what we have experienced."
She said there has not been an uptick in new restraining orders filed.
"That does not indicate an absence or decrease in the problem of (domestic violence), but rather, people did not seek the intervention of the courts," Chase said. "Maybe fear of the unknown, concern for family and hunker-down mentality was part of this. Maybe it was hard to understand how courts were operating as well."
Asking patients about suicidal thoughts should be as routine as checking their blood pressur…
However, it is too soon to make comparisons to national data, she said, which will come in a few months to a year.
Conversely, Valeria Marcus, an Atlantic City resident, domestic-abuse survivor and activist, said it was worse than predicted.
"We have known this has been going on for centuries. This is nothing new. We've seen more of it since the pandemic," Marcus said. "Violence and abuse is all the way around us; it's global. It's out of control."
There have been at least three instances of alleged domestic violence that have garnered criminal charges in South Jersey so far this year, one each before, during and after the lockdown. All three cases are set to go before a grand jury, court records show.
Robert T. Woods Jr., 45, is charged with two counts of aggravated assault, endangering an injured victim, possession of a weapon for an unlawful purpose and possession of a weapon in the Jan. 21 beating of his father, former professional baseball player Bobby Woods, in the Margate home they shared.
VENTNOR — Amir Johnson was bleeding from the neck and told officers several times to shoot h…
Then, on April 3, Alyson R. Gill, 55, of Somers Point, was charged with first-degree murder and third-degree possession of a weapon for an unlawful purpose in the death of 67-year-old Somers Hickman, her roommate.
Most recently, in August, Robert Declementi, 36, was charged with murder in Rachel's killing.
A hotline run by Avanzar didn't see a dramatic increase in calls after Rachel's death, said Donna O. D'Andrea, a victim advocate.
"We sometimes would see an increase then in calls," she said. "I'm not saying we didn't, but nothing drastic, because sometimes cases like that bring it to the forefront."
D'Andrea said it's more difficult to engage survivors now than before the pandemic, since most interactions are done over the phone and not in person.
BRIGANTINE — Robert Declementi was covered in blood early Saturday in his city home, his wif…
"I think we're fortunate because we didn't hear about more cases where individuals were killed," D'Andrea said. "At least in our area, because some places did see big increases in domestic violence cases where someone was killed in the incident."
Overall, officials are still working on bringing awareness to different types of domestic violence, she said.
"It's emotional, psychological and that's the part that most people don't understand," D'Andrea said. "That's where we're still trying to validate a victim's experience for that, because we know that this lockdown probably increased individuals experiencing that behavior that don't recognize it as domestic violence."
Contact: 609-272-7241
Twitter @ACPressMollyB