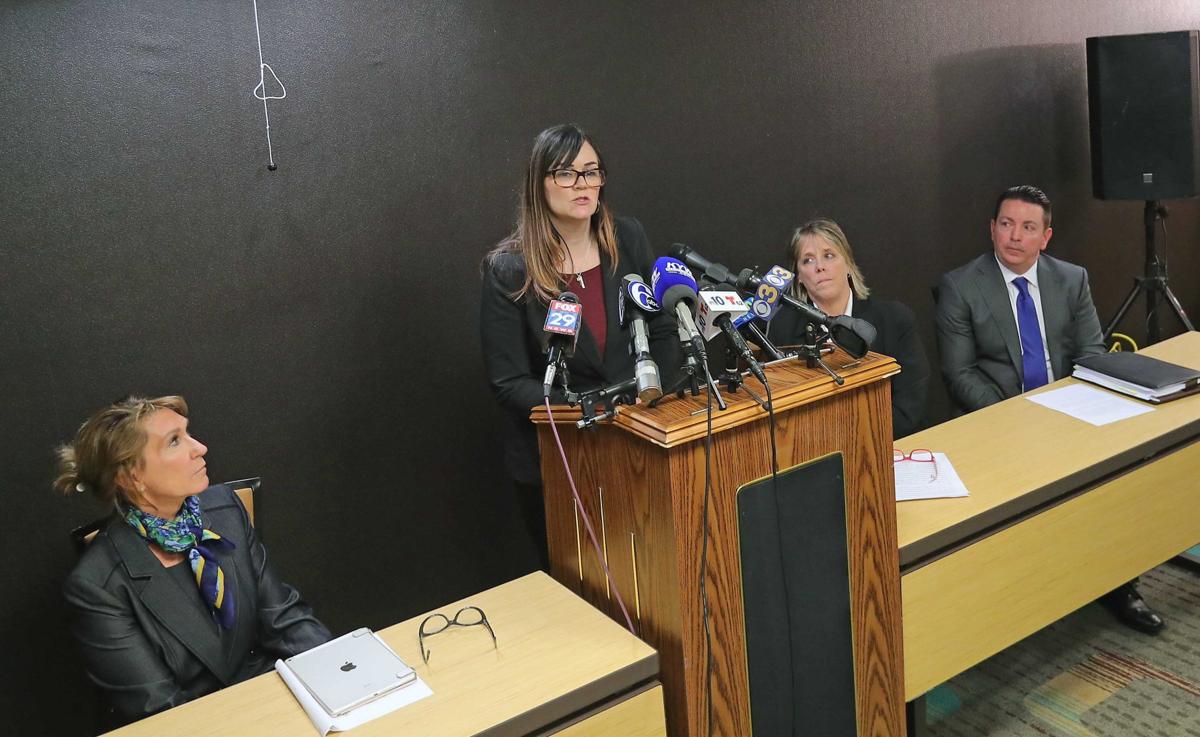 The whistleblower lawsuit against the Atlantic County Prosecutor's Office and other county officials has been moved to Cumberland County.
The suit, filed by former Assistant Prosecutor Diane Ruberton, former Lt. Heather McManus and current Assistant Prosecutor Donna Fetzer, alleges gender discrimination, retaliation and other illicit behavior.
Atlantic County Superior Court Assignment Judge Julio L. Mendez signed an order March 12 granting a motion made by the defense to change the venue of the suit.
Christine P. O'Hearn, attorney for the Atlantic County Prosecutor's Office and prosecutors Damon G. Tyner, Cary Shill and Mario Formica, declined to comment.
EGG HARBOR TOWNSHIP — A whistleblower lawsuit filed Thursday morning against Atlantic County…
Michelle Douglass and Philip Burnham, the lawyers representing the women, filed a motion to dismiss the case that same day. The attorneys then filed the suit in Cumberland County on March 13.
Douglass and Burnham said the case "is of immense public importance" in a statement to The Press of Atlantic City.
"We think the residents of Atlantic County, as jurors, should be able to weigh in on the actions of their government officials at trial. However, the defendants in this case apparently do not feel the same way," Douglass and Burnham said. "Based on their efforts to transfer the case out of Atlantic County, they seem to prefer a politically convenient county as opposed to the one county where they will be judged by the taxpayers who pay their salaries."
This is the third time the suit has been filed.
An Atlantic County freeholder and the county executive are the latest to be named in a whist…
The lawsuit's first filing Jan. 10, which named the Prosecutor's Office, Tyner, the county, Shill and Mario Formica, was dismissed less than two weeks later and refiled in Atlantic County to include County Executive Dennis Levinson and Freeholder Frank Formica, Mario's brother.
The women allege Tyner demoted high-ranking women while giving men raises, paid newly hired women at a lower rate, covered up complaints of gender discrimination and spoke in a derogatory fashion about women in general, according to the suit.
In addition to allegations of gender discrimination, the three women claim Tyner was involved in mortgage fraud, failed to investigate a claim that a police officer was leaking confidential information about the April Kauffman murder case and failed to tell defense counsel about the possible leak, fired employees to hire his brother and refused to investigate after an assistant prosecutor exchanged advice via texts with a defendant in a pending domestic violence case.
It also alleges Levinson and Frank Formica "refuse to look deeper at gender bias and systemically devalue plaintiffs, as women, in the workplace" and "have publicly announced their support of the male defendants even before this lawsuit was filed and even before all the facts were and/or have been disclosed."