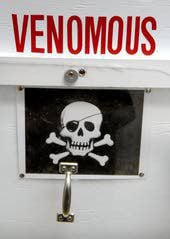 VINELAND — A man who previously reported being bitten by a poisonous cobra has been fined by state officials for possessing 15 venomous snakes inside his home.
Allan E. Carlson, 54, of Vineland, pleaded guilty to multiple charges of possession of a dangerous species and was fined $5,000.
The New Jersey Conservation Officers Association posted on Facebook that it concluded a case stemming from an incident late last year.
On Sept. 10, police were notified that Allan Carlson, 54, had been bitten by a cobra and was hospitalized at Inspira Medical Center Vineland. Police asked the New Jersey Division of Fish and Wildlife to investigate the potentially dangerous situation.
Authorities went to Carlson's home in the 2300 block of Quail Street. His mother let investigating state conservation officers into the home. According to officers, Carlson told his mother he was bitten by a poisonous African forest cobra while at a friend's house.
The mother told the conservation officer her son did care for some snakes in the house, but she did not believe they were poisonous. Concerned the venomous snake was loose, officers searched the home.
Authorities said what they found on the second floor of the home was "alarming" — dozens of plastic containers containing bugs, including 30 occupied by tarantulas, stacks of large containers, snake hooks and multiple snake skins hanging from the door. One room, which the mother said was used to feed the snakes, had the door shut, blocked by bricks and weights.
The bodies of dozens of spiny dogfish sharks washed up on beaches across Atlantic County ove…
Officers interviewed Carlson in the hospital and said he was uncooperative and refused to explain the circumstances of when he was bit.
The investigating conservation officer obtained a search warrant and returned the following day, along with members of the U.S. Fish and Wildlife Service, Vineland Animal Control officers and a reptile expert from the Cape May County Zoo.
During the search, authorities captured two reticulated pythons, one of which was estimated over 10 feet long, and an African forest cobra that were loose in a bedroom. The cobra was believed to be the snake that bit Carlson. Authorities said they removed 16 snakes from the home, 15 of which were venomous, including spitting cobras and a green mamba.
The snakes were initially transported to the Cape May County Zoo. After a two-day quarantine period, zoo officials said the snakes were transported by state officials to another secured facility.