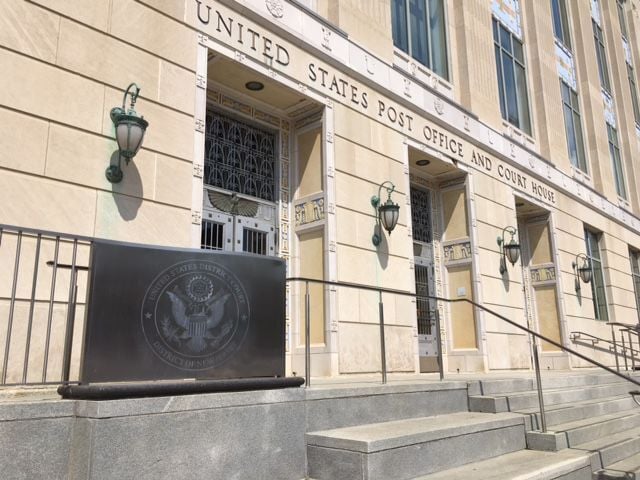 CAMDEN — Three more people, including a Somers Point doctor and a Linwood man, were indicted Thursday in the ongoing $50 million prescription fraud scheme that targeted state health care plans in South Jersey.
The U.S. Attorney's office announced a grand jury returned a 33-count indictment against Dr. Brian Sokalsky, 42, of Margate, Vincent Tornari, 46, of Linwood, and advanced practice nurse Ashley Lyons-Valenti, 63, of Swedesboro, Gloucester County, for their involvement in four different conspiracy schemes to receive kickback payments for medically unnecessary compounded medications.
In addition, a fourth conspirator who was previously charged, Dr. Michael Goldis, 64, of Stratford, Camden County, pleaded guilty to four counts of making false statements relating to health care matters.
The latest indictment ties together several of the many threads in the case, which first came to light in summer 2017 when Margate received a subpoena for its employee's health benefit information. Since then, more than 30 people have been charged in the scheme.
The latest guilty plea from Goldis follows a plea agreement last week by William Hickman of Northfield, a pharmaceutical representative who federal officials say was a ringleader in the scheme.
Officials allege Sokalsky, who runs a sports medicine practice in Somers Point, Tornari and Lyon-Valenti defrauded the state out of more than $6 million.
Lyons-Valenti and Tornari were charged with a third conspiracy to bribe Lyons-Valenti and deprive her patients and employer of her honest services, according to the release.
Sokalsky and Tornari also were charged with individual acts of health care and wire fraud, and Lyons-Valenti was charged with individual acts of wire fraud and five false statement counts, in addition to obstruction of justice for tampering with a grand jury witness.
The cases are assigned to U.S. District Judge Robert B. Kugler.
Prosecutors have said the illegal scheme centers on the billing of the state's public employee health benefit plans for medically unnecessary compounded drugs, with payouts from prescription reimbursements going to line the pockets of all participants.
In the first charged conspiracy, Matthew Tedesco, of Northfield, who is awaiting sentencing after pleading guilty to conspiracy to commit health care fraud, had an arrangement with Sokalsky, officials said.
Tedesco would send patients to his practice, and Sokalsky would prescribe medications from a Louisiana pharmacy, which has only been identified as "Compounding Pharmacy 1" in court records.
Tedesco would then receive a percentage of the money that the pharmacy received for the prescriptions obtained by him and his associates, according to the release. Tedesco and his conspirators recruited public employees and others covered by the state plan and paid them in exchange for getting the compounded medications.
Sokalsky profited by billing insurance for over 30 new patients, officials said, and the state Pharmacy Benefits Administrator paid the Louisiana pharmacy over $5 million for compounded medications Sokalsky prescribed, authorities allege.
The indictment charged Sokalsky and Tornari with a similar scheme to write fraudulent prescriptions for a Pennsylvania pharmacy, identified as "Compounding Pharmacy 2," according to officials.
Tornari allegedly hired Mark Bruno to find patients who would agree to receive medications in exchange for cash payments, according to the release. Bruno pleaded guilty in 2019 to conspiracy to commit health care fraud for his participation in the scheme. He is currently awaiting sentencing.
Tornari had Sokalsky agree to write prescriptions for new patients sent to him, according to the release. The prescriptions cost insurers over $500,000, officials said.
In a third scheme, Tornari allegedly hired Lyons-Valenti's boyfriend and agreed to pay him commissions on each prescription to the Pennsylvania pharmacy Lyons-Valenti wrote.
Lyons-Valenti persuaded her workers and subordinates at her medical office to receive prescription medications from the Pennsylvania pharmacy that they did not need, often without giving them a medical examination or recording the prescriptions in their medical records, officials said. Lyons-Valenti wrote prescriptions for which insurance paid over $1.25 million and she received over $90,000 in kickbacks.
In a fourth scheme, authorities alleged Lyons-Valenti signed five Louisiana pharmacy prescriptions for Judd Holt, who previously pleaded guilty to conspiracy to commit health care fraud for his role in the scheme, officials said. On each of the five prescriptions, Lyons-Valenti falsely stated that she had examined the patient and the prescriptions were necessary, when they were not, the release states.
Lyons-Valenti also was charged with witness tampering for making false and misleading statements to a co-worker who was a federal grand jury witness, officials said.
In addition, Goldis, who had a medical practice in Stratford, Camden County, admitted to signing four prescriptions for individuals who were not his patients at the request of Richard Zappala, who previously pleaded guilty to conspiracy to commit health care fraud, officials said.
Goldis admitted that he received a total of $4,700 from Zappala, officials said. The Pharmacy Benefits Administrator paid approximately $1 million for prescriptions Goldis signed at Zappala's request.
Goldis faces a maximum penalty on each count of five years in prison and a $250,000 fine, or twice the gross gain or loss from the offense. Sentencing is scheduled for Nov. 6.
Staff Writer Claire Lowe contributed to this report.
Contact: 609-272-7241
Twitter @ACPressMollyB