WILDWOOD — Members of the Pagans Outlaw Motorcycle Club are expected to be in the resort this weekend, police said, even though an annual motorcycle event they frequent has been canceled.
Police are aware members of the club will be in the city, police Chief Robert Regalbuto said Thursday, adding he doesn't know what they'll be doing as there's no event attached to their visit.
ATLANTIC CITY — A Saturday Black Lives Matter protest aiming to "shut the city down" is alle…
"Everybody's welcome here; anyone who rides a motorcycle is welcome to come to town," Mayor Pete Byron said. "We just hope that they remain respectful and regard the rules on the governor's orders. We welcome everyone to town."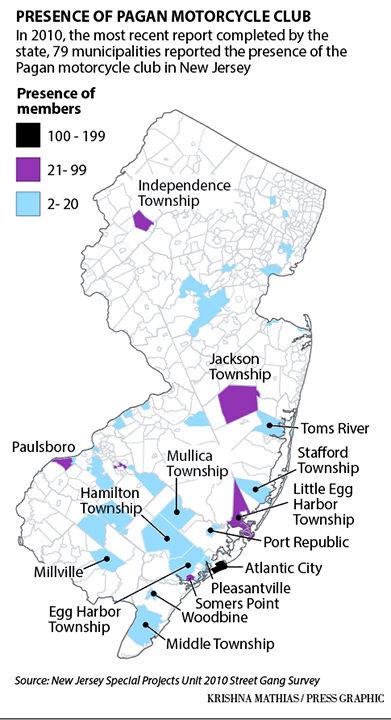 The Pagans are a fixture at Roar to the Shore, an annual motorcycle event in the city, as it's a "mandatory run" for club members in the state. However, the event was canceled this year after the city denied organizers necessary permits, according to the event's website.
The city paid about $40,000 for police overtime at last year's Roar to the Shore, according to previous reports. In a Facebook post, police listed 26 arrests during the event for charges ranging from possession of a weapon for an unlawful purpose to possession of a controlled dangerous substance, but it was unclear whether all the charges listed were filed against Roar participants.
WILDWOOD — Members of the Pagans Outlaw Motorcycle Club are responsible for the recent beati…
The motorcycle club is undergoing a major resurgence, going from 10 chapters in the state in 2013 to 17 as of last year, according to state investigators. There are roughly 900 Pagans nationwide, including anywhere from 150 to 350 in New Jersey.
On Wednesday, a report from the State Commission of Investigation detailed incidents involving the group in recent years. Club members beat a landlord in the city after he tried to evict a woman connected to the group and beat a bar owner with a pool stick after he didn't pay for protection the group offered, according to the report.
Contact: 609-272-7241
Twitter @ACPressMollyB