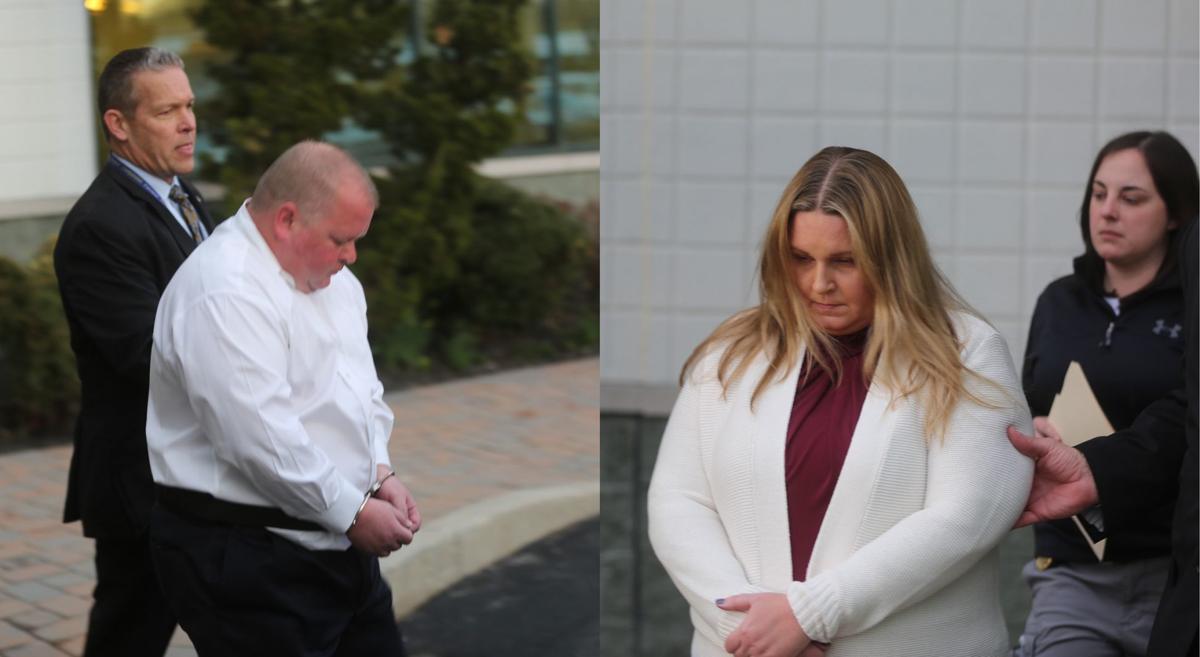 Two years ago, William Hickman, a dedicated volunteer in Northfield youth baseball, took a step back from the league.
He told other coaches he needed to "step aside for the betterment of the league," former Northfield Little League President Jason Yard said, without providing any more explanation.
On March 15, Hickman was led out of the FBI field office in Northfield in handcuffs, his head down. His wife, Sara, followed soon after. The two were charged by prosecutors as the alleged ringleaders in an ongoing $50 million prescription fraud scheme running from July 2014 to April 2016.
The Hickmans are accused of contributing to a pyramid of fraud in which public employees were recruited to secure prescriptions for expensive and medically unnecessary medications in exchange for kickbacks.
Many of the 30 South Jersey residents charged in the case were active, contributing members of their communities. They held public jobs. They coached youth sports. They were siblings, spouses, friends. And their reputations as pillars of the community seem to have withstood the allegations.
What allows white-collar crime to take root, and to proliferate, in an otherwise unassuming environment?
The Sher brothers, three of whom were charged in the case, were not easily pegged as would-be criminals, and those who knew them were caught off guard by investigators' allegations.
"It's quite a shock to see somebody that you hang out with a couple times a month, to know that they were involved in something like this, and it's disappointing," Yard said. "From our organization's perspective, they are adults, they made a decision, they have to face any consequences that they are faced with."
Even friends were thrown off.
"I happen to be very close with a lot of these people on a personal standpoint," said Chuck Hackett, the current president of Northfield Little League. "(They are) good people. Sounds like they just got caught up in a bad situation."
J.C. Lore, a clinical professor of law at Rutgers Law School in Camden, said the status of white-collar criminals can buffer suspicion.
"To a certain extent, with white-collar crimes, sometimes they are relatively successful people and they are in positions of trust," Lore said. "They are given a lot of trust, which makes their crime not so easy to detect, and they, generally, have earned that position they are in through some type of hard work and success, and it sometimes makes them feel invincible."
The Sher brothers, in particular, were very active in their community, including coaching youth sports. Yard said they would be the first people to respond to a call for volunteers and the last people on the field after an event.
"Outside of the crime, which is a white-collar crime and is horrible, however you want to portray it, they're actually good people when it comes to the children," Yard said. "They're very good people."
Hickman, Thomas Schallus, Thomas Sher and Richard Zappala were all coaches in the league and have all been charged in the case.
"We were very surprised once the information came out regarding the whole scandal," Yard said.
Some were specifically singled out for their community contributions.
In 2016, in his last year as president of the Family Association of Northfield, Thomas Sher was honored by the Mainland Regional Education Foundation with the Community Counts! Difference Maker Award for his work with youth athletics in the area.
"Although this is Tom's last year as FAN president," the pamphlet for the event states, "he will continue to lead and teach our children to become better competitors and good young people for years to come."
Thomas Sher made about $98,000 a year as a Margate firefighter, and John Sher made more than $102,000. Schallus made just shy of $120,000 a year as a Ventnor police officer.
Lore said hubris among alleged perpetrators of white-collar crime is not uncommon.
"The thing with white-collar criminals is there's a combination of greed and the belief that they aren't going to get caught," Lore said. "Frequently, they're right. There's not nearly as much enforcement in sort of white-collar arena than there is for street-level crimes."
Beyond that, he said, middle-class and upper-middle-class white professionals are afforded a benefit of the doubt others are not.
"I think that's culturally our misperception of crime. We think that crime is only driven by the inner cities or people that live in poverty," Lore said. "That's not true. It happens all the time in other ways. It's just people aren't looking as closely. It's privilege."
For some, the veneer of an idyllic family life provided cover.
John, Thomas and Michael Sher have been charged in the case, with Michael pleading guilty in March of last year. In addition to the three brothers, a fourth may be called as a witness in the case, officials said. The brothers, three of whom live within blocks of each other in Northfield, are grappling with their conditions of release.
At John and Thomas Sher's arraignment March 15, John's attorney Jerome Ballarotto argued against a bail condition barring the brothers from meeting with each other without a lawyer or parent present. He said the family is "very religious" and "very close."
On March 27, at a hearing to again contest the condition, Michael Sher's attorney, William Hughes, said the family had a lot of kids and relied on each other for childcare.
The prosecutor on the case, David Walk, asked why people accused of a crime should be permitted to meet with potential witnesses.
Judge Robert Kugler ruled in the family's favor.
Those who have followed the case since the beginning, including the arrests of noted professionals like Dr. James Kauffman, will not be moved by the contrast between defendants' personal lives and the allegations leveled against them.
Longtime defense attorney Lloyd Levenson, a former Atlantic County chief assistant prosecutor, said from a legal perspective, the size of the compounding fraud ring in South Jersey was unique. As a resident, he said it was disappointing to know how much money was stolen. But even more troubling is the rarity of someone from the area held in as high esteem in the community as Kauffman — who has been tied to the case but was not charged before his suicide in January 2018 — being involved in so many illegal activities, he said.
"It doesn't come along that often, but certainly there are people who live their lives trying to beat the system," Levenson said, "and not only focused on one way to beat the system but on multiple ways to beat the system. And most often they get caught."
Staff Writer Claire Lowe contributed to this report.
Be the first to know
Get local news delivered to your inbox!