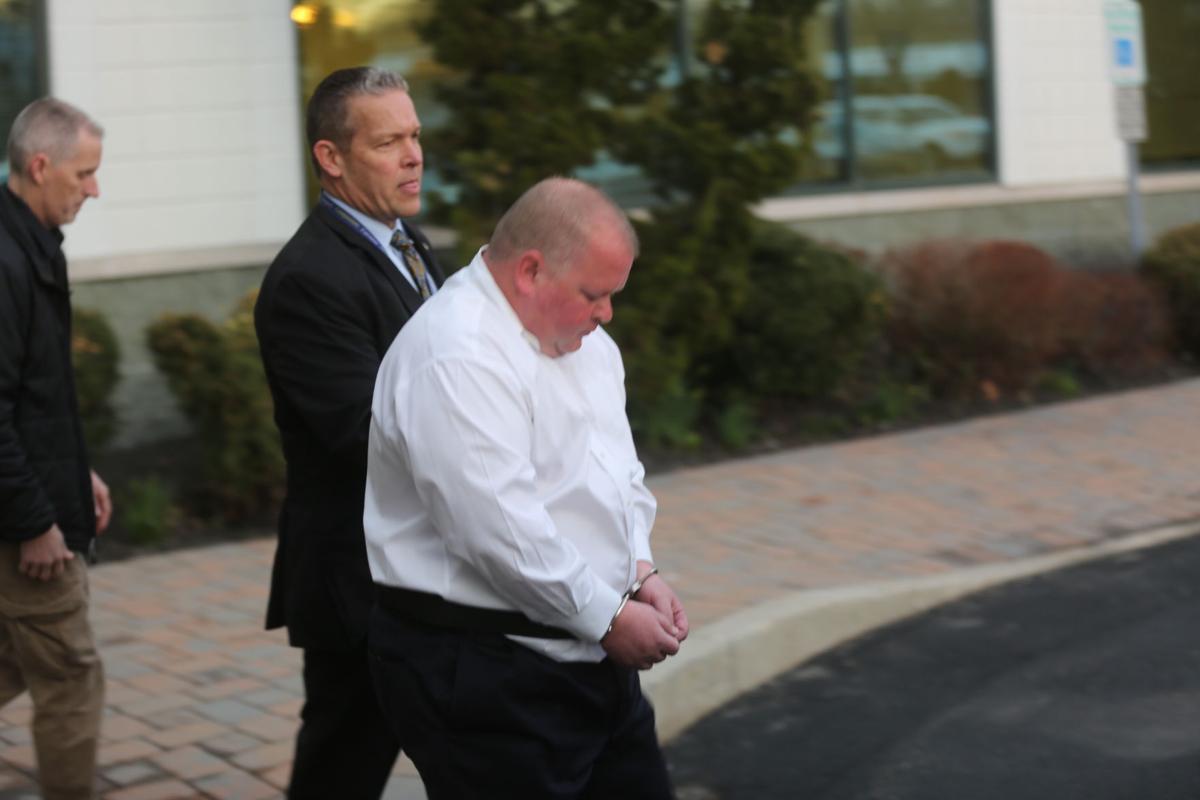 CAMDEN — A Northfield pharmaceutical sales representative, who federal authorities said orchestrated a $50 million prescription fraud ring, pleaded guilty Tuesday to conspiracy to commit fraud and money laundering charges.
William Hickman, 43, and his wife, Sarah, 43, who were arrested in March 2019 along with five others, originally pleaded not guilty to the alleged fraud scheme, which authorities said targeted the state health benefits plans of teachers, police officers, firefighters, state troopers and others.
During a U.S. District Court video conference Tuesday before federal Judge Robert B. Kugler, Hickman pleaded guilty to two of the 50 charges he was facing: conspiracy to commit wire and health care fraud, and conspiracy to commit money laundering. As part of Hickman's plea agreement, charges against Sarah Hickman will be dropped after debts are repaid.
"He prefers to go forward now because he wants to put this behind him and start life anew and get this matter moving," Hickman's attorney Charles McKenna told the judge.
CAMDEN — Sentencings have been postponed again for the more than two dozen people who have p…
As part of his plea agreement with the U.S. Attorney's Office, Hickman faces up to 30 years in prison without parole. He also agrees to a full restitution of at least $53 million, as well as forfeiture of property, including $26 million. Hickman also agreed to forfeit specific property obtained with criminal proceeds, including five investment accounts and four real estate parcels.
The prescription fraud scheme first came to light in summer 2017, when federal prosecutors subpoenaed records from several shore towns, including Margate. Prosecutors alleged a group of public employees had been recruited to obtain prescriptions for medically unnecessary compounded medications. The pharmacies that prepared the compounds received generous reimbursements, which they then paid back to a network of doctors, recruiters and employees taking part in the scheme, prosecutors said.
Charges against the first defendants in the case were announced in August 2017, but so far only one person has been sentenced. Sentencing hearings for more than two dozen people who have pleaded guilty have been scheduled for June, court records show.
In his appearance Tuesday, Hickman said he conspired with a Louisiana compounding pharmacy and Dr. John Gaffney of Margate to fill the prescriptions, for which he and the other defendants would receive kickbacks from the pharmacy.
CAMDEN — A status conference for the seven South Jersey co-defendants who have pleaded not g…
Gaffney pleaded guilty in 2018 but has yet to be sentenced. He is still practicing and has not had any action taken by the state Board of Examiners on his medical license.
Other defendants in the case who have pleaded not guilty include Brian Pugh, 42, of Absecon, a former co-owner of Tony's Baltimore Grill and owner of BP Med 1 LLC; Thomas Schallus, 43, a Ventnor police officer; Christopher Broccoli, 48, of West Deptford, Gloucester County, a Camden firefighter; Thomas Sher, 47, of Northfield; and John Sher, 37, of Margate. Their trial is scheduled to begin Sept. 21.
Thomas and John Sher, Margate firefighters, were allegedly recruited by their brother Michael Sher, another Margate firefighter, prosecutors said. Michael Sher pleaded guilty in the case in 2018.
During his plea hearing, Hickman said that in 2014 he worked for an unnamed individual who had an agreement with the Louisiana pharmacy, which has yet to be named in the case, for kickbacks for compounded prescriptions. He said he had similar agreements with other compounding pharmacies, as well.
CAMDEN — A status conference for the seven South Jersey co-defendants who have pleaded not g…
Hickman said that in 2015, he brokered his own agreement with a compounding pharmacy to become a "master distributor" and received, through Boardwalk Medical LLC, 40% or more of the reimbursements received by the pharmacy.
Consistent with the details of the indictment, Hickman told Kugler on Tuesday he recruited Pugh, Matthew Tedesco and Michael Sher, founder of MBC Distributions LLC, as "recruiters" who then received a portion of the commission from the prescriptions. He also said Pugh recruited Schallus, Tedesco recruited Broccoli and Michael Sher recruited his two brothers.
Hickman admitted during the plea agreement to paying Pugh about $435,000 over five months, which necessitated the money laundering charges.
During his plea agreement, Hickman said he had asked his wife to create Boardwalk Medical LLC in 2013 to conceal the medical sales for other companies from his employer, and never told his wife what he was doing was illegal. He said he would use his wife's email to conduct business in her name to conceal his involvement.
CAMDEN — Sentencings have been postponed again for the more than two dozen people who have p…
"Sir, you knew what you were doing was wrong and it was against the law, didn't you?" Kugler asked Hickman. "This was not a mistake. This was intentional, wasn't it?"
"I knew what I was doing was wrong, and I know that it is against the law," Hickman said before entering his plea.
Sentencing is scheduled for 10 a.m. Nov. 6.
"Properly prescribed medicines can be a vital part of a patient's treatment, but they can also be costly," U.S. Attorney Craig Carpenito said in a statement after the hearing. "This defendant orchestrated an elaborate scheme to submit prescriptions for unnecessary compounded medications on behalf of patients who had never seen a doctor. He did so to steal millions of dollars from medical health benefits systems that were intended to help employees get the treatments they needed and deserved."
Contact: 609-272-7251
Twitter @clairelowe