MIDDLE TOWNSHIP — Crime hit a 21-year low in the township last year, according to the Police Department's annual report.
"The Middle Township Police Department is pleased with the continued progress to improve public safety in Middle Township," police Chief Christopher M. Leusner said in the report. "We believe this is a direct result of the investments made by Township Committee in personnel, programs and technology."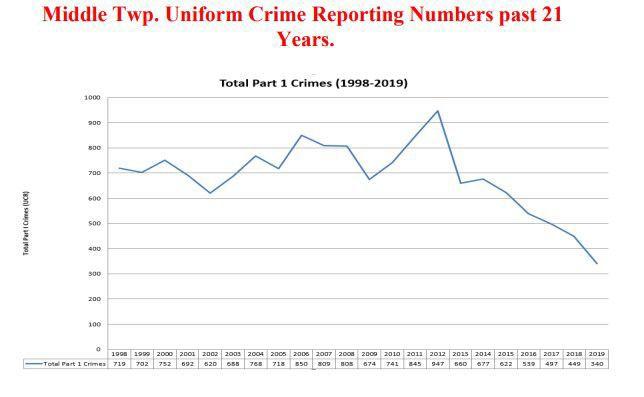 Crime in the township has been steadily decreasing since 2014, according to data included in the report, which shows crime numbers fluctuate from 1998 before peaking in 2012.
The report, released last month, shows reported violent crime decreased by 38%, from 52 incidents in 2018 to 33 in 2019, and reported nonviolent crime decreased by 23%, from 397 incidents to 306.
Violent crimes include homicide, rape, aggravated and simple assault, and robbery. Nonviolent, or property, crimes include motor vehicle theft, larceny and burglary. All of the categories saw decreases except for motor vehicle theft, which increased from 14 to 17 incidents, and arson, which remained steady at three incidents.
There were no homicides in the township last year or in 2018, according to the report.
State Police run the Uniform Crime Reporting program, which compiles violent and property crime statistics that are then given to the FBI.
MIDDLE TOWNSHIP — "A year ago, I never would have imagined my family in the position it's in…
Strategies outlined in the report include police youth engagement, proactive policing and community outreach.
Calls for service and number of arrests also decreased from 2018 to last year, according to the report, from 48,620 to 43,874 and from 883 to 722, respectively.
Contact: 609-272-7241
Twitter @ACPressMollyB
Be the first to know
Get local news delivered to your inbox!