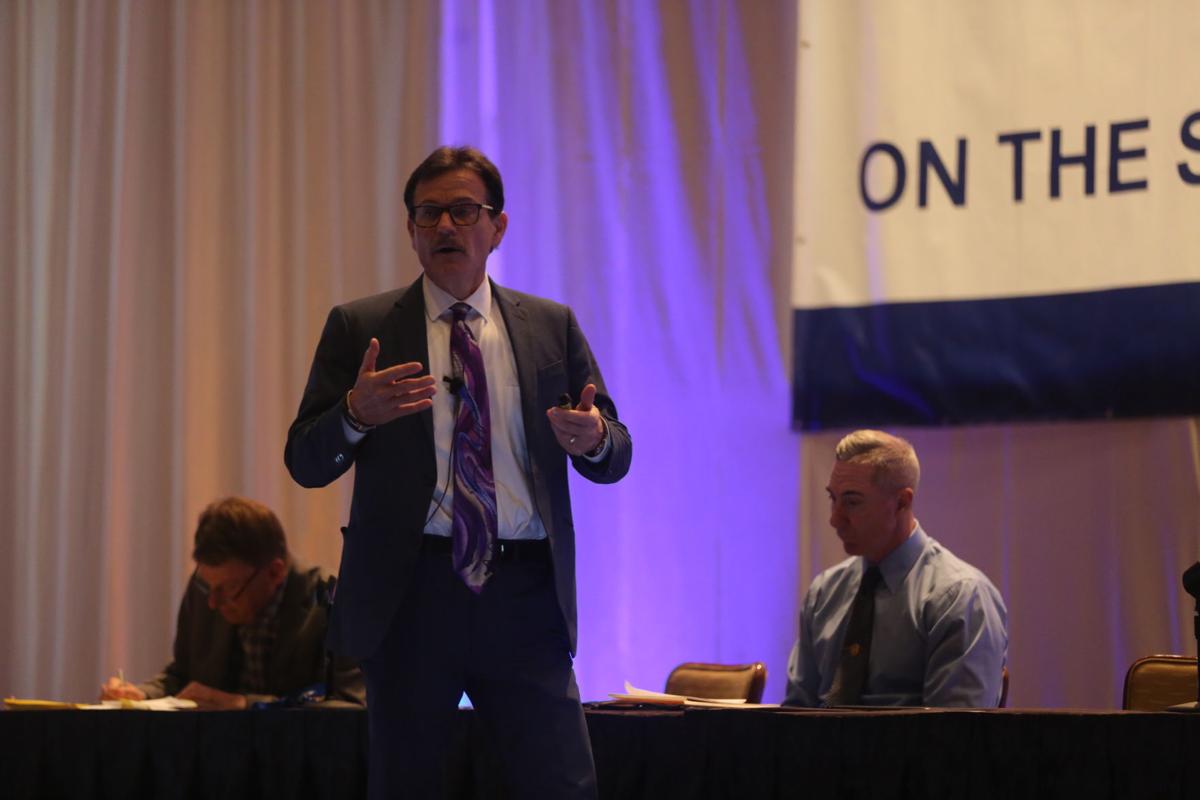 ATLANTIC CITY — Law-enforcement officials at a conference Tuesday in the resort said legalization of recreational marijuana will change the way they police and stressed the need to educate young people about the dangers of the drug.
Dozens of law-enforcement officials gathered at the Law Enforcement Against Drugs, or L.E.A.D., conference at Harrah's Resort to learn about how recreational marijuana could change the way they police their communities.
"The train has left the station," said Robert Kugler, chief of police of Saddle Brook, Bergen County. "We're not going to be able to stop it. We need to get in front of it."
Gov. Phil Murphy and legislative leaders said earlier this month they have reached an agreement on legislation to legalize recreational marijuana for adults. New Jersey would join 10 states and the District of Columbia in legalizing the drug.
Only two South Jersey police departments attended the panel, according to L.E.A.D.'s media liaison, who did not identify them, but they both declined to comment.
"Like with any new legislation, we will evaluate our policy and procedures to adjust to the new law," Atlantic City police Sgt. Kevin Fair said when asked about potential changes or challenges to policing if recreational marijuana is legalized.
Galloway Township police Chief Donna Higbee said she is not familiar enough with how the bill is written to comment.
Several other local departments, including Wildwood, Ventnor and Vineland, did not immediately return requests for comment.
VENTNOR — A 25 year-old city man who worked in the Public Works Department is accused of usi…
Kugler said the biggest changes are going to come in the "time and effort of police departments to enforce, process and go to court" related to legal marijuana.
Under the proposal, the possession and personal use of marijuana would be legal for adults 21 and older. As a result, officers will have to switch their thinking from seeing the criminality in impairment as opposed to possession, said John Zebrowski, chief of police in Sayreville, Middlesex County.
"I think it changes the paradigm completely," said Zebrowski, who is also the cannabis issue representative from the state's chiefs of police association.
He said extensive training and expanding the use of Drug Recognition Experts are going to be important steps forward. Many departments have a handful of DREs — officers who are trained to recognize drug impairment — but some smaller municipalities don't even have one.
"My concern will be on the area of impairment, for motorists and pedestrians," Zebrowski said, adding continuing education for children is also important. "We have to be aggressive and progressive in the public service announcements we provide."
BRIDGETON — A Gloucester County man became the fifth co-defendant to plead not guilty Friday…
He also spoke about the potency of marijuana, which is far stronger than it was years ago, he said.
"It's not what we are used to," Zebrowski said. "This is not your grandfather's marijuana."
Harry Earle, chief of police in Gloucester Township, Camden County, said there are still a lot of unknowns as legalization looks more like a certainty, and it's going to take time to figure it all out.
Although the department has a strong Traffic Safety Unit with three DREs, Earle said, they're going to need more, and he wants to know what the threshold will be for marijuana in a driver's system, as .08 is the maximum legal blood alcohol content.
He added some of the questions are more related to employment.
"How will it impact hiring procedures?" he asked. "How are we going to navigate that?"
Be the first to know
Get local news delivered to your inbox!