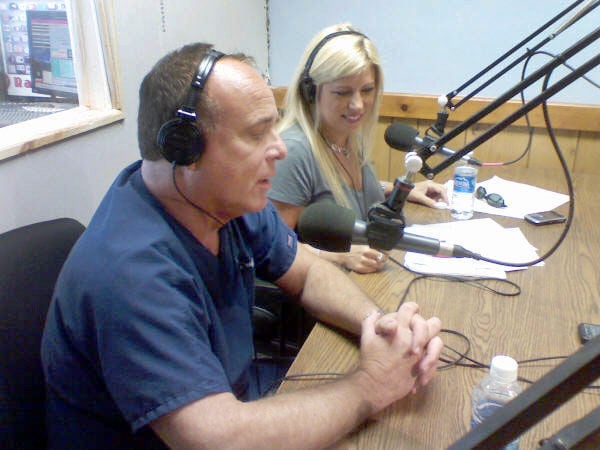 James Kauffman's lie to his wife and his community about serving in the military sparked distrust in his marriage and could have played a role in his wife's death, according to a search warrant executed in June 2017.
The search warrant executed by the Atlantic County Prosecutor's Office at Kauffman's Egg Harbor Township medical office last year sought evidence related to health care fraud, but also information on Kauffman's military service records and divorce proceedings between James and April Kauffman, the latter of whom was murdered in 2012.
According to federal military records obtained recently with the assistance of Guardians of the Green Beret, Kauffman never served in the military.
After her murder, friends of April Kauffman told investigators it was James Kauffman's alleged military service that attracted April to him in the first place, according to the warrant.
"However, within a year of her murder, April became aware that Dr. Kauffman had never served in Armed Forces and was not a veteran in any capacity," the warrant states. "It is known that April was devastated by this revelation and it is believed that she threatened to use this information to procure a beneficial divorce from him."
Photos from the April Kauffman murder case
Before 2012, James Kauffman was a locally respected doctor who, with his wife, April, a local veterans advocate, hosted Coast Guard recruits for the holidays. Kauffman had apparently told others, including his wife and stepdaughter, that he was a combat veteran.
During that time, Kauffman regularly appeared with his wife at public events to promote veterans affairs and even filled in for her on her radio show now and again.
April's friend and fellow veterans advocate Donna Clementoni said James Kauffman was always "standoffish" with her, adding she believes April's veterans work became a "thorn in his side."
"I don't think he had the pure patriotism like April did," she said. "I think it was a matter of convenience when he was before somebody."
April Kauffman, 47, was found by a caretaker shot twice on May 10, 2012, in the bedroom of her Linwood home. Five years later, Kauffman was arrested on weapons and obstruction charges resulting from a 45-minute armed standoff with police as they attempted to execute the search warrant.
In January, after he was charged in April's murder, James Kauffman, 69, died inside the Hudson County jail, where he apparently hanged himself.
Several nonprofit groups, such as Guardians of the Green Beret, help to expose those with "stolen valor," a term for the phenomenon of people claiming military service or recognition they did not earn. One spokesman for the organization, who asked not to be identified for his safety, said people fake military service or rank for many reasons, but mainly for financial gain.
"We were finding out that individuals were posing as Green Berets to actually gain access to VA benefits. They were putting this on resumes for high-level paying contract positions," the spokesman said. "We've actually exposed people running for office."
A federal law signed by President Barack Obama in 2013 makes it illegal to fraudulently claim having received a valor award for financial or other tangible benefits, but the Supreme Court ruled in 2016 that simply wearing unearned medals is protected by the First Amendment.
On a recent episode of ABC's "20/20," April's daughter, Kimberly Pack, tells the story of how James Kauffman had several military medals on display at their home in Linwood. She said she even wrote about Kauffman's alleged service in Vietnam, including being captured by the Viet Cong, for a college essay. Kauffman had one caveat to the conversation they had for her essay: His stepdaughter had to destroy the tape and never let his mother, Ruth, know about it. In a deposition with Pack's attorney, Kauffman admits he never served.
For many veterans and advocates, faking military service is the lowest of lows.
Atlantic County Director of Veterans Services Bob Frolow said pretending to be in the military is "taking credit for something that you never did and not giving credit to someone who deserves it."
Frolow, who first met April Kauffman about seven years ago at a breakfast at the former Northfield Diner before joining her on several veterans projects, said although James Kauffman never told him explicitly he was a veteran, he did things like wearing a green beret or fatigues to insinuate that he was.
"Little things where you would assume he was a veteran," Frolow said. "He would make little innuendos that he was in the service."
Frolow said he was "pleasantly surprised" to hear Kauffman admit he never served in the deposition he gave to Pack's attorneys, Pat and Andrew D'Arcy.
"I think it's an inexcusable fraud," Clementoni said. "If they're pretending to be somebody that served, they really have no idea what it means to potentially put your life on the line."