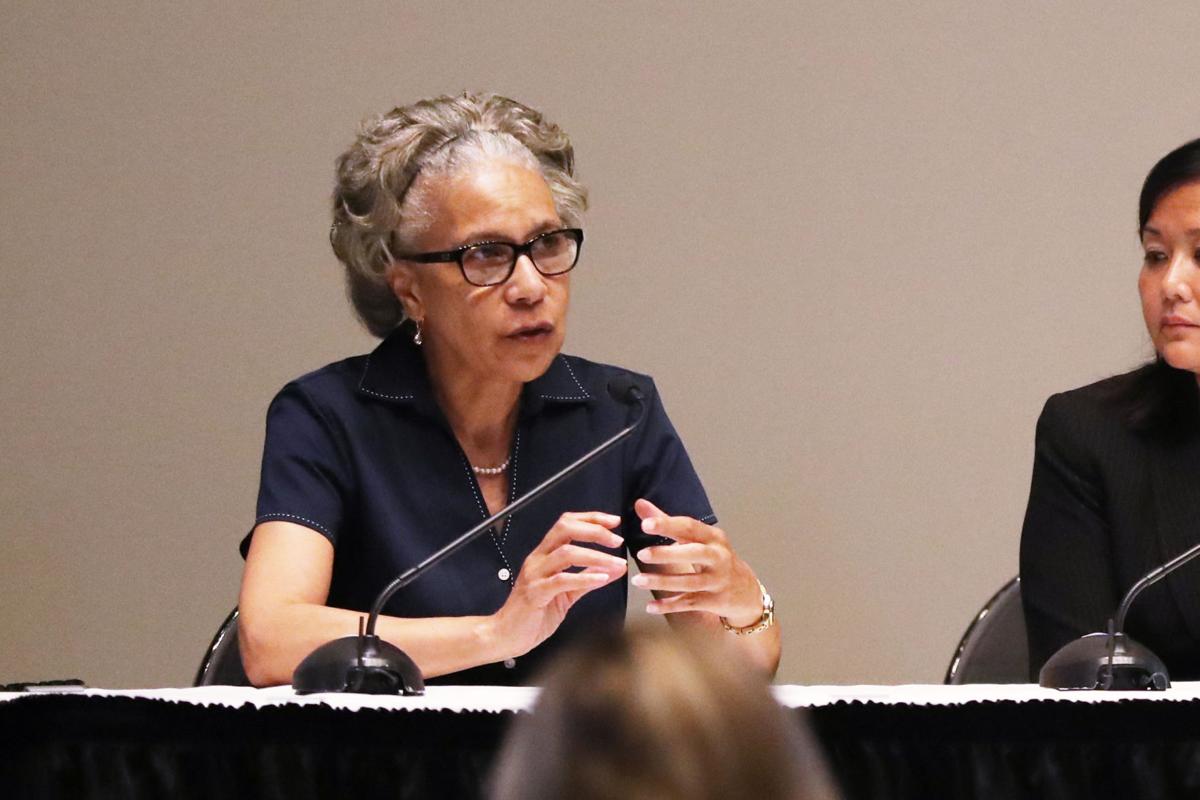 ATLANTIC CITY — Valeria Marcus wants more people talking about solutions to domestic violence, so the 65-year-old city resident, survivor and activist is making it happen.
Marcus has organized and will moderate a panel discussion at the Atlantic City Free Public Library on the topic in October, coinciding with Domestic Violence Awareness Month.
"We need to do more. We need to open the whole can of worms. It has to be done, otherwise the cycle is going to continue," Marcus said.
The panel, "Let's Talk about It: A Conversation on Domestic Violence," will be noon to 2:30 p.m. Oct. 18 at the main library, 1 N. Tennessee Ave.
ATLANTIC CITY — A domestic violence case against suspended Philadelphia Phillies outfielder …
Panelists will be Donna D'Andrea, violence intervention program at Avanzar; the Rev. Raymond Hollis Jr., social services coordinator at Better Tomorrows; Dr. Naomi Jones, senior director of outpatient services at Jewish Family Service; Tamu Lane, director of social justice programming at Avanzar; and Atlantic City police Detective Ann McGlynn.
D'Andrea said discussion of domestic violence is always needed because the issue continues to permeate the community and the nation.
"We have so many violent things happening in our community that may not always be domestic violence-related, but it brings our attention to the issues about family violence," she said.
Kimberly Pack, the daughter of slain Linwood veterans advocate April Kauffman, and her attor…
Because offenders and victims may not recognize the signs of abuse, especially if it was a normal part of their upbringing, continuing to provide awareness helps prevent domestic violence, D'Andrea said.
In addition, victims and offenders talking about the issues can help those who are working in the field and have not experienced domestic violence personally.
"I learn from every survivor who can share their experience," D'Andrea said.
Atlantic City police Sgt. Kevin Fair said the department's role in the panel is education on police response, laws and what the police can provide to a victim.
SOMERS POINT — L'Oreal Chrisp said she should have died a long time ago, but God kept her al…
"Domestic violence calls for service are some of the most dangerous for law enforcement officers and are treated as high-priority calls due to the propensity for violence that has occurred or could occur," Fair said. "The more information that can be initially provided to the dispatcher, the better prepared the responding officers will be."
He said victims need to know police can offer more assistance than simply arresting the suspect.
"That assistance could come as easily as providing a phone number for where to seek counseling or transportation to a shelter or safe location. A domestic violence victim, or any crime victim, should not hesitate to call the police if they feel they, or a loved one, is in danger," Fair said.
BRIDGETON — Tara O'Shea-Watson had a restraining order against her husband and planned to le…
Marcus, a survivor of domestic violence and child abuse, said the conversation about family violence has opened up in the past decade, but there is much more to do.
"When I was growing up, there were plenty of families that were dealing with domestic violence," she said. "Police officers came to their house, too. Nothing was done. They dealt with the same thing: no court cases, the father, the boyfriend, the grandfather never went to prison, it was hush, hush. Now, we're coming out a little bit and we still need to talk more, 'Why?'"
Marcus said she doesn't have all the answers, but sharing information will prevent the violence from spilling into the streets.
OCEAN CITY — Patricia Miles-Jackson and LaDonna Dickerson sat at a table Wednesday during lu…
"The anger and the rage in the household is very unhealthy, especially if it's going on every day, every week," she said. "If they don't get help … these kind of behaviors are going to manifest in their lives as adults. A lot of homicides, it goes back to the home environment. We don't want to admit it, we don't want to own it."
The panel discussion will be followed by a Q&A session.
Refreshments will be provided. Parking is available at the garage on New York Avenue between Atlantic and Pacific avenues.
Contact: 609-272-7251
Twitter @clairelowe