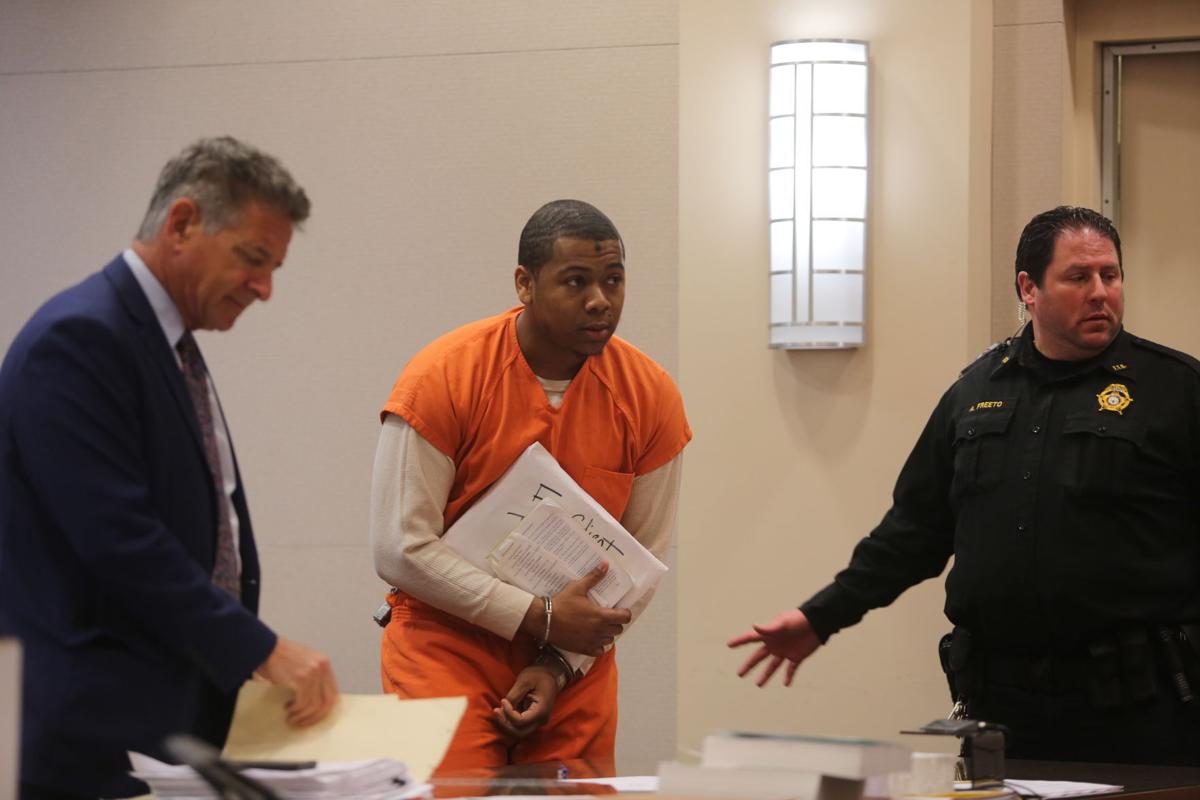 MAYS LANDING — An Atlantic City man was sentenced to seven years in prison this month for charges related to the November fatal shooting of 10-year-old Micah Tennant during a Pleasantville High School football game.
Tyrell Dorn, 28, who pleaded guilty last month to possession of a weapon by a convicted person, must serve five years before he is eligible for parole, court records show. He was sentenced Aug. 20 before Atlantic County Superior Court Judge Bernard E. DeLury.
A 10-year-old boy shot in the neck during last week's Pleasantville High School football gam…
Dorn is the first of two men sentenced who have pleaded guilty to charges in connection to the Nov. 15 shooting at the Central Jersey Group II semifinal football game between Pleasantville and Camden.
Shahid Dixon, 27, also of Atlantic City, pleaded guilty to eluding last month and is set to be sentenced before DeLury on Monday.
Two other co-defendants in the case, Michael Mack, 27, of Atlantic City, and Vance Golden, 26, of Pleasantville, are also set to appear in court before DeLury on Monday.
Assistant Prosecutor Edmund Mallqui-Burgos, who represents the state in the case, told DeLury during a recent hearing that Mack and Golden are pending dismissal of charges after Dorn and Dixon are sentenced.
The four men were charged with unlawful possession of a weapon and certain persons not to possess a weapon after allegedly throwing a gun out of a car window while leading police on a chase to Atlantic City after the game.
PLEASANTVILLE — Nina Mitchell was getting out of her car Friday night at Pleasantville High …
Alvin Wyatt, 31, who is charged with murdering the boy at the game, is scheduled to appear for a pretrial conference Oct. 5.
Authorities said Wyatt opened fire during the game in what officials called a targeted attack but struck three people in the bleachers, including Micah, who died of his injuries less than a week later. The others shot were an unnamed 15-year-old, who suffered a graze wound, and 27-year-old Ibn Abdullah, who was the intended target.
Abdullah was hospitalized after the shooting but has since appeared in court. He was charged with unlawful possession of a handgun and certain persons not permitted to possess a handgun after police found a 9 mm gun in his waistband.
Abdullah is scheduled for a post-indictment arraignment Sept. 16.
Contact: 609-272-7241
Twitter @ACPressMollyB
Be the first to know
Get local news delivered to your inbox!