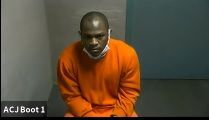 MAYS LANDING — An Atlantic City man was sentenced to three years in prison Monday and two others had their charges dropped, all in connection to the November fatal shooting of 10-year-old Micah Tennant during a Pleasantville High School football game.
Shahid Dixon, 27, who pleaded guilty to eluding in July, was sentenced before Atlantic County Superior Court Judge Bernard E. DeLury Jr., court records show. Charges were dropped against two of his co-defendants, Michael Mack, 27, of Atlantic City, and Vance Golden, 26, of Pleasantville.
Dixon, Mack, Golden and Tyrell Dorn, 28, of Atlantic City, were charged with unlawful possession of a weapon and certain persons not to possess a weapon after the Nov. 15 Pleasantville-Camden Central Jersey Group II high school football playoff game, which ended after gunshots rang out, killing Micah and injuring two others.
Dixon also was charged with eluding, authorities said.
ATLANTIC CITY — So many people wanted to pay their respects to Micah "Dew" Tennant on Saturd…
The others shot were an unnamed 15-year-old, who suffered a graze wound, and 27-year-old Ibn Abdullah, who was the intended target, officials said.
Authorities said Alvin Wyatt shot Abdullah at 8:29 p.m. in the home side of the bleachers during the third quarter of the game, which was attended by more than 1,000 people. The shots caused players and spectators to run for safety while both on-duty and retired law enforcement and fire officials ran forward to help.
After the shooting, Dixon, Mack, Golden and Dorn left the game, driving toward Atlantic City, police said. They were followed by Absecon police, who saw one of the passengers throw a gun out of the car. The car finally stopped at Ohio and Gramercy avenues in the city, where officers from Absecon and Atlantic City arrested them.
The shooting last month at a Pleasantville High School football game that injured two and re…
Dorn became the first defendant to be sentenced in the case Aug. 20, getting seven years in prison with five years of parole ineligibility after pleading guilty in July to possession of a weapon by a convicted person.
Wyatt, 31, who is charged with murdering the boy at the game, is scheduled to appear for a pretrial conference Oct. 5.
Abdullah was hospitalized after the shooting but has since appeared in court. He was charged with unlawful possession of a handgun and certain persons not permitted to possess a handgun after police found a 9 mm gun in his waistband.
Abdullah is scheduled for a post-indictment arraignment Sept. 16.
Contact: 609-272-7241
Twitter @ACPressMollyB
Be the first to know
Get local news delivered to your inbox!