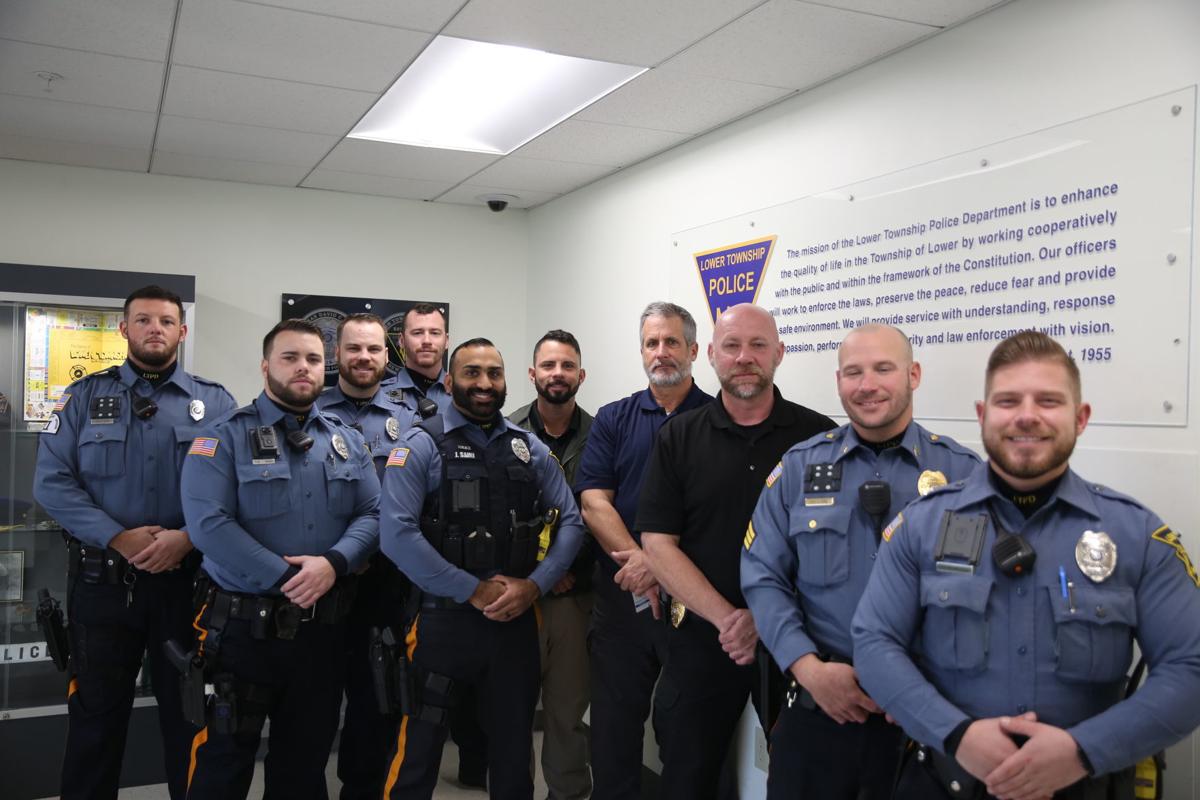 MIDDLE TOWNSHIP — "A year ago, I never would have imagined my family in the position it's in," township police Sgt. Mark Higginbottom said Wednesday morning. "Never in 1 million years do you expect to go through something like that."
Higginbottom's wife, Jennifer, was diagnosed with breast cancer in July and is undergoing chemotherapy, he said.
To support the family, which includes the couple's two young children, while Jennifer is out of work and receiving treatment, several local law enforcement agencies have stepped in to raise funds by growing beards.
No-Shave November, a national movement, asks participants to forego shaving for the month and instead donate the money they would use on grooming products to cancer research.
In South Jersey, police departments, which traditionally have strict rules regarding facial hair, have modified the campaign to benefit local families in need.
Higginbottom, who's growing out a beard himself, said he's been a participant in the fundraiser for several years, but he only found out right as the month began that several departments had pledged their donations to his family.
"At the end of the day, it makes it easier to focus your energy where it needs to be focused," he said, adding he feels comforted, blessed, loved and supported by the officers' efforts.
Donations are being accepted through Saturday, after which the Cape May County Chiefs of Police Association will put the donations together for the family.
For the members of law enforcement participating, it's much more than breaking the rules to raise funds. It's a way to help out a member of the community while improving police and resident relations.
Lower Township police Patrolman Jason Felsing said he takes whatever opportunity he can to grow out his beard, since the grooming guidelines in the department allow only a short mustache. But it also makes him more approachable when he's on the job.
"Any type of call you go on, 50% of the time you get comments," he said. "It makes you more accessible to various age groups."
Lower Township police Lt. Donald Vanaman said facial hair makes them more relatable to residents, which helps build relationships and trust in the community.
"I think it humanizes us," Vanaman said. "When I was growing up, as a kid, (police officers) looked enormous because they all have these hats on. Looking back, police officers were feared and kind of unapproachable. We want to be approachable."
The fundraiser is also a chance to show how connected law enforcement agencies are, especially when it comes to helping one of their own, Felsing said.
"I think it brings up the unity in law enforcement that you might not see every day," he said, explaining that although departments might not work together often, they're still bonded over the responsibilities of the job. "So to be able to help a family member that you don't see all the time, it's refreshing and nice."
In addition, Vanaman said the fundraiser is a boost to morale for the officers.
"You deal with so much of the tough stuff. It's nice to be involved in the positive," he said. "It helps their resiliency and brings balance to a tough job."
Recently, Jennifer started going back to work on a day-by-day basis, Higginbottom said.
"We're optimistic, based on what we're told by the doctors, that she'll be a survivor of breast cancer," he said. "We're very appreciative of all the support through our community and law enforcement family from Day One. It's been very humbling for me and my family."
Contact: 609-272-7241
Twitter @ACPressMollyB
Be the first to know
Get local news delivered to your inbox!