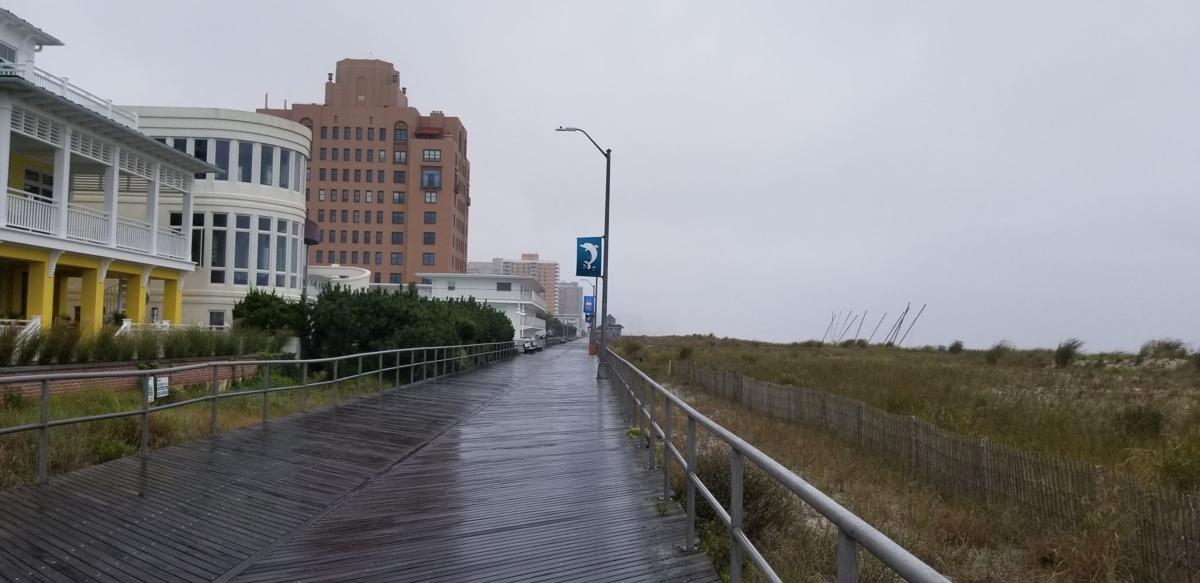 The cold front from Monday night is gone, but in its place will be a storm climbing the East Coast.
Any rain showers left over from Monday night will likely be gone by sunrise Tuesday. However, we're unlikely to see much sun. That'll be the case for the rest of the week, too.
To get the big picture out of the way first, a low-pressure system will move up from the offshore Southeastern United States waters. This will get near New Jersey on Tuesday night. It will stay about 200-400 miles offshore and try to pick up some moisture left over from Monday night's cold front to the south.
From there, high pressure to the north will block it from moving much until Saturday night, when a cold front will kick it out.
That means four to five days of onshore winds, rough surf and water piling up along the shoreline with nowhere to drain.
Back to the daily outlook. Tuesday should be a dry day, though not the nicest looking. Keep your outdoor plans. Winds will pick up from the northeast around 15 mph, with gusts to 30 mph. Blowing off the upper-60s water temperatures, air temperatures will be in the upper 60s.
Moisture will start to work in Tuesday night. Rain showers will likely start between 8 and 10 p.m. Rain will mainly be in Cape May County, closer to the low. Don't leave your windows open at night, for fear of rain getting in. However, it will not be a solid soaker anywhere.
Temperatures will slide through the 60s overnight, with lows around 60 at the shore and mid-50s on the mainland.
Wednesday and Thursday will both be about the same. The stiff northeast wind will blow. Gusts in the 30s will be likely on the mainland with a few 40s at the shore. There will be times of rain showers, but no day looks to be a washout, at this time. As long as your plans or work can handle a risk of some rain at any part of the day, you'll be fine. Rainfall totals between Wednesday and Thursday will 0.10 to 0.50 inches.
Coastal flooding will develop Wednesday for the p.m. high tides. Winds won't be the strongest, the onshore winds will have come from a long distance by the time they reach us (called fetch).
Coastal flooding will always be a concern, and that concern has steadily increased in recent…
Every tide between Wednesday p.m. and Saturday will be in a flood stage. Minor stage flooding will be expected for most high tides, the nuisance kind. However, prepare for moderate stage Thursday. Moderate stage is when you have water beyond the usual spots. Shoreline roadways and beaches will often be completely flooded out. Finally, houses without elevation may start to see water.
Also, expect high surf, some beach erosion and a high risk of rip currents.