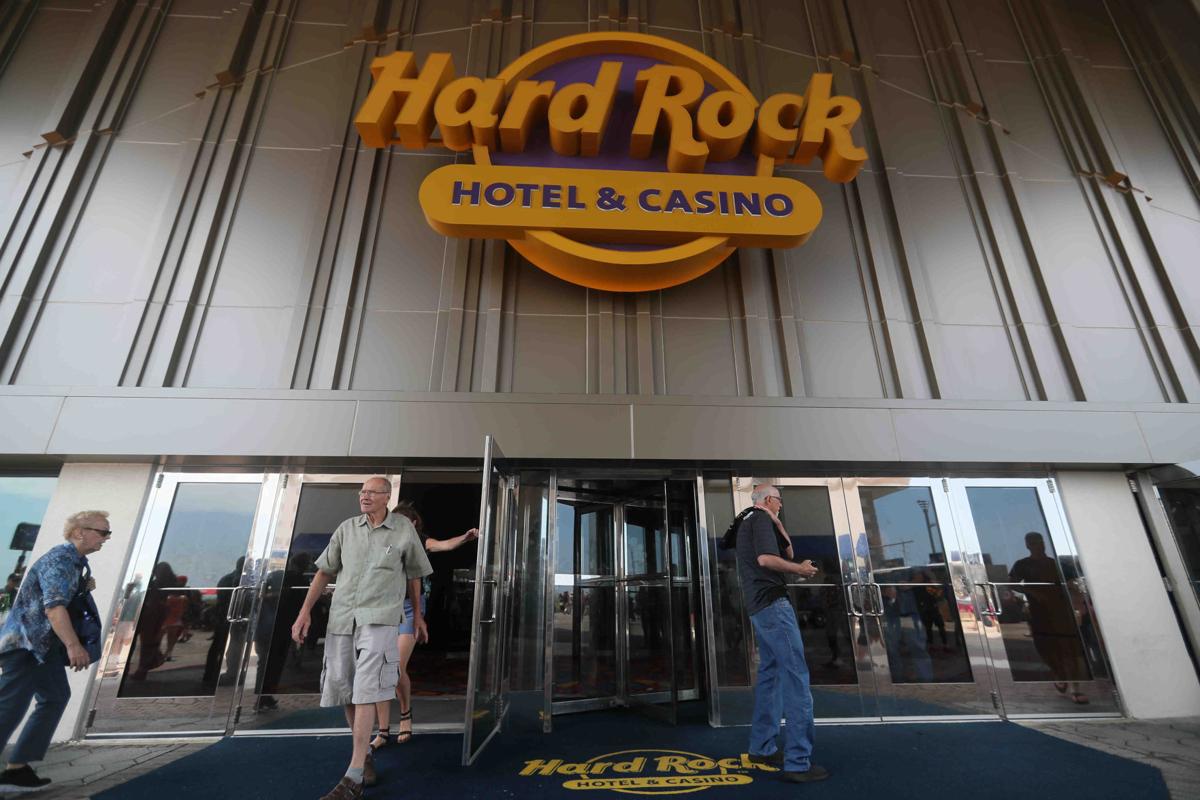 ATLANTIC CITY — Casinos are taking precautionary measures to protect guests and employees amid concerns of COVID-19 by revising certain operating procedures and suspending large gatherings.
On Friday morning, Hard Rock Hotel & Casino Atlantic City announced the suspension of all entertainment until mid-April, while Harrah's Resort Atlantic City canceled several upcoming events and Borgata Hotel Casino & Spa recently modified operating hours for several venues on the property.
A spokesperson for the Attorney General's Office, the agency that oversees the state Division of Gaming Enforcement, said no restrictions have been imposed on the casinos, to date.
AtlantiCare said Friday it will set up temporary triage tents Saturday outside its Atlantic …
"At this time, the state is not recommending the closure of casinos and there are no plans for the governor or lieutenant governor to visit Atlantic City to have such a conversation," a statement from Department of Community Affairs spokeswoman Lisa Ryan read Friday.
Industry-wide, the city's nine casinos say they are adhering to guidelines from the U.S. Centers for Disease Control and Prevention and following the guidance of health professionals.
"Our highest priority is our commitment to ensure the safety and security of our guests, team members and community," said Joe Lupo, president of Hard Rock Atlantic City.
All events scheduled at Hard Rock Live at Etess Arena, Sound Waves, Howie Mandel's Comedy Club and DAER Nightclub have been suspended until April 15.
Atlantic City officials on Thursday mirrored the state in announcing limitations of events o…
The ban will cancel scheduled shows by artists including Adam Sandler, T-Pain and Pitbull. Refunds will be given, and the casino hopes to rebook those shows in the future, Lupo said.
The Pool After Dark nightclub at Harrah's will be closed through March 25, and the World Series of Poker event has been canceled. The Pool will remain open from 8 a.m. to 6 p.m. daily for guests. A concert by Blood, Sweat & Tears, scheduled for Saturday, has been postponed, but a new date has not been set.
A statement from Caesars Entertainment Corp. said the actions were in response to recommendations issued Thursday by Gov. Phil Murphy, who urged against gatherings of 250 people or more.
At a news conference Friday, Murphy said that recommendation could become a mandate, if necessary.
"The health and well-being of our customers and team members is of utmost importance," the company, which operates Bally's Atlantic City, Caesars Atlantic City and Harrah's, said in a statement Friday.
Borgata has temporarily closed Premier Nightclub, Gypsy Bar, the Music Box and Moneyline Bar & Book.
"Borgata will adhere to the guidelines of local, state and national authorities, and is proactively communicating with our employees on the guidance from the CDC regarding prevention," the casino said in a statement Friday. "We have enhanced our cleaning protocols that include placing additional hand sanitizer dispensing stations in high-traffic areas, reinforcing proactive cleaning and increasing the frequency of disinfection procedures."
Source: State of New Jersey Department of Health
President Donald Trump declared a national emergency Friday. Murphy declared a state of emergency Monday.
Despite the national, and international, concern over the pandemic, gamblers were still making their way to casinos Friday. A few were taking their own health precautions by wearing gloves or surgical masks.
Laura D'Amico and her husband, Mark, of Felton, Delaware, went for a stroll on the Boardwalk on Friday afternoon after spending the evening and morning in their comped hotel room. The couple, who are in their mid-50s, said they were being cautious but "refuse to live in fear."
"We couldn't turn down a free room," D'Amico said. "But we're paying attention to people around us, washing our hands a lot and just basically trying to go on living our lives."
Five more people have tested "presumed positive" for the new coronavirus since Sunday aftern…
On Thursday, Atlantic City officials announced limitations on events of 250 people or more in an attempt to limit the spread of COVID-19, including canceling Saturday's St. Patrick's Day parade on the Boardwalk.
The policy, which applies to events taking place on city-owned or city-managed facilities and property, will remain in effect until further notice, according to a news release from city officials.
Valley Forge Casino Resort in King of Prussia, Pennsylvania, voluntarily closed at 6 a.m. Friday. The casino said it will reopen March 27 and noted there have been no reported cases of the virus at the property.
Borgata's parent, MGM Resorts International, announced this week it will temporarily close the buffets at all its Las Vegas-based properties starting Sunday, including restaurants at the Aria, Bellagio, MGM Grand, Mandalay Bay, Mirage, Luxor and Excalibur casinos. The buffet shutdown affects only the company's Las Vegas properties.
The Associated Press contributed to this report.
Contact: 609-272-7222
Twitter @ACPressDanzis