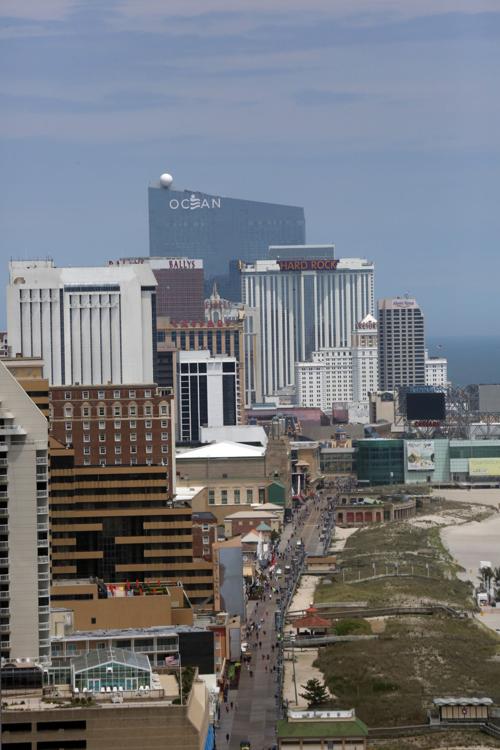 ATLANTIC CITY — A 21-month streak of total gaming revenue increases came to a screeching halt in March, as the novel coronavirus forced the indefinite shutdown of the resort's nine casinos.
Atlantic City casino gaming revenue was down 42.7% last month compared to March 2019, according to figures released Wednesday by the state Division of Gaming Enforcement. The drop in gambling revenue was not unexpected after Gov. Phil Murphy ordered the closing of all casinos March 16.
With brick-and-mortar casinos across the United States shut down to slow the spread of the n…
"As a surprise to no one during this crisis, the March revenue numbers show the dramatic impact of the closures," said James Plousis, chairman of the Casino Control Commission. "I know that, at this time, the paramount concern for all of the casino licensees in Atlantic City is the safety of their employees and customers. I share their concern."
Without brick-and-mortar casinos, it was anticipated that New Jersey gamblers would turn to online gaming, and March's numbers show they clearly did. Internet gaming revenue was up 65.6% last month compared to the same period in 2019, accounting for $64.8 million of the industry's $156.7 million in total revenue.
"Shutdowns from the coronavirus pandemic are affecting New Jersey's gaming industry in ways that are unprecedented, and that will continue until the country begins to return to some semblance of normalcy," said Dustin Gouker, lead analyst for PlayNJ.com. "New Jersey's online casinos are a boon to the gaming industry, which employs thousands and generates millions in tax revenue for the state. But it's not enough to fully bridge the gap from the revenue lost from sportsbooks and Atlantic City's land-based casinos."
Sports gambling was another area impacted by the coronavirus because professional and amateur leagues canceled games as the pandemic spread, starting with the NBA on March 11. Sports betting only produced $6.4 million in revenue, a decrease of almost 44% from March 2019.
ATLANTIC CITY — More than $700,000 a day in casino-related taxes and fees has been lost sinc…
"Based on New Jersey's strong momentum over the last two years, the state would have likely hit an all-time high in sports betting handle and could have topped $600 million," said Max Bichsel, vice president of U.S. business for Gambling.com Group. "Instead, the state saw just $181 million in bets placed without March Madness or any other major sport over the second half of the month."
Eric Ramsey, an online gaming analyst for PlayNJ.com, said that without retail casino and sports betting, online gaming for operators becomes extremely important.
"Online casinos can't sustain the industry forever, but those with the healthiest online products should be in the best position to emerge from these incredible circumstances," Ramsey said. "And the tax revenue from online casinos is welcome when so much pressure has been put on the state budget."
New Jersey collected significantly less in gaming-related taxes in March, according to the DGE data. Last month, the state collected $16.7 million in casino taxes compared with $23.1 million the year before. Year to date, New Jersey has received nearly $4.2 million more in gaming taxes.
March's gaming revenues were not all doom and gloom, as some industry experts found positive trends.
ATLANTIC CITY — A two-month shutdown of the state's casino industry will lead to $1.1 billio…
Bill Pascrell III, a gaming lobbyist with Princeton Public Affairs Group, said the revenue figures from table games and slot machines show Atlantic City casinos were on pace to extend the industry's streak of consecutive monthly increases before the shutdown.
"When you look at 16 days (in March 2020) versus a full month a year ago, the numbers are not that significantly different," he said. "The trajectory looked good. The numbers comparing March 2020 to March 2019 are extraordinarily positive."
Rummy Pandit, executive director of the Lloyd D. Levenson Institute of Gaming, Hospitality & Tourism at Stockton University, noted that year-to-date revenue for the Atlantic City casino industry was only down 3.4% through March. The industry's strong showing in January and February provided some "cushion" to absorb the expected losses in March, he said.
"It goes to show the strength of the market," Pandit said. "The market is resilient and, therefore, the recovery should be a lot faster once we get past this period."
Contact: 609-272-7222
Twitter @ACPressDanzis