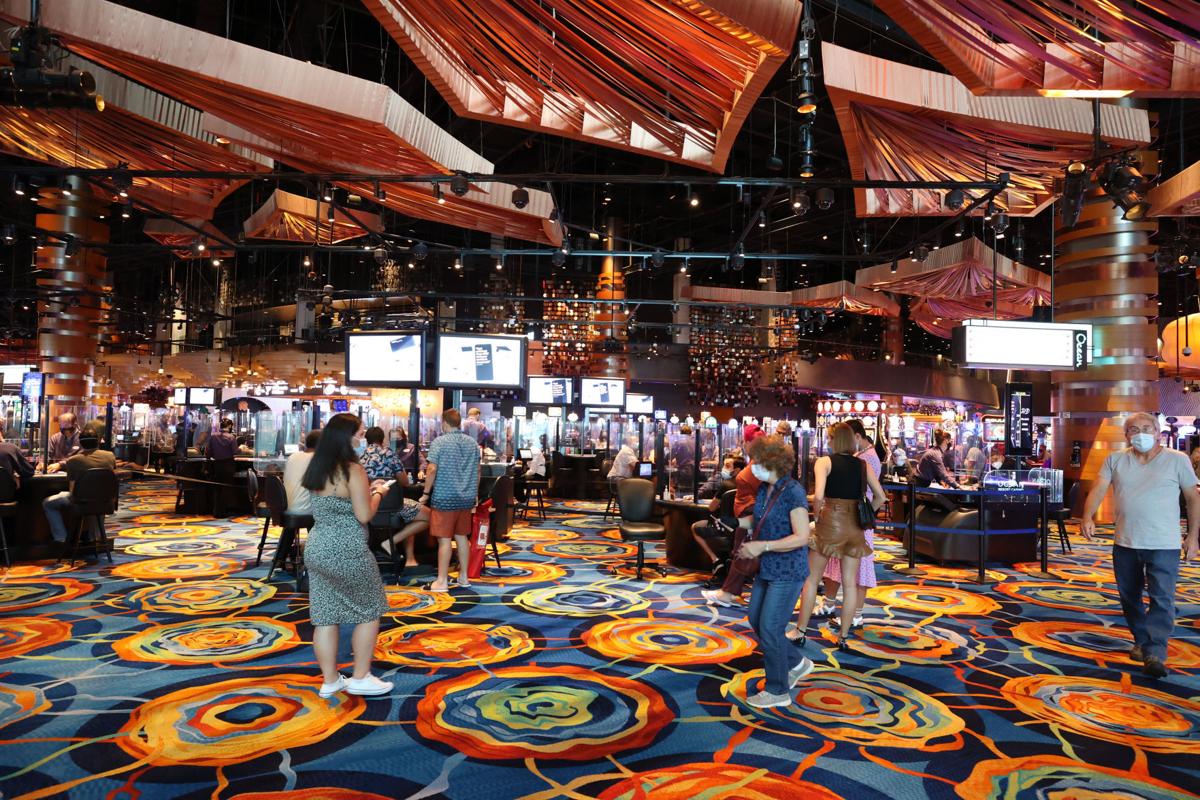 ATLANTIC CITY — The impact of the coronavirus on the city's nine casinos was evident in the industry's July report released Wednesday as total gaming revenue was down more than 23% compared to 2019.
Capacity restrictions, consumer concerns and prohibitions against indoor dining, smoking and alcoholic beverage service on the gaming floor all played a role in reported year-over-year revenues that were more than $74.5 million lower. Additionally, the absence of the market's highest-performing property — Borgata Hotel Casino & Spa — for all but nine days in July contributed to the decrease.
Here are five takeaways from July's Atlantic City casino revenue report:
1. Volume was down: Casino operators look at more than just revenue and profit to measure success or identify opportunities to improve. One such metric is slot drop, or the amount of money customers put into machines. Slot drop is a key indicator of business volume on a casino floor.
July's slot drop for eight of the nine casinos was down, with Ocean Casino Resort (+2.6%, +$4.2 million) being the lone exception. The other properties that were open for the majority of July all reported decreases in slot drop of anywhere between 55% and 24%. Borgata's slot drop was down more than 86%, but the property was only open for a little more than a week.
Golden Nugget Atlantic City (-55.4%, -$86 million) and Tropicana Atlantic City (-42.4%, -$100.7 million) experienced the largest declines in percentage and real dollars, respectively, besides Borgata (-$502.8 million).
2. Hard Rock and Ocean are real players in the market: The two newest entrants into Atlantic City (both casinos opened June 2018) were the biggest beneficiaries of Borgata's self-imposed delayed reopening. Hard Rock Hotel & Casino Atlantic City and Ocean finished first and second, respectively, in the market in casino win, or revenue generated from table games and slots.
Hard Rock's placing in the market last month is of little surprise. The property was second in July 2019 in casino win, behind only Borgata, and has consistently been ahead of the other seven casinos. While July's reported $24.6 million casino win has a decrease of 36.5% compared to 2019, Hard Rock reported increased revenue from online casino and sports betting.
Ocean — frequently the subject of unfounded closing rumors — was the only casino in the city to report a year-over-year increase in casino win last month. Ocean's reported $23.6 million in table games and slot revenue was an increase of 23.1% over 2019. Ocean also posted an increase in total gaming revenue — casino win, internet gaming and sports betting combined — of 30.3% last month.
3. Borgata has no rival in Atlantic City: Month after month, year after year, Borgata demonstrates its market dominance in Atlantic City. And, even with truncated results in July, the Marina District casino showed its superiority.
In nine days, only six of which were open to the general public, Borgata outperformed four of its competitors — Bally's Atlantic City, Harrah's Resort Atlantic City, Ocean and Tropicana Atlantic City — in total gaming revenue with a reported $26.6 million.
Borgata's online gaming revenue ($15.3 million) was third in the market, behind only Golden Nugget Atlantic City (always first) and Resorts Casino Hotel. Borgata was also second in the market in reported sports betting revenue ($2.9 million), trailing only Resorts and online/mobile partner DraftKings.
4. Internet gaming continues to grow: For the fourth consecutive month, internet gaming increased more than 100% in July.
The growth of internet gaming during the mandatory industry shutdown was expected and the revenue helped cash-starved operators throughout the three-and-a-half month stretch. But, the reported $87.5 million in online gaming revenue last month was a 122.5% increase over the same month in 2019.
The three highest online revenue generating casino properties — Golden Nugget, Resorts and Borgata — all posted internet numbers that were larger than their brick-and-mortar earnings. Even Hard Rock, which has struggled to find its footing in the online arena against more established competitors, posted a 194.7% increase in July. Likewise, Ocean reported a 217.3% increase in online gaming revenue last month.
Year-to-date, internet gaming revenues are up 98.7% over the first seven months in 2019. Year-to-date internet gaming revenue is $510 million.
5. Sports betting: Prior to the pandemic's impact on gaming and sports, New Jersey was challenging Nevada — the only state to offer single-game wagering until 2018 — for bragging rights as the sports betting capital of the United States.
Sports gamblers put down more than $315 million in legal wagers in New Jersey last month, according to the state Division of Gaming Enforcement. The figure includes the eight sportsbooks in Atlantic City casinos, the two facilities at the state's racetracks and more than a dozen online/mobile operators.
Atlantic City's casinos and their partners generated more than $13.76 million in revenue from sports betting in July, an increase of 101.8% over last year.
Through July, sports wagering has generated $60.4 million for Atlantic City casinos and more than $138 million statewide.
Contact: 609-272-7222
Twitter @ACPressDanzis