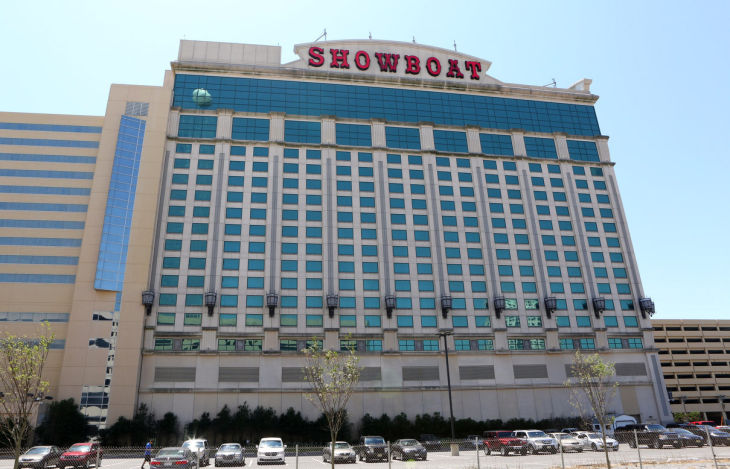 ATLANTIC CITY — On the same day Assemblyman Chris Brown called Showboat Casino parent group Caesars Entertainment's plan to close the still-profitable facility an unconscionable act, a representative from Caesars offered some hope the casino could be sold rather than shuttered.
Speaking on the Boardwalk in front of the Showboat on Tuesday morning, Brown, R-Atlantic, outlined plans for three bills that would hold the casinos accountable to the city and their employees.
"This is unacceptable, and it's time to stand up for the working middle class," he said.
Caesars announced last month that Showboat will close Aug. 31. But, contacted after Tuesday's Boardwalk event, company spokesman Gary Thompson said the company isn't against selling the property for use as a casino. He said Caesars has fielded "preliminary indications of interest" from parties inquiring about buying Showboat and running the property as a casino hotel.
On the Boardwalk, Brown and local leaders including U.S. Rep. Frank LoBiondo, R-2nd, and Atlantic County Executive Dennis Levinson spoke before a crowd of about 100, including dozens of Showboat workers.
Brown's bills, which he said he will propose when the General Assembly reconvenes, would:
— Encourage casinos that are closing to make an effort to sell to willing operators and force them to pay back any economic incentives they previously received if they fail to do so. The paybacks could include grants, tax breaks or incentives derived from the alternative investment tax.
— Prohibit casinos from placing anti-competitive deed restrictions.
— And limit the number of casino licenses a single corporation can own to two.
Brown noted that both the Atlantic Club and Claridge were sold earlier this year with deed restrictions stipulating they not be operated as casinos.
Counting Showboat, Caesars has four casinos in Atlantic City. Trump Entertainment Resorts operates two. The rest of the city's casinos are individually operated.
Brown also touched on recent talks of opening a casino in the Meadowlands Sports Complex in East Rutherford, saying it would be devastating to Atlantic City as it works toward diversifying its revenue streams with more focus on entertainment and tourism.
"The right thing is to make sure we wait ... until the industry here in Atlantic City can sustain," he said.
About 71 percent of Atlantic City's business revenues currently come from gaming, Brown said, compared with a target of 50 percent he believes ideal for the market.
Caesars Entertainment's announcement that the Showboat would close cited "persistent declines in business levels in the area exacerbated by the high property-tax burden in Atlantic City." The company said the closing would help stabilize its business in Atlantic City and keep its remaining casinos viable.
As one of about 2,100 employees at Showboat who could be out of work by September, cocktail waittress Francine Shertel said the sale announcement was a shock.
"This casino is busy," Shertel said. "We make money there."
Last week, LoBiondo's opponent in November's election, Democrat Bill Hughes, held a news conference at the same site criticizing LoBiondo for not doing more to ensure Atlantic City's future and calling for the development of a foreign trade zone at Atlantic City International Airport.
Speaking Tuesday, LoBiondo said while there's little he can do at the federal level about the Showboat sale, it was important to show solidarity with local leaders as they fight for Atlantic City. He said the closure would be a betrayal of years of hard work by its employees.
"Where is the regard for the men and women who are responsible for this being a profitable facility?" LoBiondo asked. "Where is Caesars' responsiblity for all the years when things were really good?"
LoBiondo drew cheers when he criticized the group's plan to build an $880 million casino in New York state.
Staff Writers Steve Hughes and Reuben Kramer contributed to this report.
@ACPressCampbell on Twitter