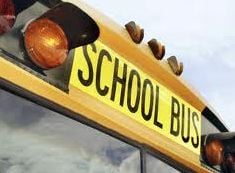 Eighth-graders who graduated from the Woodbine Elementary School in June will attend Middle Township High School in September.
Education CommissionerChris Cerf has approved the petition by Woodbine in Cape May County to end its sending/receiving relationship with Millville High School and instead send its high school students to Middle Township, which is closer and in the same county.
The decision was made July 29 and posted on the Department of Education website Monday.
The decision notes that the district's feasibility study demonstrated to the commissioner's satisfaction that there would be no negative impact on the educational program, financial conditions or racial composition of either Middle Township or Millville as a result of the move, and that all three districts supported the change.
Woodbine Superintendent Lynda Anderson-Towns said they are very excited about the decision and have already begun notifying the families of the graduating eighth-graders. About 12 to 15 are expected to attend the high school. Some also attend Cape May County Technical High School.
Notification will also be sent to all families in the district. She said a survey had found 94 percent of families supported the move to Middle Township, which is smaller and much closer to Woodbine.
Middle Township High School is about 12 miles from Woodbine, compared with almost 20 miles to Millville High School.
She said school officials are now working on busing for the students, contacting both Dennis and Middle townships to see which will be the most cost-efficient. Dennis Township also sends its students to Middle Township High School, and it may be less expensive to join with them on a bus.
Woodbine students currently attending Millville High School will remain there until graduation. Anderson-Towns said that was part of the agreement with Millville so that the students would not have to change schools, and so the financial impact on Millville would not be as great.
Woodbine expects to save about $4,000 per student per year on tuition by switching high schools. Tuition is based on what the receiving district already spends to educate its students. In Middle Township, that is about $10,000 per year, while in Millville tuition was about $14,000 per year. Woodbine officials anticipate saving about $50,000 this year, and as much as $200,000 per year when all four grades are at Middle Township.
Middle Township Superintendent Michael Kopakowski said the principal and guidance counselor had already met with the graduating eighth-graders to set up tentative schedules, but they will now make up final schedules and begin notifying the students of school events such as freshman orientation.
Both Anderson-Towns and Kopakowski said they believe a visit by the education commissioner last year helped him understand the demographics of the area and why the move was beneficial. Anderson-Towns credited state Sen. Jeff Van Drew, D-Cape May, Cumberland, Atlantic, with convincing the commissioner to make the trip. Cerf visited both Woodbine and Commercial Township in Cumberland County in June 2012.