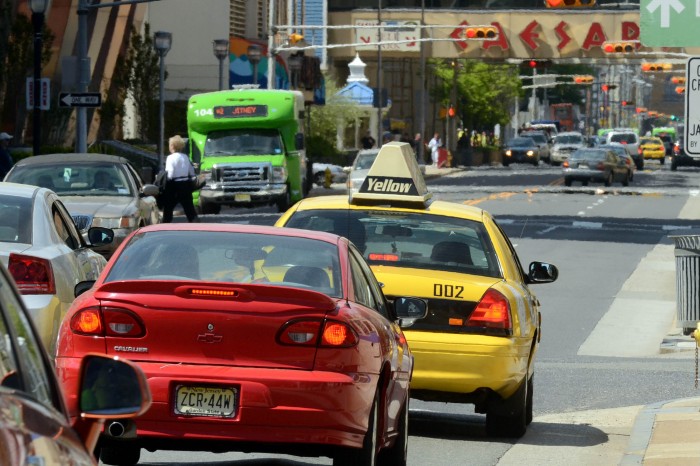 Taxi cab driver Ahmed Rashawn has taken to driving without air conditioning and turning his car off when stopped for short periods of time - anything to keep his Grand Marquis from wasting any more precious petroleum now that gasoline prices are nearing $4 per gallon.
"Since the price of gas got more, it's $100 more a week," said Rashawn, 58.
Rashawn said he works 12-hour shifts, seven days a week in Atlantic City, in a car with more than 206,000 miles on it. Over the past year, higher gas prices have cost him between one-third and one-quarter of his weekly take-home pay.
Spiraling gas prices are costing everyone more. But for people such as Rashawn, who drive for a living, recent sharp increases are cutting directly into the money they earn. While limousine companies are also affected, taxi drivers cannot raise their rates without local approval.
Gas prices averaged between $3.88 for regular and $4.13 for premium across New Jersey on Tuesday, according to AAA's Daily Fuel Gauge Report, which surveys 100,000 stations daily. Across the country, the report said, the average price of a gallon of regular gas had risen 21 cents over the past month and about $1.04 over the past year to $3.95.
Taxi drivers - as well as consumers across the nation - may see some relief in the near future. Last week, the Associated Press reported gas prices were leveling off and could drop to $3.50 by summer.
Until then, high gas prices are leading taxi services around the nation to ask their local lawmakers to increase rates and give them more breathing room. In New York City, high gas prices led drivers to petition City Council to raise taxi rates for the first time in seven years. In Gloucester, Mass., cab companies want to tack on $1 to the $2.50 base fare.
In Vineland, lawmakers may consider new taxi rates, but City Council put off any action last week until it could review the proposal. Elsewhere in southern New Jersey, however, drivers are holding on - for now. But they say the rising cost is hurting their bottom lines.
Greg Brock, one of the owners of Mutual Cab in Atlantic City, said gas prices were making business difficult, but that customer loyalty and steady business has kept the company going. Mutual's Lincoln Towncars typically fill up once per 12-hour shift, Brock said. Drivers can travel hundreds of miles, including as far as Virginia or Massachusetts.
In Vineland, Helen Gonzalez, one of the owners of Green Cab, said gas prices have led drivers to ask city officials to raise minimum taxi rates from $3, but no action has been taken.
"This is really killing us," she said.
Gonzalez said drivers and owners split costs and revenues evenly. But she said the company's seven Grand Marquis and Crown Victoria taxis require more-expensive, higher-octane gasoline that the large, eight-cylinder engines burn at a rapid rate.
Rates are $3.40 for the first mile and $1.80 for additional miles, but she said the poor economy means few tips for drivers.
"Say we have a fare that comes out to $3.80," she said. "They (customers) wait for the 20 cents."
As a result, the company has a hard time keeping drivers.
"Nobody's going to work the 12 hours and bring home $40, $50."
Gonzalez is not doing well either. She now owns one cab, down from two because she couldn't afford the upkeep.
"Me, myself, I have a mortgage. I can't make what I'm making off the cabs. I had to go into my savings because of what's going on," she said. "The thing is, if you've been in the business as long as I have - 15 years - you can't just get rid of the cab. So you stick it out and hope for the best."
Steve Bair, who drives for Number One Taxi in Cape May Court House, said drivers have driven more to make up for the narrowed profit margin. The company operates six passenger vans on rates based in North Wildwood.
In Atlantic City? "Nothing. We just suffer." Rashawn said.
City Councilman George Tibbitt, who heads Atlantic City Council's transportation subcommittee, confirmed there were no plans to increase taxi rates in the resort.
There are 250 medallions - taxi licenses - in the city, making it by far the largest fleet in the region. Council last changed rates in 2008 when gas prices spiked. It set the initial charge to $3.80 for the first one-tenth mile in the city, 40 cents for additional one-tenth miles and 60 cents per minute stopped in traffic. Fares are capped at $13 within the city.
One hundred of those medallions are controlled by Yellow Cab, whose president, Paul Rosenberg, said the company is contemplating purchasing compressed natural gas vehicles. Taxi services need to think of alternate strategies for steadily increasing gas prices, he said.
"It's not sustainable to keep going back for increases or surcharges," Rosenberg said.
The resort's jitney association took a similar path after prices spiked in 2008, said Jitney Association President Tom Woodruff, and City Council set fares at $2.25. The group, an association of privately owned buses that are regulated by the city, began buying compressed natural gas vehicles last summer.
Woodruff said the association replaced the final two jitneys in the 190-vehicle fleet last week.
And it's seeing the dividends: While gas prices are nearing $4 a gallon, Woodruff said $2.29 buys enough natural gas to provide the energy of a gallon of gas.
If the fleet hadn't converted, he said, "We would have had to raise prices or be out of business."
Staff writer Thomas Barlas contributed to this report.