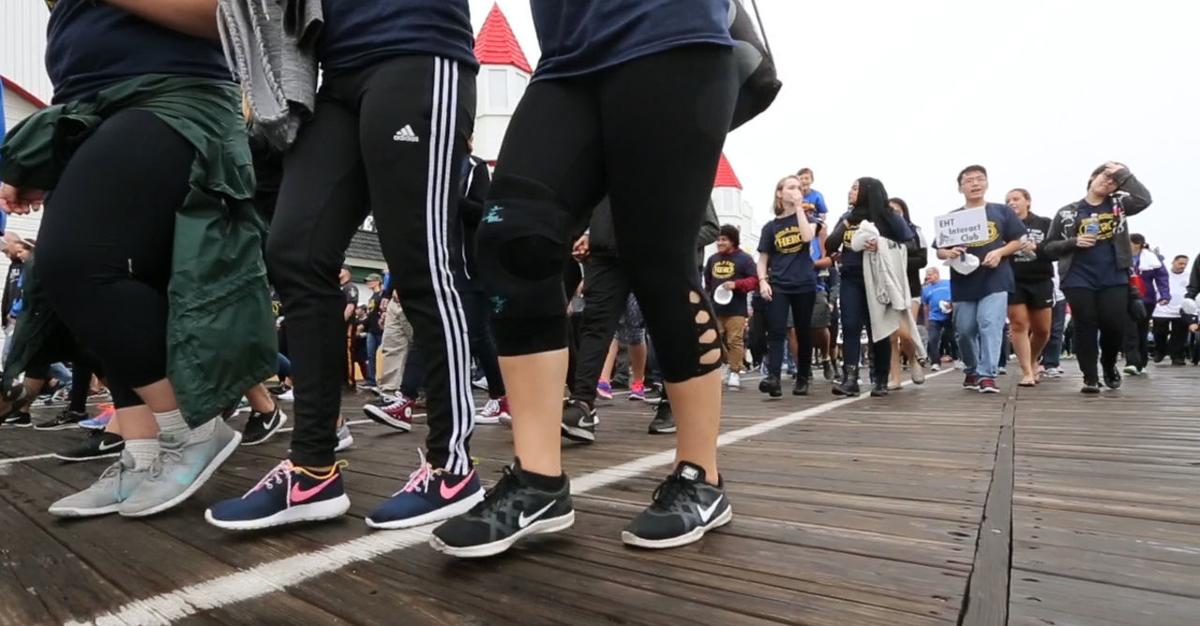 Summer is over, but there's still plenty to do at the shore this weekend. Whether you want to hit the links, learn a new skill or get outside and hit the boards while helping out a worthy cause, there is something for everyone.
2021 SCRAMBLE 'FORE' SCHOLARSHIPS GOLF TOURNAMENT: 10 a.m. to 6 p.m.; support students in their academic pursuits by registering now for the 2021 Atlantic Cape Community College Scramble 'FORE' Scholarships Golf Tournament; Cape May National Golf Club, 834 Florence Ave., Cape May; $175. 609-463-3619.
'BEEHIVE THE 60'S MUSICAL': 7 to 8:30 p.m. Oct. 15, 16, 2 p.m. Oct. 17; Ocean City Music Pier, 825 Boardwalk, Ocean City; $20, $18 senior citizens. 609-398-1118.
BOOK SALE: 10 a.m. to 5 p.m. Oct. 15, 16; Northfield Public Library's annual fall book sale; Otto Bruyns Public Library of Northfield, 241 W. Mill Road, Northfield. 609-646-4476.
GAELIC STORM: 8 to 10 p.m.; Celtic band performance; Levoy Theatre, 126-130 N. High St., Millville, $38. 856-327-6400.
'SOMETIMES I'M OK': 8 to 9 p.m. Oct. 15, 16, 17; one-woman show written by and starring Randi Simon Lupo; Studio Space, 112 Woodland Ave., Somers Point; $25. 215-983-3669.
VIRTUAL PROGRAM - MEMOIR WORKSHOP: 10:30 a.m. to noon; Lynn Kramer Village by the Shore Programs offered by Jewish Family Service of Atlantic & Cape May Counties. 609-287-8872.
BARK FOR LIFE: 11 a.m. to 5 p.m.; food, dog-friendly activities, pet shows, live music, and more; Atlantic County 4-H Fairgrounds, 3210 Route 50, Hamilton; $5. 609-646-7013.
COSTUME PET PARADE: 1 to 5 p.m.; costume pet parade; Historic Smithville, 615 E. Moss Mill Road, Galloway Township. 609-748-8999.
FILM CLUB SCREENING: 2 to 4 p.m. Saturdays through Dec. 4, Otto Bruyns Public Library of Northfield, 241 W. Mill Road, Northfield. 609-646-4476.
HALLOWEEN FUN DAY IN BUENA VISTA TOWNSHIP: 11 a.m. to 1 p.m.; costume parade and contest, coloring contest, hay rides, candy and more; Sawmill Park, 1316 Harding Highway, Buena Vista Township. 856-697-2100.
KYLE GASS PERFORMANCE: 8 to 11 p.m.; Kyle Gass Must Save the World Tour 2021; Landis Theater, 830 E. Landis Ave., Vineland; $35. 856-691-3600.
OPEN GAMING: 2 to 4 p.m. Tuesdays and Saturdays through Dec. 28; enjoy a game of Mah-Jongg, Pinochle, Scrabble, Canasta or other card games; Longport Public Library, 2305 Atlantic Ave., Longport. 609-487-7403.
CAPE SHORE CHORALE CONCERT: 3 p.m.; Schubert's Mass in G Major with chamber orchestra; guest tenor soloist Reid Shriver; Holy Trinity Episcopal Church, 2998 Bay Ave., Ocean City; free, donations welcome.
HERO WALK & 1-MILE FUN RUN: 9 a.m. to noon; John R. Elliott HERO Walk & 1-Mile Fun Run; 1-Mile Fun Run with prizes for men and women in various age groups; Ocean City Sports & Civic Center, 840 E. Sixth St., Ocean City. 609-646-0414.