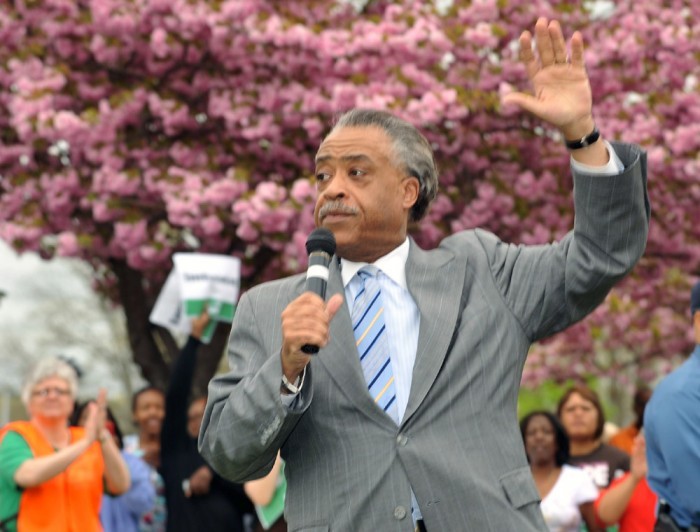 VINELAND — The Rev. Al Sharpton and national labor leaders joined together Tuesday to send a clear message: Don't close the Vineland Developmental Center.
Sharpton and labor leaders said they're tired of seeing union workers made scapegoats for governmental fiscal messes that workers didn't create. The activist said governments are trying to get their financial houses in order on the backs of the workers.
"They want to balance the deficit on the books by closing a facility that we need," Sharpton said at the center. "We want to come together to say that this facility should not be sacrificed. We're going to stand together and fight."
Tuesday's rally was about more than just the proposed closing of the developmental center.
Sharpton and national leaders of the American Federation of State, County and Municipal Employees and the American Federation of Teachers said their stop here was part of a cross-country tour to rally citizens against governments trying to bust unions and divide the middle class. Sharpton and the union leaders were also scheduled to make stops Tuesday in Trenton and Newark.
While Sharpton said the issue isn't about politics and one party, the rally's main target was Republican Gov. Chris Christie. Chants that began as "Save our jobs" and "Save VDC" eventually turned to "Christie's got to go."
Sharpton said Christie is another anti-labor government leader who preaches shared sacrifice but then gives tax breaks to corporations and the wealthy.
"That's not shared sacrifice, we know double talk when we hear it," Sharpton said. "We don't come to be divisive. We want to be inclusive. I want to include the rich in the sacrifice."
Workers such as those at the developmental center know sacrifice and "don't have no belts to tighten up," Sharpton said, drawing cheers from the crowd.
But not everyone agreed with what Shapton had to say.
"For Al Sharpton to come here and say it's wrong for governors to balance their deficits on the backs of the working class proves how little Mr. Sharpton knows about this issue," Cumberland County Republican leader Bob Greco said in statement. "The fact is, while it is unfortunate that it appears the Vineland Developmental Center may close due to budget cuts, the Democrat majority in Trenton has been planning this possible closing for years only to back off whenever it looks like they may lose votes during election season.
Greco said Sharpton should be blaming Democrats, not Republicans.
"Mr. Sharpton, thanks for visiting and please remember it is the Democrats in the majority who have planned on closing the facility for years," he continued. "The blame for this closure lies squarely at their feet."
Christie is proposing to close the developmental center by June 2013. State officials said the population at the state's developmental center is declining as people move their family members to community-based facilities, such as group homes. They also said operating developmental centers is becoming too costly, and that closing the facility here will save the state millions of dollars.
The center is home to more than 380 developmentally challenged women of all ages. The center also employs about 1,400 workers, and those jobs will be jeopardized by the closing.
This was the second rally held to generate support for the developmental center. The April 7 rally drew about 250 people. About 300 people turned out to Tuesday's rally, although the crowd dwindled to about 200 as the event proceeded and Sharpton gave his less-than 10-minute speech.
One of the main charges levied against the state by developmental center supporters is that it has no real plan for the facility's residents and that it's picking on one of only two such facilities in southern New Jersey.
Information provided by the state Department of Human Services shows that since November:
n 10 women from the developmental center were moved to the facility in Green Brook, Somerset County. Green Brook provides care to older residents.
n 25 women were transferred to the New Lisbon Developmental Center in Burlington County. New Lisbon offers enhanced behavioral services. Many of the women moved as a group so they could stay together.
n 24 women were moved to community homes.
n Three women were moved into nursing homes.
Information posted on the department's website states that:
n The developmental center here has the largest percentage of residents who want community placement.
n The developmental center is the state's oldest. The center was established in 1888, and many of its original buildings are still being used, even through they're in a state of disrepair.
n The center's capital improvements needs are among the largest of all the state's developmental centers, and total about $20 million in the current fiscal year alone. Many of the upgrades are needed for staff and resident safety and to ensure continued federal funding.
During Tuesday's rally, union officials said the situation involving the developmental center, state government finances, Christie and the unions isn't good.
Lee Saunders, secretary-treasurer of AFSCME International, told the crowd, "Boy, I'm glad I don't live in this state."
"We know the state has money problems," Saunders said, whose union represents some developmental center workers. "We know it wasn't created by you. We believe in shared sacrifice, but we will not stand here and carry the burden alone."
Randi Weingarten, the national president of the AFT said, "I thought this New Jersey governor was about creating jobs. That's what he advertises."
She told rally attendees Christie's anti-union bullying is one reason why teachers are supporting the developmental center workers.