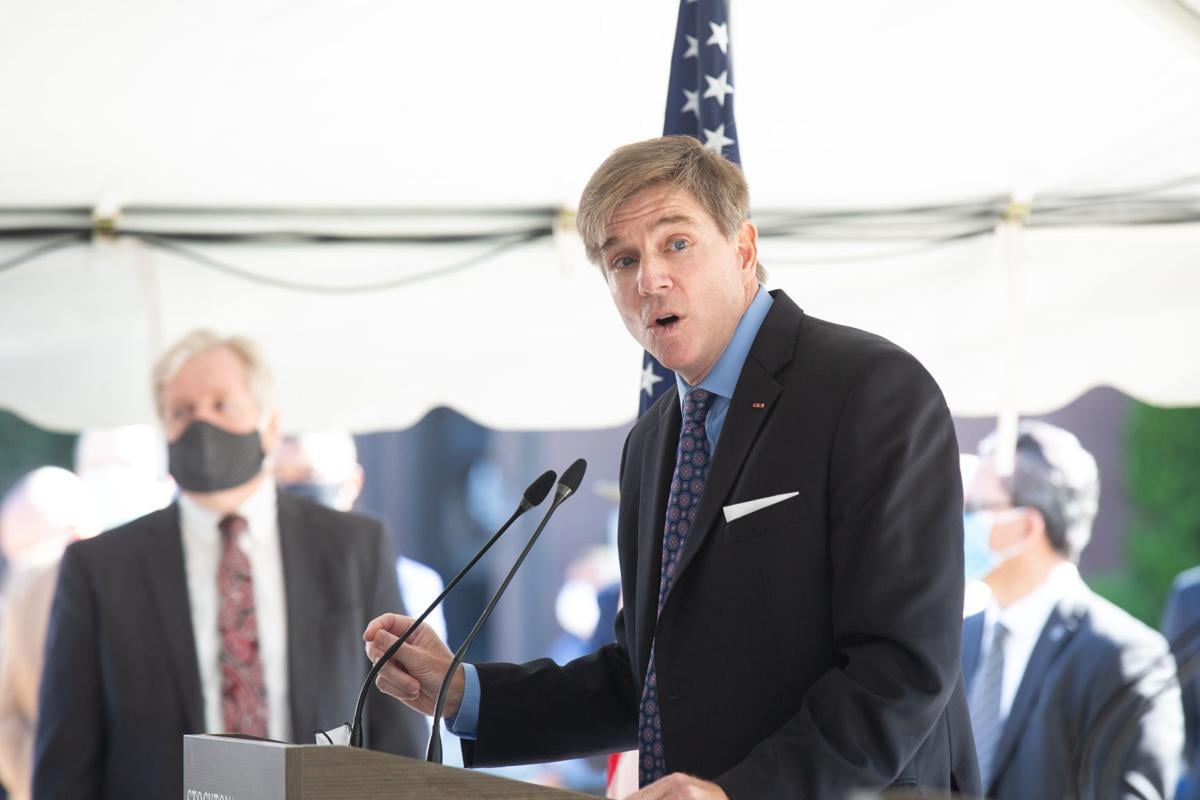 State Sen. Chris Brown, R-Atlantic, will become the governor's senior advisor for Atlantic City affairs as the resort works to return to self governance, Gov. Phil Murphy said Monday.
It's a newly created role in the Department of Community Affairs' Division of Local Government Services, and Brown will spearhead state initiatives, including efforts to improve public safety, diversify the economy, create jobs and improve social services.
"Chris is deeply committed to improving the lives of those who call Atlantic City home, and he will be a tremendous asset ... as we further strengthen the Atlantic City economy and improve quality of life," Murphy said in a news release late Monday.
Brown announced in February he would not run for reelection, sparking a hotly contested 2021 Senate race in the Second Legislative District between Assemblyman Vincent Mazzeo, D-Atlantic, and former Republican Assemblyman Vincent Polistina.
Murphy said he will work with Brown to address issues like economic instability and poverty that have plagued the city for too long.
"Under Christie, he appointed somebody to be the 'czar' in Atlantic City," Brown said. "First and foremost, this is America. Czars are in Russia. I am going to be someone who is trying to bring people together."
Brown's annual salary will be $150,000, according to the state.
Mayor Marty Small Sr. could not be reached for comment Monday.
Republican Atlantic County Executive Dennis Levinson saw it as a victory for his party.
"Here he comes to save the day, not Mighty Mouse but Mighty Chris," Levinson said. "The Democrats in Trenton and Democrats in Atlantic City have run Atlantic City for years, along with ex-Democratic Sen. Stephen Perskie. Who do they turn to to figure it out since they couldn't? A Republican from Ventnor. That says it all."
Lt. Gov. Sheila Oliver, who is DCA commissioner, said in the news release that Brown is the most qualified person to help the city move forward.
"I look forward to working together to continue to stabilize the city's finances, strengthen and diversify the economy and tackle longstanding challenges such as poverty, unemployment, public safety and public health," Oliver said.
Brown said he decided to take the position "following a long, heartfelt conversation with my wife and three children, who gave their approval with the understanding that, although my time in elected public service came to an end, I always look forward to continuing serving our local families in other ways."
The Senate is on break until after the election, so Brown said he can start the new job immediately.
"I know from working with Lt. Gov. Oliver since 2012, when we served together in the Assembly, she is fully committed to seeing Atlantic City succeed," Brown said.
Brown was never strident in his positions and worked a lot across the aisle, said John Froonjian, executive director of the William J. Hughes Center for Public Policy at Stockton University.
Brown had been elected three times to the Assembly and once to the Senate, and would have had no problem getting reelected as long as he wanted to, Froonjian said.
"The only real way to make it more competitive is to open it up and get rid of an incumbent," Froonjian said of Murphy's possible motives.
On Feb. 18, after Brown bowed out of the reelection race, Murphy praised him in a news release.
Several weeks later, someone from Murphy's office contacted Brown about possibly helping with Atlantic City, Brown said.
Brown has said he decided not to run to spend more time with his family and because he never saw elective office as a career.
But when this opportunity came up, he saw it as a way he can help the governor accomplish what he wants to accomplish in the city, he said, through building consensus.
"I'd like to think my independence and not joining in with political brokers was recognized by the governor," Brown said.
Brown, a longtime area attorney, has sold his law practice, so now he has the time to devote to a demanding full-time role like this, he said.
Brown has close friends in the city, including Democratic Mayor Marty Small Sr.'s Chief of Staff Ernest Coursey, who is also a Democratic county commissioner.
"We had sons on the same day almost 25 years ago," Brown said. "They ended up playing ball together."
Brown also has long family ties to the city.
"There has been a Brown on this island since 1911," he said.
Brown, a member of the minority party in the Legislature, often worked with Democrats to pass bills for the region.
Along with Republican State Sen. Michael Testa, R-Cape May, Cumberland, Atlantic, Brown joined Democrats in co-sponsoring a bill Murphy signed into law in April to provide $35 million in federal funding to restaurants, bars, breweries, brew pubs and wineries.
Mazzeo was a primary sponsor of the restaurant aid bill, and Assemblyman John Armato, D-Atlantic, co-sponsored in the Assembly.
Brown was one of the Republicans who joined Democrats in the state Senate in condemning President Donald Trump for his role in promoting an attack on the U.S. Capitol on Jan. 6.
But Brown has also voted with his party on issues important to him. He joined Testa and State Sen. Christopher Connors, R-Ocean, Burlington, Atlantic, in voting against a bill to prohibit any state, county or local government entity from entering into a contract with U.S. Immigration and Customs Enforcement to hold people found violating federal immigration laws.
REPORTER: Michelle Brunetti Post
609-272-7210