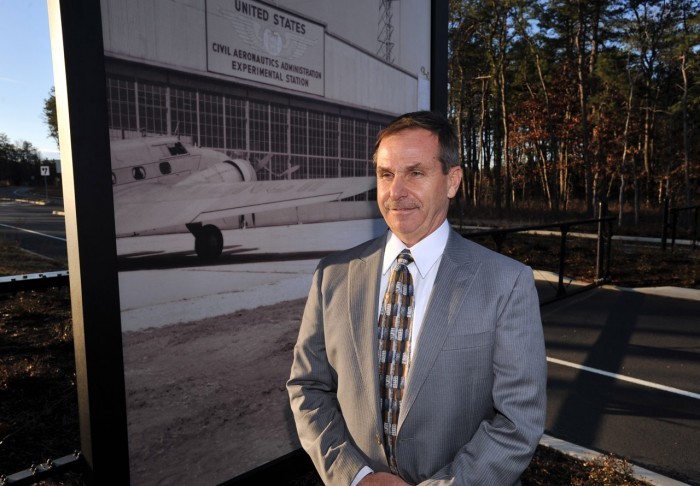 VINELAND — Gordon Dahl was ousted from his role as head of the South Jersey Economic Development District by a unanimous board vote Monday night.
The board terminated the employment relationship that has lasted a quarter-century as all 14 board members present at the meeting at Cumberland County Community College cast votes of "no confidence" in Dahl's ability to lead the district.
Meanwhile, the board unanimously voted to appoint Cape May County Administrator Steve O'Connor as interim executive director at a salary of $9,500 a month with no benefits.
Under Dahl's  authority, the district has accumulated hundreds of thousands of dollars of debt in the NextGen Aviation Research and Technology Park project. Board members have said they were not aware of the decisions he was making.
The board's resolution cited Dahl's failure to adequately address the district's finances, his "unilateral" decision to close the access road through the NextGen Aviation Research and Technology Park, and his decision not to pursue a state grant that would have allowed the district to pay its contractors nearly $500,000 they are owed.
Dahl is no longer an employee of the district and will be suspended without pay, SJEDD attorney Paul Baldini said. However, the board is also planning to move forward with a separation agreement for Dahl in which he may earn additional compensation. His annual salary was $112,000.
"Obviously, everybody would rather resolve issues than litigate issues," Baldini said. "The concern was the board felt they had a leader who has been with the district for 25 years. You look at his record — $63 million in grants to member counties over 10 years. I think it's out of respect for that record that the district would like to see as amicable as possible a separation."
Dahl was not present at the meeting, nor did he answer phone calls late Monday evening. Mount Laurel-based attorney Kevin Costello is now representing Dahl in any negotiations with the district, according to a letter sent to the district on March 30.  
O'Connor, who plans to retire from his job with the county, will work full time for the district through his firm, South Jersey Consultants. His contract will last no longer than six months until the board finds a permanent replacement. O'Connor said he is not interested in the permanent job.
O'Connor said he plans to work aggressively to get the park's lease transferred to the park's board. Discussions for the transfer began nearly a year ago, but the district has several debts to satisfy before the move can take place.
"When I came on board, I called this a ball of yarn that, to me, was un-tangleable," said board member Sam Fiocchi. "After tonight, I'm pretty enthused, and actually, I'm energized."
With the appointment, the board did not look far from its own membership. O'Connor was a board member for about eight years until December 2011. He has said he was unaware that audits — that were two years past due — were not being completed and was surprised to learn of the district's financial problems.
Fiocchi, other board members and O'Connor said they all believe the district will be able to reconcile its debts and move forward. All three member counties — Cape May, Cumberland and Salem — have passed resolutions calling for the district to disband if it doesn't prove financially sustainable by mid-June.
The district has been at the forefront of the NextGen project that promised to bring thousands of high-paying jobs to the region — but has yet to deliver a single building — because it holds the lease for the park's land in Egg Harbor Township with the Federal Aviation Administration. SJEDD was responsible for leading the $7 million infrastructure installation at the planned research park that should include seven buildings when completed.
Watchdog reports by The Press of Atlantic City have shown that the district owes nearly $500,000 to contractors that have completed the infrastructure installation. Meanwhile, Dahl's salary increased by more than 40 percent between 2006 and 2011. There are no resolutions or meeting minutes showing that he ever received proper approval for the raises.
With the move to appoint O'Connor, the district's leadership has a strong focus in Cape May County. The board's chairman, Leonard Desiderio, is mayor of Sea Isle City and a Cape May County freeholder. Baldini, the attorney, also represents Sea Isle City, and O'Connor is also from Sea Isle City.
Discussions of O'Connor taking over the district's leadership — at least on a part-time basis — stem as far back at January when Atlantic County voted to withdraw from the district, O'Connor said. Discussions later turned to full-time work.
Meanwhile, a short-term legacy of potential mismanagement left by Dahl was still present during Monday's board meeting as it was discovered that a March 3 deadline to apply for $70,000 of funding from the federal Economic Development Administration was missed. The EDA agreed to a short extension but that deadline has now been missed by a day or two, Chief Operations Officer Diana Schiavo said
The district applies for the funding available for economic development districts each year by submitting letters from member counties saying they intend to continue as district members. The resolution was unanimously approved Monday, and district hopes to still be able to access the funding.