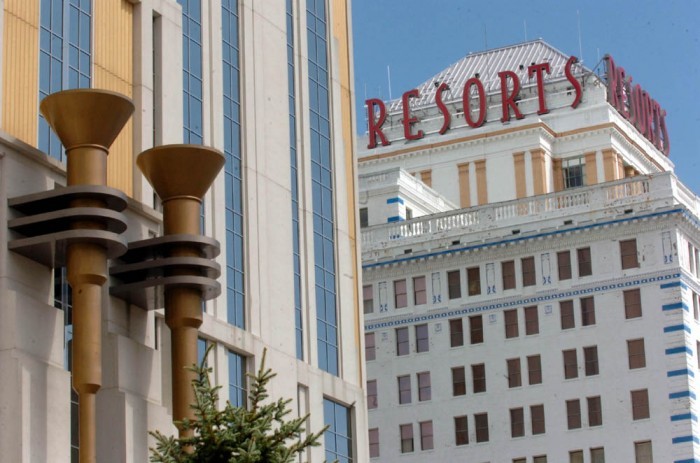 Flappers straight out of the 1920s may have to find a way to coexist with surfers in a new palm tree paradise at Resorts Casino Hotel.
Plans to rebuild Steeplechase Pier and construct Margaritaville Landshark Bar & Grill were made public last month when the casino applied for a state permit for the $6 million outdoor project with a connected beach bar. However, on Thursday, it became clear that the casino has plans for Jimmy Buffett's Margaritaville brand to extend inside the walls of the city's oldest casino that a year ago embraced a Roaring '20s theme
Inside Resorts will be a 400-seat Margaritaville Cafe with 40 more seats on the Boardwalk. A Landshark Bar will be on the casino's main concourse surrounded by Margaritaville-themed gaming and retail. Resorts' Boardwalk facade will also be converted to reflect the island theme, Tom Sykes of SOSH Architects said as he presented the project to the Casino Reinvestment Development Authority's land use division on Thursday
Just how Resorts plans to meld the themes together remains unclear. Resorts spokeswoman Courtney Birmingham declined to answer questions about the themes, cost and timeline. A press conference on the project will take place next week, and Resorts will not make any comments until then, she said. The casino's current Roaring '20s theme was introduced in May 2011, six months after the casino was sold to Dennis Gomes and Morris Bailey.
Sykes said the project is one of the most creative efforts ever brought to the city.
"Imagine you're in a meeting with people from literally all over the country with one of the strongest brands known, and they say, 'Get us open. ... Being at Resorts on the beach in Atlantic City will be one of the strongest things we can do. We can't wait to get there,'" Sykes said. "That was one of the most refreshing meetings we've had. Someone's's saying, 'We want to get into Atlantic City. Open the doors.'"
Buffett heads the Margaritaville restaurant and casino chain, dubbed with the title from his trademark 1970s hit. He has had his eye on Atlantic City in the past and was involved in 2008 plans to reinvent Trump Marina Hotel Casino as a Margaritaville-themed gambling resort. Those plans were squelched when the casino's sale fell through.
Margaritaville Cafe planned for the inside of Resorts will sit in the footprint of Breadsticks Bar & Grill and the Chairman's Club. Local 54 President Bob McDevitt said he has had several conversations with Resorts regarding the Margaritaville concept and in every conversation he's been assured that those operations and their employees will be relocated to other parts of the casino. About 150 people are employed at those locations, he said.
Sykes and a panel of architects, planners and engineers appeared before CRDA on Thursday seeking site plan approval and variance relief for the Steeplechase Pier component of the project. The original footprint of the pier, which was destroyed in a 1988 fire, extended 600 feet from the Boardwalk. Resorts, which owns the development rights for the pier, is only proposing to build out 200 feet. By comparison, Steel Pier is 1,000 feet long.
On the pier surrounded by palm trees and island landscaping will be a 375-seat restaurant and bar with indoor and outdoor seating, open year round. Plans also include a retail surf shop and public access around the edge of the pier. Construction could begin as soon as September and would take a year to complete, according to Resorts application to the state.
CRDA now handles planning and land use approvals in the Atlantic City Tourism District established last year. The land use division will now make a recommendation to CRDA's board, which has final approval. In addition to site plan approval, Resorts is seeking variances from city code to allow rooftop signs and a decreased rear setback.
Resorts also plans for an island-themed beach bar starting at the pier and extending south to North Carolina Avenue. However, that was not included in the application to CRDA because the casino believed it only needed a city beach license, not land use approval, for a beach bar.
CRDA Land Use Hearing Officer Paul Weiss said he believed CRDA approval may be needed but would have to be handled at a separate public hearing with sufficient public notice.