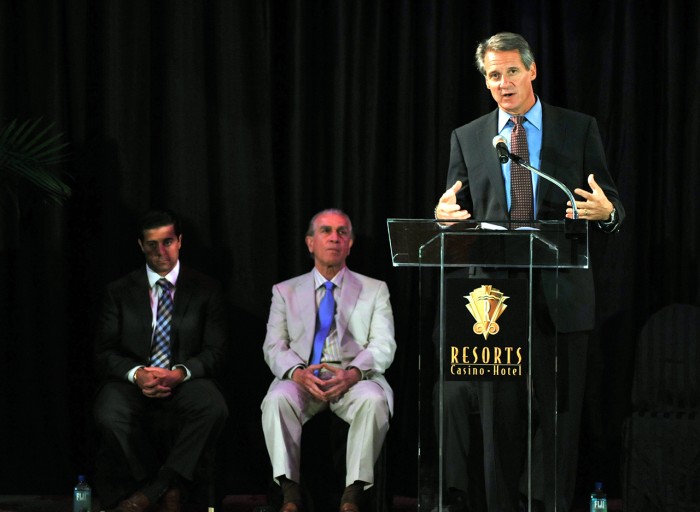 Resorts Casino Hotel owner Morris Bailey didn't mince words when he stepped to the microphone to discuss why Mohegan Sun would be taking over the operations of his struggling casino.
"We needed help," Bailey said during a press conference Tuesday to announce the management agreement with Mohegan Sun.
In choosing Mohegan Sun as his new partner, Bailey has established an alliance with one of the top casino operators in the country, analysts say.
Other Atlantic City casinos that had grown accustomed to Resorts being a pushover will now face a more formidable competitor — one that can tap the Mohegan Sun casinos in Connecticut and Pennsylvania for new customers.
"It's not good news for the competitors," Greg Roselli, a casino analyst for UBS Securities, said of the Resorts-Mohegan Sun deal. "Atlantic City is still a very challenged market. Before, you had a property that was not much of a competitor, but is now taking a big step to expand its customer base."
Another analyst, Israel Posner, said Resorts has effectively become a regional casino company in one bold stroke. With Mohegan Sun's help, Resorts has strengthened or extended its reach into such markets as northern New Jersey, Pennsylvania, New York, Connecticut and even Massachusetts, he added.
"Resorts has basically become a regional operator. That is unique in the history of Atlantic City casinos," said Posner, executive director of the Lloyd D. Levenson Institute of Gaming, Hospitality and Tourism at the Richard Stockton College of New Jersey.
Resorts will now have direct links to the colossal Mohegan Sun casino resort in Uncasville, Conn., and the Mohegan Sun at Pocono Downs racetrack casino near Wilkes-Barre, Pa. A cross-marketing agreement will allow the three casinos to share customers.
"It's a win-win for both companies," Roselli said.
Roselli described the Resorts-Mohegan Sun partnership as a miniature version of what casino giants such as Caesars Entertainment Corp., MGM and Penn National Gaming have been doing more often. Those companies use their customer-loyalty programs for cross-marketing opportunities nationwide.
"Now we're seeing other major operators trying to extend their reach into other markets," Roselli said. "It's what we call the hub-and-spoke approach."
Beginning this fall, Resorts and Mohegan customers will be able to redeem their rewards points at any of the three casinos in Atlantic City, Connecticut and Pennsylvania. Final details are still being worked out, but the rewards program tentatively will include hotel accommodations, dining, shopping, concert tickets and spa treatments. However, points cannot be used for casino play, Mohegan Sun spokeswoman Jennifer Ballester said.
In Connecticut, Mohegan Sun also has a gas station and a golf course where customers can redeem their rewards points, Ballester said.
Emphasizing the advantages of the cross-marketing program, Bailey said it will create a regional powerhouse combining some of the best-known brands in the casino industry.
"We're going to have a comprehensive, cross-marketing vehicle together," he said. "I believe it's really going to bring Resorts to a new level."
Bailey, a New York real estate magnate, turned to Mohegan Sun following the Feb. 24 death of Dennis Gomes, Resorts' former chief executive officer and the creative force behind the casino.
"The property will have an experienced operator to fill the hole left by the passing of Dennis Gomes," Roselli said.
Gomes' son, Aaron, is Resorts' executive vice president of operations and has been helping to run the casino since his father's death. Mohegan Sun executives have said they hope Aaron Gomes stays on under the new management agreement.
Resorts will also benefit from a new partnership with singer-songwriter Jimmy's Buffett's Margaritaville restaurant empire, another strong brand in the casino industry. Buffett has plans for a $35.5 million expansion project at Resorts that will create new restaurant, retail and casino space overlooking the ocean. The tropical-themed project is expected to be ready by next May.
Buffett already has casino projects in Las Vegas and Biloxi, Miss. One of his Margaritaville restaurants is at the Mohegan Sun in Connecticut. Roselli believes Mohegan's familiarity with Buffett should help it as it tries to blend the Margaritaville project with Resorts' existing Roaring '20s theme.
For Mohegan Sun, the Resorts management agreement finally accomplishes its long-sought goal of having a presence in Atlantic City. In addition to taking over the operation of Resorts, Mohegan Sun will invest an undisclosed sum in the casino. Mohegan Sun, controlled by the Mohegan Tribal Gaming Authority, becomes the first Indian-owned casino operator to enter the Atlantic City market.
"The guys at Mohegan are very well-regarded operators," Roselli said. "They already have a footprint in Connecticut and Pennsylvania. This gives them a big database in Atlantic City."
Mitchell Etess, CEO of the Mohegan Tribal Gaming Authority, acknowledged that some may question why Mohegan Sun would even bother to get involved with a money-losing casino in a slumping market. Resorts lost $13.9 million in 2011. Atlantic City gambling revenue has plunged from a high of $5.2 billion in 2006 to $3.3 billion in 2011, a trend created by the weak economy and competition from casinos in surrounding states.
"I think the timing is completely right for us to 'Do AC,''' Etess said in remarks aimed at Mohegan's potential critics.
He was referring to the $20 million "Do AC" advertising campaign launched this spring to draw more tourists from the Northeast. The campaign portrays Atlantic City as a high-energy resort destination featuring an array of upscale nongambling attractions.
Etess argued that Atlantic City has already begun a turnaround, aided by the "Do AC" campaign, Gov. Chris Christie's support for the casino industry and the opening of the new $2.4 billion Revel megaresort.
Revel, despite lackluster results with its gambling revenue in its first four months of operation, "is getting people to change the way they look at Atlantic City," said Etess, who is a former Atlantic City casino executive.
Contact Donald Wittkowski: